By Kelly Putter |
When it comes to beer, we Ontarians like to get crafty.
But we also appreciate whimsy, outrageousness and fun, at least if the artwork on craft beer cans, bottles and advertising is any indication.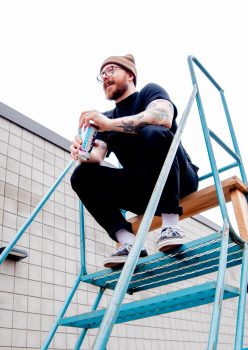 Burlington-born Cole Mortillaro delivers all that and more as the creative director of Nickel Brook Brewing Co., a Burlington-based company that's one of Ontario's oldest craft brewers and known for innovative beer styles. "I enjoyed coming up with ideas that pique someone's interest," says the 30-year-old who now lives in Dundas with his wife Justine and 17-month-old daughter Rue. "I've always been a craft beer enthusiast so it's fun to play in that space. I love bringing to life beer names, styles and illustrations and making products I would enjoy consuming right alongside other craft beer fans."
The Canadian craft-brewing industry is a unique mix of manufacturing, hospitality, tourism and agri-food sectors that grew by leaps in bounds in the decade leading up to the pandemic. By 2020, Canada was home to about 1,100 breweries – about double the number from five years earlier. In Ontario, the number increased to more than 340. Notably, less than 40 breweries were operational before 2010.
Similarities not uncommon among these crafters include small, family-owned businesses, that release traditional and small-batch styles of beer. They also share values that infuse their products and thus their industry with ostensible quality, homegrown pride, community-based good-deed-doing and fun.
Eight years ago, when Mortillaro was looking for a job straight out of college, what was not to like about that kind of vibe? His post-secondary education was in marketing but Mortillaro started on the ground floor, working in retail then moving into logistics and order taking, invoice processing and structuring delivery routes. An opportunity presented itself when he decided to "take a crack at" designing a poster for a new brew. From there he would eventually transition to the company's marketing side.
Originally started as a u-brew by brothers Peter and John Romano, Nickel Brook was transformed into an innovative leader in the Ontario craft beer space early on in the industry's development in 2005. From sours and ales to stouts and barrel-aged brew, Nickel Brook offers a selection of award-winning, core brands, seasonal brews and one-off specialty beers.
By 2014, when Mortillaro showed up at its doorstep, Nickel Brook was quite happily popping its beer caps thanks to an overflow of demand at its lone location on Drury Lane in Burlington. Its three core brands – Head Stock, Naughty Neighbour and Cause and Effect – would sell out daily and the brewery would often end up shorting customers on orders. So Nickel Brook teamed up with Arts & Science in Hamilton but that fix would prove to be short-lived. The brewery then opened a facility on the Queensway in Etobicoke. More recently, its Burlington facility moved to 3426 Mainway to make room for a large tap room with multiple beers on tap, craft sodas, a soon-to-opened patio that serves food, and a bottle shop.
Mortillaro would be the first to tell you he's no Banksy, the world-renowned yet hyper-private artist known for his public statement-making artwork. And despite little education in the arts, experience or training, his ability lies in his amusing renderings that radiate a distinctively retro vibe.
Although he's achieved success with Nickel Brook, and subsequent freelance design work, Mortillaro still seems to be trying on his profession, squirming a bit to get the right fit. "It's definitely odd to see a piece of my artwork stacked up on a shelf in a store," he says. However, his creativity didn't suddenly emerge. As a child, he enjoyed art but would shelve that interest as he aged in favour of music, playing guitar and drums alone and with friends. He's okay with the notion of learning on the job, getting insight from friends who are graphic designers and watching art and design videos. His rule of thumb, he says, means constantly examining his work to see how he can improve. "If I see how I could have done things differently, I feel I'm growing. It's challenging though because I'm in a constant battle with myself to improve."
His freelance work has resulted in unusual projects, from artwork for Canadian indie bands and podcasters to a U.S. barbecue company and a British Columbia-based beer importer. Thanks to Nickel Brook, which did a collab beer with Canadian rock band The Trews, Mortillaro was subsequently hired to design a tour T-shirt for them.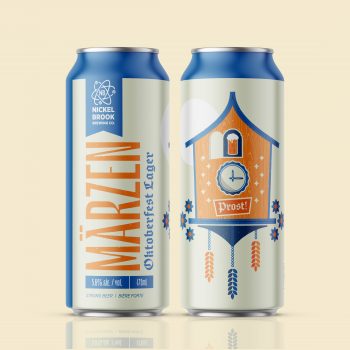 While some of Mortillaro's work conveys a vintage vibe, the inspiration for his artwork is typically driven, he says, by each project. He cites a coffee-flavoured pale ale called the Daily Grind. The resulting image was that of an early 2000's computer being fried by a spilled cup of hot java. "I still feel like I'm exploring a lot," Mortillaro says. "I love pulling inspiration from nostalgia but I'll hopefully always be changing, developing and adapting."
For more information visit Nickelbrook.com