Our favourite designers share what's keeping them busy while quarantined. We asked Debbie Travis, Brian Gluckstein and Cobi Ladner and husband Robert Brehl.
Debbie Travis
Home designer and host of Debbie Travis' Facelift and Debbie Travis' Painted House, Debbie is also a best-selling author. The paperback version of her latest book Design Your Next Chapter (Penguin Random House) was released in March.  
What are you doing during the COVID-19 crisis to enjoy your time at home?
I am at home in London (England) with my husband. I cannot get to our Italian property, but I am making the most of a spookily quiet London. My family and friends take part in a virtual pub quiz with a different couple hosting it each week and coming up with the questions. There are five categories, from sports to movies. We wear silly hats and drink together from our homes connecting with Zoom. We are tuning in from England, Africa (where my son is working at a humanitarian NGO) and Canada (where my other son and his fiancé are, and many of our friends). It is loads of fun, but I never win. I am watching too much Netflix and am getting a bit tired of cooking, but other than that, we are counting our blessings and counting down the days until we can get back to Tuscany and start our retreats.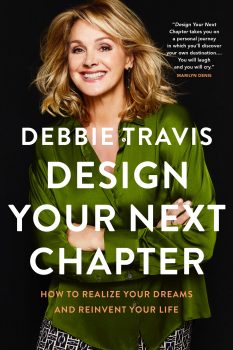 Are you personally doing any work online to help stay connected to your fan base or followers at this time? 
I have been madly active on social media and doing my bit to keep myself, my fan base and followers entertained. One of the fun things I do every few days is to take my followers on a virtual walk through the streets of London via Instagram. I physically set off at 7 a.m. while it is quiet and take them on a tour of the fascinating architecture, the parks and along the famous River Thames. We call it Debbie's Walkies. Then we come back to my London house and have a cuppa. Every Sunday I am joined by my best friend, a wonderful nutritional therapist. We go live on Instagram and share ideas on keeping our optimum health in these strange times. My lack of technical skills has become quite the comedy hour. 
Also, since the paperback of my book, Design Your Next Chapter has just been launched, I have been reading segments live on Instagram, which has been popular. It seems that everyone is thinking of their next steps after all this is over; the book is perfect for these times.
Have you picked up a new hobby or interest?
I started Qi Gong which I love—I have a roof terrace on top of my house looking over the rooftops of my London neighbourhood. I find it relaxing and energizing at the same time. It is a positive way to end the day instead of watching the news. There are loads of videos online.
What have you found surprisingly positive about staying home? 
I am thrilled how we are all embracing the phone again! I have been flabbergasted by the hundreds of friends who have reached out. I seem to spend much of the day on the phone chatting away with people I have not been in touch with for ages. I also talk to my grownup sons every day. I know a monk near Mumbai who has become a friend and I FaceTime with him. His spiritual journey is always my inspiration.
Do you have any tips for people working at home?
I feel it is important to try and keep a schedule, different from the usual one. If you want to sleep and get up late then throw that in the mix—enjoy that gift. Cook meals and have them at the same time each day. It is a good time to experiment with cooking and tuck into all the recipes that celebrity chefs are sharing. I am not a baker, but I have got onto the baking bandwagon. But sadly, I end up gobbling it all down so the baking has been chucked, figuratively, out the window. This delicious time we have been gifted is quite remarkable in some ways as it gives us the time to just be in that moment. It is also a time to think about changes we may want to make. I do feel we will be different after this with a new perspective on our lives.
Brian Gluckstein
Brian is a principal of Gluckstein Design Planning and regular guest expert on Cityline. In 1999, he launched GlucksteinHome, a complete line of home furnishings including furniture, tabletop, bedding, bath and décor.
What are you doing during the COVID-19 quarantine to fill your time at home?
I FaceTime a lot with friends and family. I also love having dinners with friends over Zoom. It's just so easy to put my iPad on the table and enjoy a meal with friends virtually. We'll coordinate the menu in advance and I'll take time to set my table and dress for dinner to make it feel special.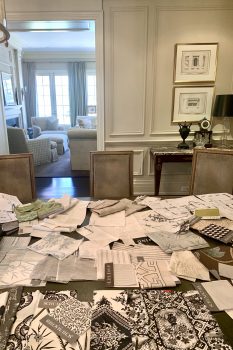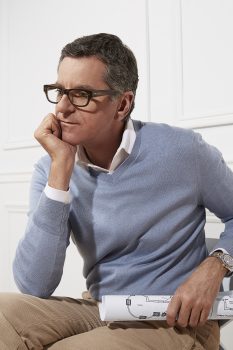 Have you picked up a new hobby or interest?
I haven't picked up a new hobby but I'm certainly taking a good look at the house and finding projects that I want to tackle. A lot of editing, moving things around, and thinking about new colours. I'm currently editing down my closet and will be donating quite a bit of clothing.
Do you have any tips to help people better enjoy their time at home?
I've kept the structure of the way I work traditionally. I set up a work space in my dining room and keep all of my samples and drawings there. I take all of my Zoom meetings and work calls there as well. And I maintain my usual schedule – I "arrive" at 9 a.m. and leave around 5 or 6 p.m. I usually use my dining room for entertaining, so I'm currently able to leave my work space set up there. To help maintain a sense of work/home balance, I don't go in the dining room on evenings or weekends. If you don't have a room that you can dedicate as a home office, I'd suggest packing your laptop up each evening so you still have that ritual of leaving work.
Celebrity Couple: Designer Cobi Ladner and bestselling author Robert (Bob) Brehl
Cobi Ladner is one of Canada's leading decorating and lifestyle authorities and founder of CobiStyle. Bob Brehl is the author of three bestselling books on heroes including Ted Rogers, Hazel McCallion and Milt Dunnell. His latest collaboration with Paul Lind is called Right Hand Man; How Phil Lind Guided the Genius of Ted Rogers, Canada's Foremost Entrepreneur. 
Here is what the husband and wife team are doing to keep busy during the quarantine.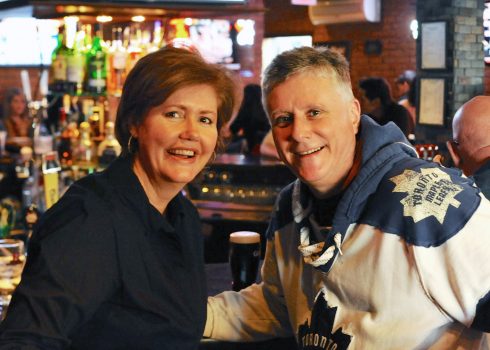 Bob: "We're eating dinner together and talking more with our grown children, who are 24 and 21, and back home. It's quite enjoyable getting to know them better as adults, talking about their dreams and reflecting on past experiences and lessons learned.
We are also watching more Netflix and Prime Video like the rest of the world. I just finished Erik Larson's newest book The Splendid and the Vile about Winston Churchill and the London Blitz of 1940-41. Fascinating read and inspiring. If Londoners could endure those constant Nazi bombings, we can get through this lockdown.
Cobi is reading The Forgotten Home Child by Genevieve Graham. It's sad and hopeful. It makes us both wonder if books and movies about World War I and II are seeing an increase in consumption during this tenuous time?"
Are you doing any work online to help stay connected with your followers?
Bob: "Cobi loves Instagram and curses the time it takes away from valuable 'reading time'. I'm on Facebook a half hour a day. Cobi is also teaching online for Humber College and doing the final course for her Master of Education online. There has been somewhat of a learning curve for both of us, but nothing unmanageable."
What have you found surprisingly positive about staying home? 
Cobi: "Family time and reflection."
Do you have any tips to help people better enjoy their time? 
Bob: "Exercise as much as possible, both mind and body."