By Laurie Wallace-Lynch
Artist Heather Horton sat poolside at a hotel in Buffalo, New York watching her friend Hannah swimming when suddenly she had an "aha moment" that would change her destiny. Heather's artistic eye caught the rippling movement on the water's surface, and grabbing her camera, she knew she had to try to recreate that movement on canvas. It was a decision that would lead to Heather to create her renowned water series of paintings which have become a signature look for the Burlington-born artist.
"Frankly the first water one was just to see if I could do it," admits Heather. "I realized I could achieve the effect I wanted and really started enjoying it. I went rather gung-ho on the first water painting. It was six feet by four feet! It sold when I only had about 10 hours into it. A collector said, 'I want that'. At that point there was just basically a head and the bottom stripe of the pool. My gallery sends images of paintings in progress to certain collectors and this collector saw it and realized she had to have it. I will never forget that day. Ever since then I haven't stopped painting water pieces and they sell very well and I'm thankful for that."
Although Heather doesn't have a name for her water series, she proudly mentions that every water painting has sold.
"You could say the water pieces have very much become one of my signature looks, but I always try to have a non-water piece on the go as well," says Heather. "The movement of the water is a combination of brush stroke directionality, the paint and the hue of the paint itself, and an adherence to the reference material. There is a small degree of stylization. I look at the water current and what direction it is going and achieve that with the brush stroke. One of my favourite colours to work with is Manganese Blue. It's a vibrant turquoise that really speaks to me."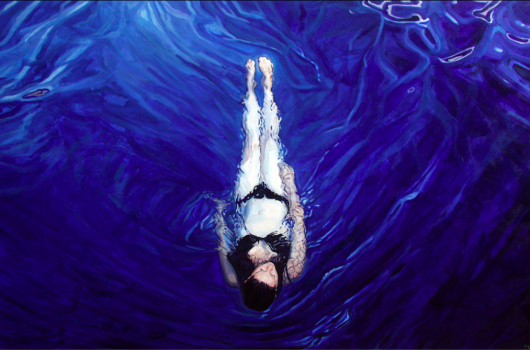 Two of Heather's large water paintings were featured in the Lionsgate film A Simple Favor, directed by Paul Feig and starring Blake Lively and Anna Kendrick. "I knew the movie had a tie-in to water, so I reached out to the director on Twitter and sent him a photo of one of my water pieces," explains Heather." A set designer came to Abbozzo Gallery in Toronto and chose seven of my paintings for the film—the water pieces, a landscape, a still life, and then a few days later they commissioned one more painting which was designed specifically for the film, which was amazing."
Several of Heather's paintings are part of a permanent collection at the Canadian Embassy in Ankara, Turkey as well as part of the Government of Ontario's permanent collection. "In 2010, the Canadian Ambassador to Turkey, Mark Bailey, and his wife Raja invited me and another Toronto area artist to come to Ankara and bring our artwork to their home for a celebration to commemorate International Women's Day. Turkish Airlines sponsored the trip and I ended up donating the pieces to the Embassy."
Born and raised in Burlington, Heather earned her Bachelor of Arts in English Literature at McMaster University. She then attended Sheridan College where she graduated from the Interpretive Illustration program.
"I realized around age 11 that I had artistic ability, but knowing I wanted to be a painter really didn't happen until I was in the third year of my illustration course," states Heather. "I realized I didn't want to be an illustrator; I wanted to be a painter. I didn't want to stylize anymore, I just wanted to be as faithful to the subject matter and paint as realistically as possible." Heather has been represented by Abbozzo Gallery since 2004.
"I remember my first painting was a portrait of me in profile with a red towel on my head. Anita Blackwood bought it for her and David Blackwood– one of Canada's leading printmakers and most popular artists – and they started to become patrons of mine. That was a big coup for me!"
Heather openly admits the concept of the 'struggling artist' applied to her in the early days of her career. "I had lots of jobs, from working in a fabrication shop making models for museums to working in a bookstore and other odd jobs. I went from working full time and painting in the evenings to becoming a full-time artist around 2014."
Other struggles for Horton were of a more personal nature. "I had been going to The Yukon to hike for many years and found it appealing to move somewhere completely different, so I moved there in 2013, but on an unconscious level, I wanted to move away from my dad with whom I had a complicated relationship," states Heather. "When he passed away in 2015, I came back."
Just as Heather openly shares her personal story, her work often has a personal connection to her own life. Her solo exhibition Love Story, held at Abbozzo Gallery last September, was deeply personal. Along with some of her regular themes such as shower curtains, portraits of friends and still life subjects, the exhibition tells a real life "love story" of how Heather met her fiancée, writer/director Joss Whedon, when he began collecting her paintings. Says Heather: "It was largely an autobiography and a painted chronology of my fiancé Joss and I finding each other and falling in love."
Asked if the COVID-19 pandemic has affected her work in any way, Heather says she was able to find more time to paint. "I was able to sell a great deal of work during the pandemic and during the worst of it, I sold several pieces in a 10 day period."
Heather says the goal of any artist is to be able to paint whatever they want. "Few people get to do that, but I have been blessed. My advice to young artists is to keep painting; assign yourself a few hours every day to paint and the work will happen. I realize that you must do a lot of things you do not want to do to be able to do the things you really want to do!"
Currently Heather has started a few new paintings, including a couple of commissions for collectors. "I am also doing a trade with another artist and piece of art I call the shower curtain painting. Like the water pieces, painting shower curtains is about blending techniques to create movement. It is almost abstract how the plastic breaks up and creates different shapes. It is like some of the work is already done for me. I have some pieces I am excited about right now and can't wait to get working on them, and some pieces I am excited about that I don't even know about yet!"
For more information visit abbozzogallery.com or heatherhorton.com