By Laurie Wallace-Lynch
Fashion photography by Valerie Burke
"There is a story behind every piece of my work and every collection," states Oakville fashion and textile designer Anu Raina, who recently opened her first signature boutique  in downtown Oakville. Each collection is based on the designer's childhood memories, travel experiences, or love for her local town (such as her new Oakville-inspired Wedgewood Collection). While Anu finds inspiration around the globe, it was her own 'hood' that inspired her to design her wildly popular T.O2 Toronto scarf and apparel collection which include her top selling Toronto Skylinescarf, Subway Scarf, and the City Sign Board Scarf.
"The story behind the T.O2 Collection and inspiration happened during my first fall in Toronto when my son and I were riding on the subway and I suddenly became aware of the amazing energy happening all around us. The people, the traffic, the chaos, the excitement, and the fun," says Raina. "I hurried home and put pen to paper to try to capture that electricity. People who visit Toronto see it as a clean, modern, culturally rich, and vibrant city. I wanted to capture what they see on my Subway Scarf and my Toronto Skyline collection. I have shipped these scarves around the world to countries like Ireland, Brazil and Japan."
'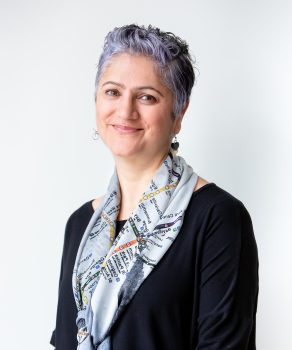 Her new Wedgewood collection is named after the street in Oakville where the Raina family live. "What I love about Oakville is that it is quiet, peaceful, lush, green, and beautiful. My collection reflects this. The Town Square T has an original print illustration of Oakville's Town Square. The Gairloch Blouse and scarf feature an original floral print inspired by Oakville's Gairloch Gardens."
Raina was born and raised in Kashmir and moved to London, England to study at the University of Arts London College of Fashion. She and her family moved to Canada in 2004 and Raina enrolled in the Textile Program at Sheridan College in Oakville. "I had studied fashion in London and worked in the industry but found I couldn't really express myself. At Sheridan I learned I could make my own prints on my own pieces and put my signature on every piece."
Raina debuted her signature collections during 2010 Toronto Fashion Week to thunderous applause. She graduated that same year, winning the Governor's Award for the Textile Program, numerous scholarships, and was selected to be an Artist-in-residence at Toronto's Harbourfront Centre.
"I used the scholarship money to start my own business while I was an Artist-in-residence," explains Raina. "I started designing and printing silk scarves and then went knocking on doors on Queen Street shops. One shop bought some scarves and then ordered more, and that was the beginning of my company."
The designer has created exclusive collaborations with eBay Canada, The Law Society of Upper Canada and the Keilhauer and Art Gallery of Ontario. Her Toronto Skyline print was selected by the Textile Museum of Canada as part of a contemporary art exhibit in New York and London.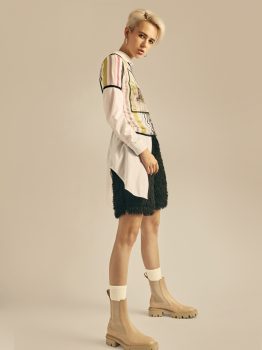 Raina's Remnants I and II Collections were designed as a tribute to her grandmother. "The collections were all about my childhood, my mother and my grandmother. I used hand-dyed prints, patchwork, and blanket stitches which my grandmother used. I silkscreened burlap and made a coat using the images from a rice flour company where we used to go to buy our grains. This piece was exhibited at Harbourfront Centre and then several people asked if they could buy it, so I started making coats."
As a textile designer, Raina mixes and matches different fabrics to create unique designs. "I love textiles and love to play with fabrics. For me it's like being a kid in a candy store."
She used 100 per cent cotton canvas as the base of her Blank Canvas Coat.  "I designed the coat as a blank canvas so friends and family could pen messages on the coat, or your grandchildren could draw artwork on the coat to create memories," says Raina. "It's like a personal diary you can wear and pass on in the family."
While sheltering at home during COVID-19, Raina was inspired to create her Love is Life, Life is Love blouses and dresses. However, she admits the last year and a half have been the most challenging time in her career.
"With everything shut down, I was at a crossroads and wondered if I should quit the business," states Raina. "But then last Christmas before the lockdowns I did a pop-up store in Oakville and the amount of support was overwhelming.  Knowing that people love my work makes me so happy. I don't do this to become rich or famous, I design because it's what I love to do."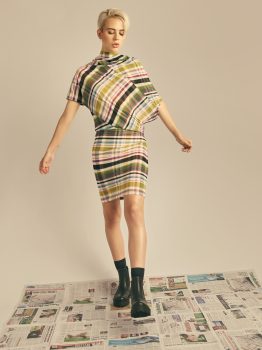 Yet another challenge the designer faces daily is an old injury to her right arm. "I broke my arm in a school bus accident. I am right-handed and doctors told me I would have to give up using it for work or lose the use of my arm. Against all odds, I have continued to use it to realize my dream to do what I want to do."
Asked to describe her signature style, Raina answers: "My signature look is pretty artsy. My prints are busy, bold, original and there is a lot going on, so I like to keep the silhouettes simple to focus on the prints. The pieces are unique with limited editions produced in each style. I want people to know that when you are buying my pieces, you are buying an original piece of art crafted in Toronto. Each piece is expressive and is really a part of me—my memories and my story of love and appreciation which I am proud to share with others."
The Anu Raina store is located at 90 Lakeshore Road West in Oakville. You can also visit the online store at www.anuraina.com.
photo credit for head shots to Andes Lo