By Danielle Leonard Photography by Graham Paine
A steaming bowl of soup elicits, above all, comfort. Perhaps it's related to the way we consume it, one slow sip at a time. It's impossible to rush when eating a soup, after all. Balancing the broth-filled spoon from bowl to mouth takes time, dexterity and patience, and quite often includes a gentle blow of air to prevent a scalding tongue. So synonymous is this food with comfort that it is the title of an enormously successful collection of feel-good books written specifically to inspire happiness – Chicken Soup for the Soul.
Soup is also, perhaps, the most diverse dish on the planet. Served as an appetizer, a meal and, on occasion, a dessert, there is no limit to what ingredients can be added, or how many. In The New Vegetarian Cooking for Everyone, cookbook author Deborah Madison writes: "A forgiving food, soup happily accepts a fennel bulb where none was called for, replaces a leek with an onion, provides a home for a tasty leftover."
Although it's enjoyable any time of year, the winter season is when we most crave it. There's nothing quite like a sitting down to a steaming broth full of nutritious veggies after shovelling snow in below zero temps. In a 2020 survey of 1,500 Canadians by Italy's Parmigiano Reggiano Consortium, soup was the number one choice among Canadians when asked which foods they would seek out as a second wave of COVID unfolds over the fall/winter. A full two-thirds (65%) chose soup.
The health benefits to the humble soup are yet another reason this dish is so popular. Most recently, bone broths have gained prominence for their anti-inflammatory properties, and now inhabit the freezer section of health food stores. Soup can also help with weight management since it's known to keep a person full for longer. In her book, Soup Cleanse, Nicole Centeno writes, "Soup is also remarkably formulated to keep you fuller longer… You eat less if you have soup before a larger meal."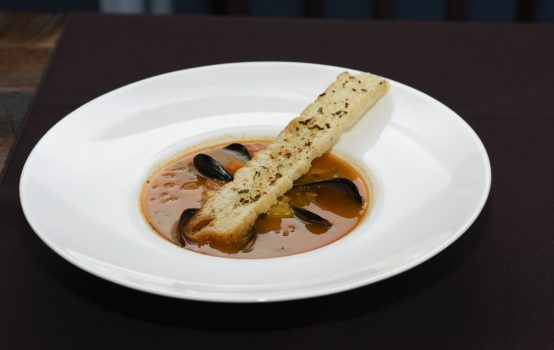 During these uncertain times, soup is a food that reliably sustains us physically and emotionally. While making soup from scratch is rewarding, the best part is always eating it. And, with that in mind, we've rounded up delicious soups crafted from scratch by local restaurants that are sure to satisfy your cravings for flavourful indulgent winter soups.
All the soups here can be ordered as takeout and, where possible, for dine-in. Some are available on a rotational basis as a soup du jour, while others are menu mainstays. Supporting our local restaurants continues to be as important as ever. We hope you try as many of these soups as possible. Bon appetit!
Soups to-go
Indulge in delicious soups by local restaurants
West Plains Bistro
Zucchini, bacon and Stilton cheese soup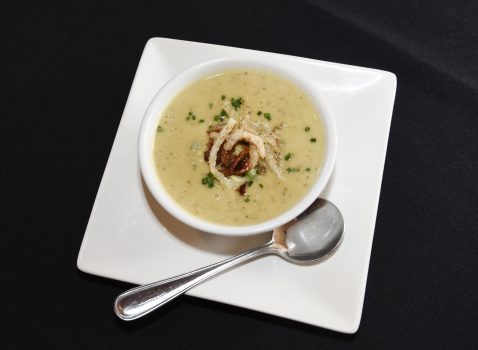 How can anyone say no to a soup that features cheese and bacon?
Enjoy French classics such as beef Bourguignon, steak and frites, croque madame and French onion soup. The soup du jour rotates and includes the restaurant's award winning soups that have placed at the Livingrock Soupfest in Hamilton. The Zucchini bacon and Stilton is part of the rotation.
133 Plains Road East, Aldershot
Westplainsbistro.com @westplainsbistro
Lettuce Love Café
Seven vegetable soup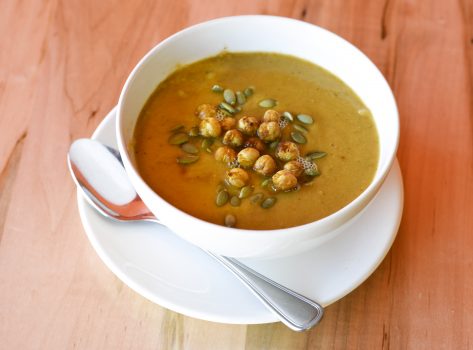 This customer favourite is creamy and satisfying, made from carrots, onions, garlic, celery, sweet potato, cauliflower, broccoli and coconut milk.
Lettuce Love Café is located in downtown Burlington and Kerr Village in Oakville. It serves delicious, healthy, 100 per cent plant-powered and gluten-free meals as well as whole food super food smoothies.  All menu items are made from fresh, natural ingredients and hand prepared daily.
399 John St., Burlington and 326 Kerr St., Oakville
Lettucelovecafe.com
@lettucelovecafe
Familia Fine Foods
Mexican tomato chicken soup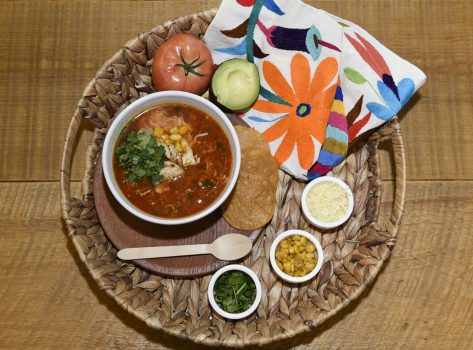 A one of-a-kind soup made with tomatoes, chicken, corn and Familia's unique Latin American spices. Delicious with tortilla chips, cream and avocado.
Quinoa, rice and chicken soup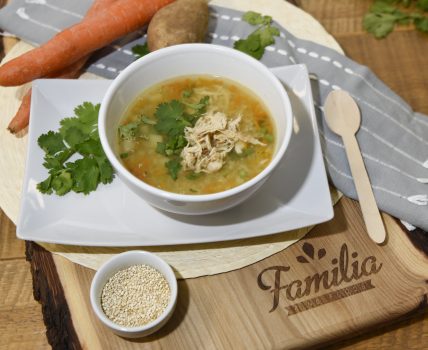 Grandma's style soup made with real chicken broth, quinoa, rice and potatoes.
Enjoy fresh home cooked meals at this family-run restaurant. Open for lunch daily, it also offers a wide selection of frozen meals and soups for pick up or delivery. The menu includes burritos, burrito bowls, tacos, sandwiches and, on Saturdays, a traditional Columbia menu.  Frozen soups are available for pickup. Just heat and serve at home.
3245 Harvest Rd., Unit 17, Burlington
Familiafinefoods.com @familiafinefoods
Spencers at the Waterfront
Seafood chowder soup
Located on the Burlington lakefront, Spencer's at the Waterfront offers breathtaking views and a unique food concept, featuring market fresh fish, exceptional seafood and mouth-watering craft cut steak.
1340 Lakeshore Rd., Burlington
Spencers.ca
@spencers_w
La Parisienne Creperie
French Onion Soup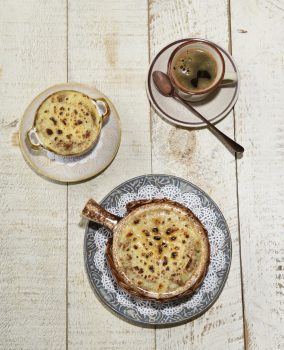 A recipe that's been in the family for many generations and perfected over time, it's served piping hot, topped with baguette and Emmental cheese and then broiled to make a crusty lid of cheese on top and melted cheese inside.
Be transported to Paris at this local Bronte café that serves traditional Parisian crêpes. The restaurant is also known for its decadent French onion soup. Visit La Parisienne Creperie in Oakville and the sister creperie, Verlan, in Hamilton for dine in or takeout. Reservations available every day of the week.
93 Bronte Rd., Oakville
Laparisiennecreperie.com @laparisiennecreperie @creperieverlan
Noble Bistro Seafood
Noble Signature Seafood chowder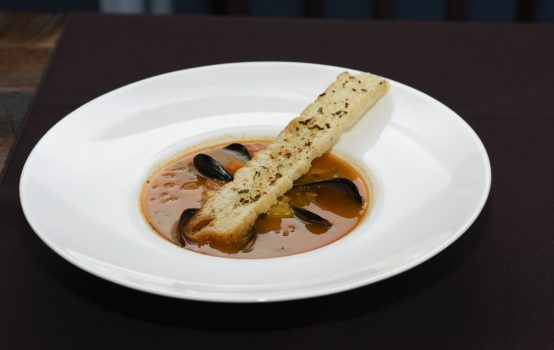 Seafood Chowder with a rich Saffron Broth, Shrimp, Scallops, Clams, Mussels, Calamari and Fish.
Enjoy upscale seafood dishes in this contemporary restaurant in downtown Oakville. Make reservations to dine in, or order takeout using its online menu featuring family meals for four.
218 Lakeshore Rd. E., Oakville
Noblebistro.com @noblebistroseafood
The Mermaid and the Oyster
Lobster bisque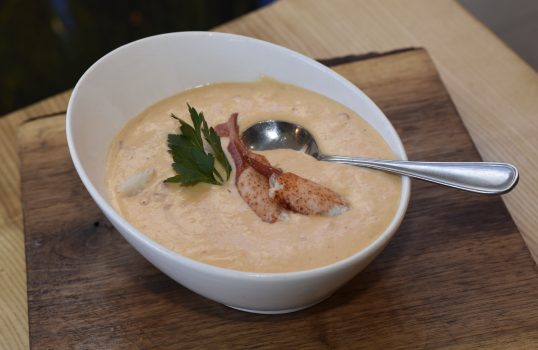 This creamy lobster bisque is rich and decadent for seafood lovers.
The Mermaid and the Oyster is a locally operated seafood market and eatery that's been a mainstay in Oakville's Kerr Village for more than 20 years. View the takeout menu online to order your dishes for pick up (closed Mondays).
250 Kerr St., Oakville.
Mermaidandoyster.com
Seasons Restaurant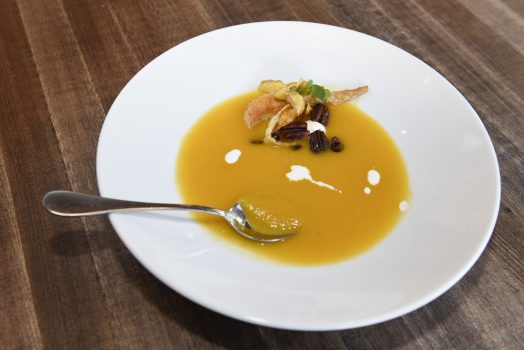 With more than 20 years since opening, Seasons has developed a reputation as one of Oakville's finest dining establishments on the prestigious "restaurant row". It features an elegant yet warm atmosphere, extensive but moderately priced wine list and a constantly changing menu of creative culinary delight.
134 Lakeshore Rd. E., Oakville
Seasonsrestaurant.ca @seasonsoakville
Michael's Backdoor Restaurant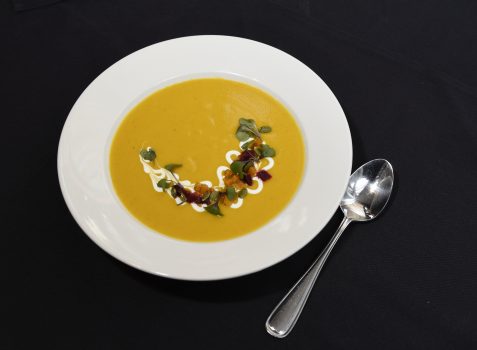 Michael's Back Door Restaurant has been providing Mississauga with award winning Italian cuisine and professional courteous service in a warm, comfortable atmosphere for over 35 years. Order takeout using its online menu which includes family size dishes.
Michaelsbackdoor.com
@mbdrestaurant