Photos by Nikki Wesley
Spring is in the air! There's no better time to invite guests to enjoy a delectable brunch that delights all the senses. Using fresh ingredients, this springtime brunch menu offers the taste buds a variety of textures and flavours that mix savoury and sweet just perfectly.
Recipes courtesy of Nadine Hughes, owner Nadine Hughes Catering and Dinner At Home Meals www.nadinehughes.com, www.dinnerathomemeals.com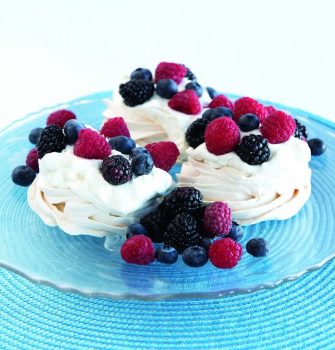 Mini Pavlova with Whipped Cream & Fresh Berries
Serves 8 | Preparation time: 15 minutes | Cook time: 1 hour
Ingredients
3 egg whites (at room temperature)
1/16 teaspoon cream of tartar (optional)
3/4 cup confectioners sugar plus 2 to 3 tablespoons for dusting
1/4 teaspoon vanilla extract
1¼ teaspoon cornstarch
2 cups fresh raspberries and blueberries (or fruit of your choice)
1/2 cup heavy whipping cream
Instructions
To make meringues: Preheat the oven to 250 F and line a baking sheet with parchment paper.
Put the egg whites and cream of tartar into the bowl and beat on a medium speed until the mixture forms soft peaks.
Increase the speed to high and start adding sugar, 1 tablespoon at a time. Add vanilla extract and beat until stiff and glossy peaks form.  Take a rubber spatula, gently fold in cornstarch. Spoon 8 mounds on a prepared baking sheet and using a back of the spoon create a slight dip in the centre of each meringue. Bake one hour. Turn off the oven and let the meringues dry completely in the oven for about 45 min.
To make cream:
In a large mixing bowl, beat whipping cream until stiff peaks form. Spread about a tablespoon of cream into each meringue, garnish with berries and dust with confectioners sugar.
Serve immediately.
Note:  Pavlovas (without cream or berries) can be baked the day before and stored in a sealed container at room temperature.
Melon Apple Mint Juice
Serves 2  | Preparation time: 5 minutes
Ingredients
2 cups chopped honeydew melon
3/4 cup apple juice
1 cup fresh baby kale or baby spinach
6 to 8 mint leaves
Instructions
Place all ingredients into a blender and blend until frothy and smooth. Note: For a frozen treat pour the mixture into popsicle moulds and freeze.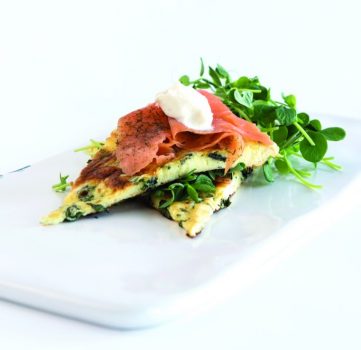 Basil Frittata with Smoked Salmon
Makes 8 slices  |  Preparation time: 10 minutes  |  Cook time: 8 minutes
Ingredients
1 to 2 tsp horseradish cream
250ml (1 cup) sour cream
6 eggs
1/3  cup cream
1/3 cup shredded fresh basil
1/2 cup grated parmesan cheese
salt and freshly ground black pepper
2 tbsp canola oil
16 slices smoked salmon
100g arugula, baby spinach or pea shoots
Instructions
In a small bowl, mix horseradish and sour cream. Add more horseradish if you like heat. Set aside.
Preheat oven to broil.
In a medium bowl lightly whisk the eggs, then add the cream, basil, cheese, salt and pepper.
Heat oil in a 12" heavy-based, oven proof frying pan over a medium-high heat.  Pour in the egg mix. Lower heat and cook for 4-5 minutes, or until the frittata is mostly set.  Transfer pan to oven and finish under a grill until slightly brown and set in the centre.  Remove from oven (careful, handle will be hot) and allow to cool slightly.
Slide the frittata out of the pan while still warm. You may need to run a palette knife under the frittata to ease it out. Cut into eight wedges.
To serve, top each slice with two slices of smoked salmon, arugula and a dollop of the horseradish cream, or serve whole with slices of salmon and arugula arranged on top, with horseradish cream in a bowl on the side.