Prepared for St. Kitts Tourism / Photography courtesy St. Kitts Tourism
It's often said that good things come in small packages. And that's certainly the case with the petite island of St. Kitts. At just 37 kilometres long, it's the smallest country in the Western Hemisphere. But despite its diminutive size, it packs a punch, delivering big on exhilarating experiences, jaw-dropping views and memorable meals.
It's fair to say you'll be drawn in by its spectacular vistas that stretch as far as the eye can see, but what you'll fall for is the friendly, laid-back vibe that permeates every aspect of the place.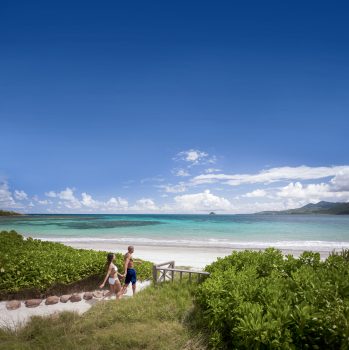 This tranquil paradise was once home to a thriving sugar industry and is now widely regarded as the 'best-kept secret of the Caribbean' – and it's no wonder. St. Kitts is the perfect combination of untamed beauty and sophisticated surroundings, offering an authentic Caribbean experience without feeling overdeveloped, but with all the modern amenities you want and expect from a beach holiday. And the food, oh the food! It's the kind of place you don't want to tell anyone about, for fear it will become too popular. Yet somehow, even as tourism has flourished, the island still manages to feel undiscovered.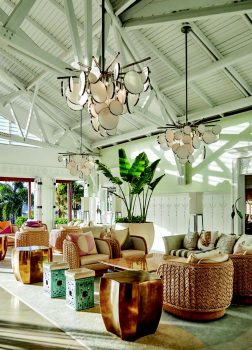 ADVENTURE AWAITS
While you may be tempted to spend all your days soaking up the abundant rays at your resort or a blissfully secluded beach, the island's verdant peaks, clear waters and lush rainforest will soon beckon with the promise of adventure for those who crave an adrenaline hit. You can choose to zipline through the rainforest canopy, hike to the edge of a dormant volcano, dive into one of the 20 best wrecks in the Caribbean, get off the beaten track on an ATV, or sail into the sunset by catamaran. Offering a dizzying selection of adventure activities, St. Kitts is the ultimate destination for those who desire some heart-thumping escapism.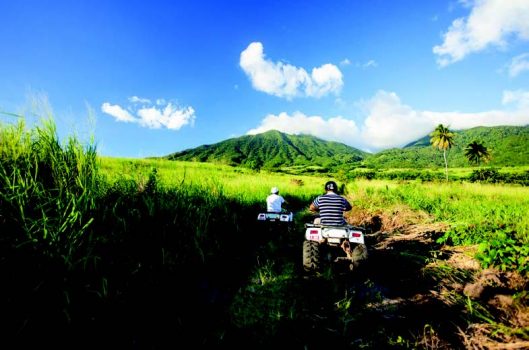 If you're a history buff, there's plenty of that here too. St. Kitts was once considered the "gateway to the Caribbean" for its plentiful sugar cane fields. This reminder of tumultuous history is everywhere, from old stone vestiges of sugar mills to the St. Kitts Scenic Railway tour that winds its way around the island through old sugar plantations, taking visitors back in time.
How about discovering a UNESCO World Heritage designated site and seemingly having it all to yourself? When you're atop the Brimstone Hill Fortress, a British-designed military fort dating back to 1690, it can feel like it's just you and the endless sea. Drink in the sweeping views among the original citadel walls, stone battlements and cannons and discover the fascinating story that it reveals.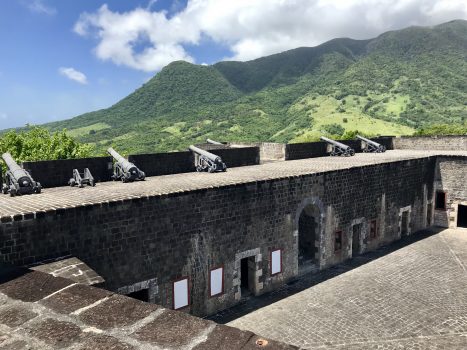 This is an island that engages all of your senses and nowhere will you feel the wow factor of St. Kitts more than here. It's best to visit the fortress through a guided tour to ensure other stops are included on your itinerary, such as shopping from local artisans at the renowned Caribelle Batik, taking in the volcanic formations at Black Rocks, and checking out the remarkable petroglyphs, the ancient stone writings made before the 1600s.
LUXURY STAYS
After a day exploring this picturesque island, you'll appreciate returning to any number of the beautiful hotels that populate its shores. The island has a wide range of accommodations, including the five-star setting of the Park Hyatt St. Kitts, where guests stay in the lap of luxury overlooking an awe-inspiring view of Nevis Peak.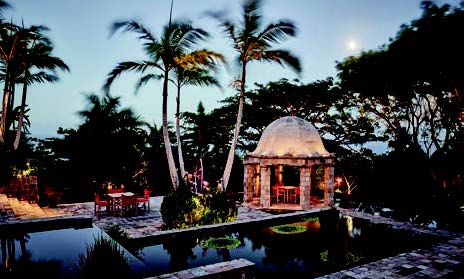 Some may choose the modern KOI Resort St. Kitts with its Zen-like vibe, while others will embrace the family-friendly, big beach atmosphere at the bustling St. Kitts Marriott Resort. Perhaps the sustainably focused Belle Mont Farm is more your style, with its farm-fresh cuisine and private cottages that offer dreamy views overlooking your private pool.
Wherever you lay your head, St. Kitts has a truly impressive range of accommodations to suit every traveller and taste.
DOUBLE THE FUN
While St. Kitts is the ultimate place for transformative travel, a visit here wouldn't be complete without a day trip to its sister island Nevis, less than 10 minutes away by water taxi. If you arrive via the luxury Four Seasons Resort Nevis dock, you may find it difficult to pull yourself away. This sprawling resort ticks all the indulgence boxes and has several inviting restaurants.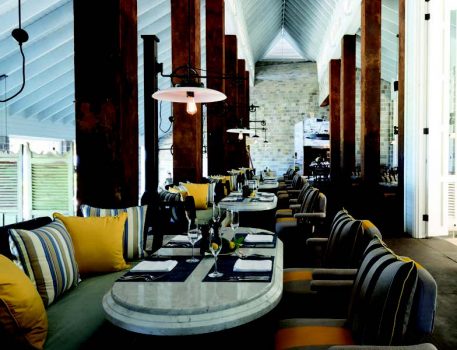 Foodies will enjoy diving into coconut-marinated conch and jerk pork belly burgers washed down with a signature 'Kendie's Kick!' from their master mixologist. But while its mouthwatering menus will tempt you to stay, press on you must.
First up on any day-tripper – and theatre lover's – list is a stop at Hamilton House, the birthplace of Alexander Hamilton, America's founding father. Follow that up with a wander through the lush Botanical Gardens of Nevis, or a hike up challenging Nevis Peak. If a more relaxing day is sought, soak in the Nevis Hot Springs, or book a lunch at the eclectic Golden Rock Inn and take in its glorious gardens. Whatever your itinerary, no stop to Nevis would be complete without a visit to Sunshine's Beach Bar for a world-famous Killer Bee cocktail – it definitely packs a sting!
SAVOUR ST. KITTS
With its range of attractions and plethora of outdoor adventure activities, there are plenty of ways to work up an appetite in St. Kitts. The island is a haven for foodies – that is certain. Its dynamic food scene is filled with passionate chefs who devise imaginative dishes fusing island flavours, fresh seafood and locally grown produce to be enjoyed in any number of magical settings.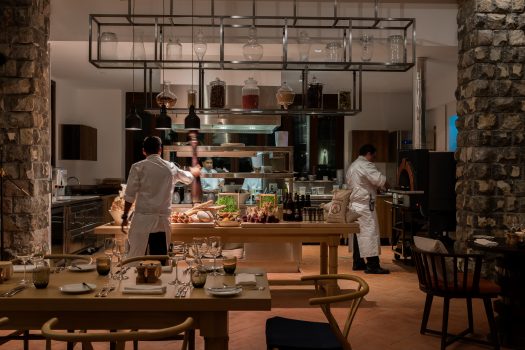 Imagine yourself tucked within the walls of a 300-year-old sugar plantation or ensconced in a private dining cabana surrounded by a cascading waterfall. With talented chefs, ingenuity and enchanting backdrops in strong supply, St. Kitts is emerging as the Caribbean's next culinary darling.
BEACH BITES
It's no surprise that exploring the food scene here would include charming seaside canteens and toes-in-the-sand spots, but St. Kitts excels with a charm that is all its own. Seek out local favourites like the breezy Reggae Beach Bar & Grill for its famous Friday night lobster fest, or Carambola Beach Club, for its beachside pampering and a menu that includes the freshest seafood and sushi for discerning palates (oenophiles will appreciate their expansive wine cellar of over 4,000 bottles).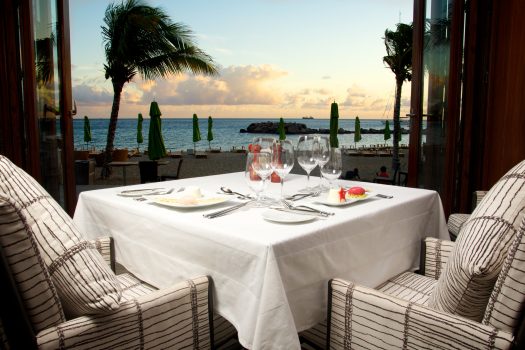 Spice Mill serves up fresh Caribbean fare and next-level cocktails made with its own Hibiscus Spirits, and for that laid-back castaway style, hit up Shipwreck Beach Bar for what's rumoured to be the island's best fish tacos. You might even be able to snap a photo of the monkeys on the beach below.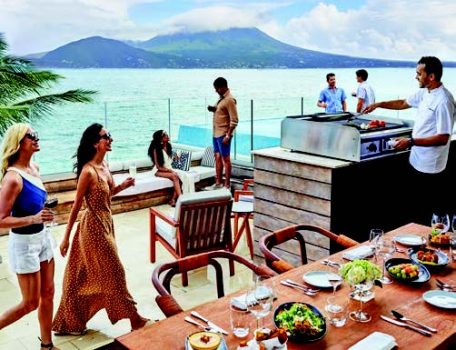 Of course, every visitor in search of local flavour must make a stop at The Strip, the undisputed beachside hangout for fun fare and tasty libations. Choose from a variety of open-air venues and jump from one to the next for a moveable feast, followed by dancing under the stars.
GOURMET AFFAIR
When your heart hungers for an evening of gastronomic delights, St. Kitts delivers an elevated dining scene that rivals all. For a romantic, upscale experience, visit Stone Barn at the luxury Park Hyatt St. Kitts. Here, the inventive tasting menu delivers impressive combos like free-range Kittitian eggs with truffle and boneless lamb loin with saffron.
Other standout restaurants include The Pavilion at Christophe Harbour, with a sophisticated club atmosphere; KOI Restaurant, for its notable miso bronzed cod; and Marshall's, for classic dishes and pretty ocean views. The Kitchen at Belle Mont Farm Resort also deserves a spot on your dining card, serving up dishes like lemongrass-poached lobster and cinnamon-braised goat loin. The resort is also home to a hugely popular al fresco dinner that's created from their 'edible landscape' – an onsite organic farm. Set in the heart of the rainforest with epic views, this farm-to-table feast is one of the island's most brag-worthy experiences. Book your spot far in advance so you don't miss out.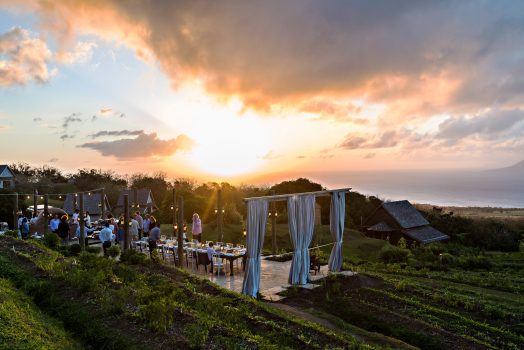 And because St. Kitts was once nicknamed Sugar City, you can't leave without experiencing its rum scene. Be sure to book a tasting at Jack Widdowson's Old Road Rum, located on the site of the oldest standing distillery in the Caribbean. His smooth, molasses-based rum is aged 12 years in bourbon casks and is an experience any rum connoisseur will appreciate.
To share more of its incredible food scene, the St. Kitts Tourism Authority is launching the Savour St. Kitts Culinary Guide, this fall. Be sure to review a copy to make all your restaurant plans before arrival. With its authentic charm, abundant adventures and emerging food scene, St. Kitts is a tiny island that should not be overlooked.
For more information, visit Stkittstourism.kn