By Peter Bailey
For almost four years, Risposta Bistro has been charming the community with its modern twist on traditional Italian fare.
Nestled in the quaint village of Campbellville, the restaurant's comfortable atmosphere and friendly informality of its patio make a perfect setting for the sophistication of the food its expert chefs create.
"We build on taste, presentation, textures and a combination of flavours," says Food and Beverage Manager Patrick Beatty. "We're in the pleasure business. The experience starts the moment our guests get here."
"Our style is Italian, predominantly," says Nick Cortese, whose father Antonio founded the restaurant operation, formerly the San Antonio Bistro. "We also do continental dishes. We set out to create food at an economical price, but at a step above."
The restaurant has 14,000 sq. ft. of garden where they grow their own vegetables and two greenhouses out back to provide herbs year-round. "We also have free-range chickens, ducks and quails for fresh eggs," Cortese says.
Beatty points out that in season they'll go foraging for fiddleheads and wild leeks to add to the menu. "We also tap our own maple trees and make syrup. We have our own walnut trees, too. And we serve edible flowers."
The Risposta Bistro staff even cures its own meats in-house. Cortese says his staff is part of the culture of the restaurant, and the key players have been with him from the start.
Couples and families are welcome, he says, and at any time there may be groups of women playing afternoon bridge, with Sunday bringing in church groups.
Rather than having one signature dish, the Bistro is best known for its pasta and pizza, Cortese says. "And our meat program. We try to make everything we serve from scratch."
"We also can cater to dietary preferences if customers call ahead. The staff meets twice a day to determine how we'll serve our guests," says Beatty. "We have a separate boiler for gluten-free pasta and a separate gluten-free pizza oven."
That attention to detail and the quality of their food is what makes the restaurant stand out from the others in its category, the two say. And that is due to the talents of the bistro's chefs. Head chef is Angelo Mongiovi, a graduate of La Fondation Le Cordon Bleu. The chef is Michael Pellegrino, who studied under Chef Francesco Lagi at the Villa Mangiacane in Florence, Italy, and graduated with honours in culinary management.
The executive chef, Eranga Nanayakkara, learned his skills at Sri Lanka's Colombo International Hotel School, where he studied for three years. He worked for five years in 4- and 5-star hotels in his homeland and studied under celebrity chef Gordon Ramsay in Dubai. (And yes, he says, Ramsay does lose his temper in real life if a member of the kitchen staff makes the same mistake twice.)
Nanayakkara's uses his creativity to bring fresh ingredients to the table in a presentation that's also a feast for the eyes, providing the best in quality and flavour.
I must say, his technique works. I tried the new three-course tasting menu with wine pairings, and the meal was exquisite. The first course was homemade morel, pancetta and truffle cheddar-stuffed saffron ravioli, creamy seasonal vegetable, sundried tomato foam and a micro salad served with an earthy 2017 Bottello di Cello cabernet/merlot blend.
Next, I had the prosciutto and sage-wrapped breaded veal scallopini with marsala and pomegranate jus, wild mixed mushrooms, a hard-boiled quail egg, anchovy and roasted root vegetable. The wine was a slightly tannic Pirovano merlot. 
For the third course, I was presented with a red velvet crepe cake with strawberries and raspberries, rightly accompanied by Graham's 10-year-old tawny port. The taste and presentation were incomparable, priced at $65 per person and accompanied by 2.5-oz. glasses of wine.
The staff also host cooking classes twice a month, offering foodies a chance to learn some new cooking skills. After my visit to Risposta Bistro, that's a tempting thought.
Caprese Salad with Yellow Tomato and Basil Sorbet and Mint Jelly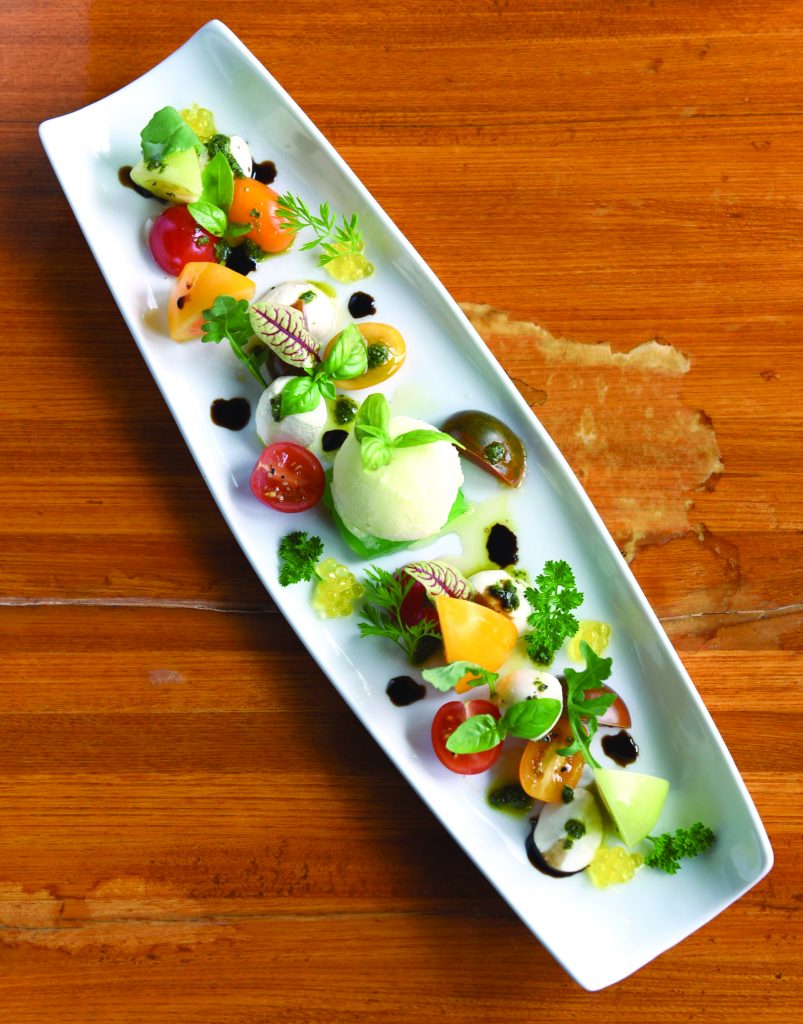 1 pack heirloom cherry tomatoes
2 oz Bocconcini cheese
1 scoop (2 oz) yellow tomato sorbet
1 tsp pesto
3 oz fresh basil
100 ml olive oil
1 tsp roasted pine nuts
1 tbsp grated Parmesan
1 tsp chopped garlic
1 tsp balsamic pearls
1 tsp olive oil pearls
2 oz micro herbs
Salt and pepper to taste
Mint Jelly
3 bunches of mint
1 lime
8 sheets of gelatin
Tomato and Basil Sorbet
3 kg yellow tomatoes
1 bunch of basil
1 lemon
Pesto: Put basil, garlic, pine nuts and Parmesan cheese in a food processor on high speed. Proceed to blend all ingredients and simultaneously fold in olive oil slowly until mixture become a puree.
Mint jelly: Add three bunches of picked mint, one litre of water and fresh lime juice (from one lime) into the food processor and blend until smooth. Using a fine strainer, separate the liquid from solid fibres. Proceed to add eight sheets of gelatin into the liquid. Note: Gelatin should be soaked prior in ice water until soft.
Yellow tomato and basil sorbet: Start by taking clean yellow tomatoes, basil and fresh lemon juice (from one lemon), combine in food processor and blend until smooth. Using a fine strainer, separate the juice from the solid fibres as noted above. Warm the liquid in a separate pot, then leave to cool down for approximately 45 minutes in an ice bath. Add the liquid into the ice cream machine and leave running for 10 minutes or until the desire consistency is reached.
Assembly: Cut all cherry tomatoes into halves and cut Bocconcini into quarter slices. Arrange both on plate as shown and lightly season with salt and pepper.
Drizzle pesto and balsamic glaze on top of the cherry tomatoes and Bocconcini. Place the mint jelly in the centre of the plate and the sorbet on top of the mint jelly. Arrange micro herbs, basil tips and olive oil and balsamic pearls as per picture to add a final touch to the dish.
Italian Braised Lamb Shank with Roasted Baby Potatoes and Root Vegetables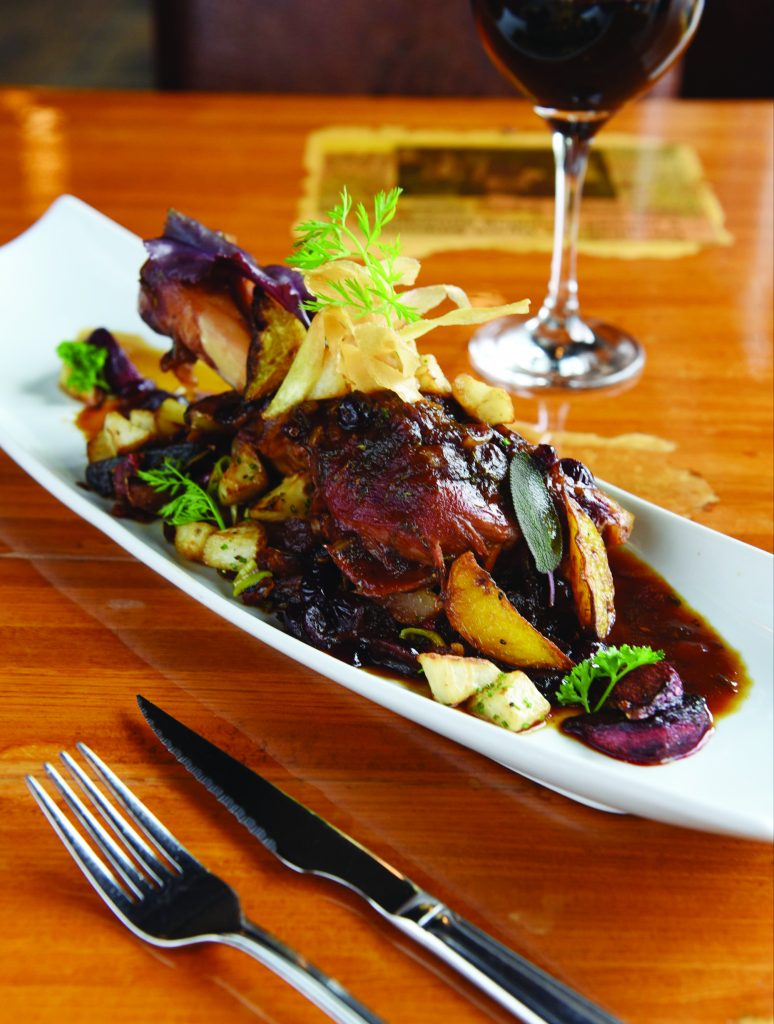 1 piece braised lamb shank
5 oz baby potatoes
2 tsp chopped shallot
1 tsp chopped garlic
1 oz chopped sundried tomato
1 tsp sliced scallions
2 oz pancetta
1 oz each diced carrot, parsnip, turnip, celery and celeriac
½ oz fresh mint
1 oz dried cranberry
50 ml lamb jus
50 ml brandy
100 ml olive oil
2 L white wine
2L vegetable stock
3 cans diced tomatoes
½ bunch rosemary
1 handful peeled garlic
Peppercorns
Bay leaves
Preheat oven to 350 degrees F. Season lamb shanks (10 pieces) with salt and pepper. In a hot, oiled pan, sear the shanks until golden brown on the outside and place in a hotel pan afterwards.
Add white wine, half a bunch of fresh rosemary, one handful of peeled garlic, three cans of diced tomatoes, bay leaves, peppercorns and top with  vegetable stock. Make sure that the lamb is fully submerged under the liquid. Place hotel pan in oven. Allow the lamb to slow cook for 2.5 hours.
Bring two pots of salted water to a boil. In the first pot, add baby potatoes, rosemary, garlic, peppercorn, thyme and bay leaf. Boil ingredients for 30 minutes, checking periodically. Once the desired softness is reached, turn off heat and leave them in hot water to infuse.
While waiting for the salted water to boil, clean and peel carrots, turnips, parsnips and celeriac, and cut into a small dice. Blanch all vegetables separately for one minute, quickly transferring to a waiting ice bath and stirring around.
After 2.5 hours, remove the lamb shank from the oven and separate from the liquid using a fine strainer. Add the braising liquids to the separate pot and simmer until liquid is reduced by three quarters. Add one lamb shank to boiling liquid.
In a sauce pan, heat oil and sautée shallots; once soft, add cranberries and deglaze with brandy. Add reduced jus. Before plating, add mint to jus.
Strain potatoes, cut into quarters and fry in a shallow pan until golden brown. Transfer to a bowl and use the same pan to cook the pancetta until crispy, then add shallot and garlic and sautée until golden brown. Add potato and sundried tomato to same pan and toss until potatoes are warm; finish with scallion.
In a hot pan, add oil and sear root vegetables until golden brown. When vegetables are ready, finish them with butter to create a glaze and season to taste.
Plating: Place the roasted potatoes as the base of the plate. Next, place the lamb over the potatoes and cover the shank with the jus. Add your root vegetables on top and around the lamb shank, as you would like, keeping colours in mind.