By Peter Bailey
When summer's heat has finally passed, Burlington residents and visitors will turn to comfort food that is exotic yet familiar, hearty yet light, and filling but not heavy. That will draw them to Loch Side Restaurant and Bar, at the corner of Locust Street and Lakeshore Road, a welcoming spot that opened in May, 2019.
As September begins to show its colours, diners can turn from their strolls along the lake and head to the tables of a restaurant that welcomes diners to its curtained entrances, wood and stonework interior, floor-to-ceiling views of the lake and tasteful soft green upholstery.
Loch Side is the creation of owner Sukhi Shetra, 35, a Scottish native of Indian background who grew up in a family that has a long history in hospitality and restaurants.
"I come from a long line of entrepreneurs," says Shetra in his soft Edinburgh accent. "My father has a chain of grocers in Scotland, my father-in-law has been a chef for 30 years in the U.K., and my wife and brother-in-law worked in hospitality in the Fenwick Hotel in the west of Scotland," he adds.
Shetra's two young children were born in Canada, after the family decided to move here in 2017.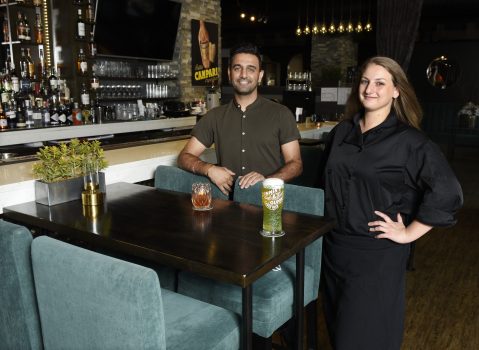 His chef Megan Bernas, 32, studied at Liaison College in Oakville and had been working for four years at the previous restaurant. She joined Shetra's staff when his family took over the business.
"It's been great working together," she says. How would she describe the food?
"It's Scottish fusion," she says. "In the summer, it was more seafood-focused, with lighter dishes. Customers would ask for haggis and black pudding. Last year, we did a black pudding and macaroni with cheese, which was very successful."
One of their more popular meals, the two explain, is pasta with scallops and bacon. "We add breaded haggis bon-bons to the pasta dish and for dessert, strawberries oats soaked in whisky and whipped cream, layered like a trifle," Shetra explains.
The two love to experiment with new dishes, although Shetra explains "we get a lot of people who aren't very adventurous." Many customers prefer more traditional Scottish cuisine, so Loch Side provides items like brisket and ale pie.
"It's braised for eight hours," he explains. "We serve it with pearl onions, mushrooms and mashed potatoes. It's very popular and outsells our fish and chips."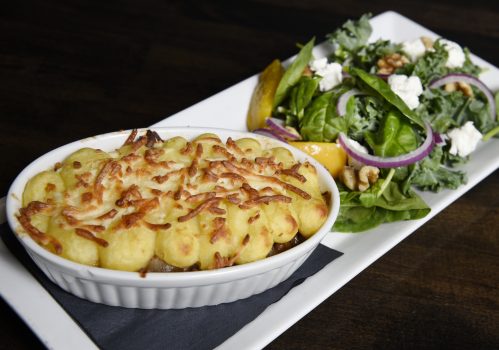 "Our summer customers tended to want wings and burgers," Shetra adds. "But our fall and winter focus will allow us to experiment. Our repeat customers are more open to try things like haggis."
"The biggest thing," Shetra explains, "is when people think of Scottish food, they think it'll be bland. They're surprised by our creativity — both in our food and drinks. One example is our own whisky barbeque sauce."
Loch Side also offers a variety of curry dishes such as butter chicken or coconut shrimp with naan bread and Basmati rice. "My father-in-law does the Indian food," Shetra says.
"I try to learn from him," Chef Bernas adds. "We like to experiment when we can. We have a great team here."
As the cooler weather approaches, Shetra says they'll add more "comfort food" to the menu. "I'm planning to introduce a full Scottish breakfast of sausages, bacon, black pudding, baked beans, tatty (potato) scones, grilled tomato, mushrooms and fried bread," Bernas says. "And we'll add a Sunday roast, with potatoes, horse radish and Yorkshire pudding."
The result will be snug dining in a cozy atmosphere, even as October storms may whip up the waters of nearby Lake Ontario.
During the closure due to the COVID-19 crisis, Loch Side remained open, offering take-out food at reduced prices. "We offered health-care workers and seniors a half-price deal. We gave away approximately 1,000 meals in those months," Shetra says. "I want to start something like that again, maybe a discount for first responders and senior citizens."
Loch Side's patio can comfortably sit 70 customers, while the interior can accommodate 30 diners. Tuesday evenings, the restaurant tends to be full, as are Thursday, Friday and Saturday nights, as well as Sunday daytimes. As for reservations, the restaurant is only accepting walk-in business at present.
Staff can accommodate dietary needs and preferences, the chef says. "We can modify most things. We try to be flexible with the menu. We can make dishes that are gluten- and dairy-free. Just tell your server ahead of time."
Shetra says he picks up most of the food he serves from the Ontario Food Terminal. The meat comes from local Ontario farms, while the mussels come from P.E.I. and the haddock is from Atlantic sources. Loch Side offers eight local and imported beers, and features Ontario wines in its wine list, which is currently being reorganized.
Both the restaurant and its washrooms are wheelchair accessible, and sheltered parking is available on Locust Street.
The key to Loch Side's charm is that you can find food here that you can get nowhere else in the city. The menu is constantly evolving, so regular customers will not get bored.
At a time when fine dining is at a premium, it's reassuring to have such good home cooking so close to home.