By Stephanie Hounsell
After months of bundling up, shovelling driveways and socializing indoors, Canadians are more than ready to embrace the start of spring by the time March and April roll around. Time to throw open the windows, enjoy whatever beginnings of growth our gardens reveal, and turn our backyards into extensions of our kitchens.
Even our palates seem to notice the seasonal change, and crave something different — something fresher, lighter, and, after a season of indulging in comfort food, something better for our waistlines.
Nature answers this call with the upcoming arrival in local fish markets of wild salmon. The seafood's limited availability provides the perfect excuse to prepare and enjoy a delicious meal — and maybe learn a culinary thing or two.
Springtime means wild salmon
Bill Rechter, owner of Just an Ole Fashion Butchery and Seafood, 165 Lakeshore Rd. E., in Oakville, says fish sales increase as the weather gets warmer and the days get longer. People start cooking more, socializing more and going to restaurants less, he says. Many of his customers are dedicated wild salmon fans who are happy campers when sockeye, king and coho start arriving at his store in late spring.
Some of Rechter's customers are regulars who view fish as an important part of their weekly diet. For others, fresh fish is more of an indulgence for special occasions or entertaining. Regardless, the part of his job Rechter loves most is speaking with his customers, giving tips and advice and encouraging them to try something new.
There's much debate surrounding farmed versus wild fish. Rechter offers both, with farmed salmon available year-round. He weighs in with a balanced view and simply encourages his customers to do their research, give both a try and then to see which they prefer. Wild salmon tends to be leaner and have a meatier texture than farmed salmon, which has a softer texture, he says. Wild salmon also tends to have a richer flavour than farmed, although Rechter notes the exceptions of farmed Irish organic salmon — his personal favourite — and some of the higher quality farmed Atlantic salmon.
Get out the barbecue
Whichever salmon you choose, barbecuing is a great way to enjoy it in the warmer months. Salmon has a firm flesh, so it doesn't fall apart easily on the grill. Rechter recommends folding over some good quality tin foil to form a surface onto which you can directly place the salmon. When the fish is done, you can slide a spatula under the fish to carefully remove it, handily leaving the skin behind, sticking to the foil.
Liking his fish cooked simply, Rechter uses only a sprinkle of sea salt or finishing salt for seasoning. "If you're buying a good quality product, enjoy it for what it is," he says, adding customers get what they pay for. "We can buy a cheaper fish (from our suppliers), but I don't think we can buy a better fish."
When the fish is done is a matter of preference. Rechter prefers his still slightly translucent, while others like it cooked until it's opaque.
Dean MacLean has owned The Mermaid and the Oyster restaurant and market, at 250 Kerr St., in Oakville, for 20 years and specializes in buying small orders of fresh seafood daily — including, in late spring, wild salmon like sockeye and coho from British Columbia.
When it comes to barbecuing, MacLean recommends placing the salmon on a cedar plank, which results in a nice smoky flavour. Or put it skin-side down straight on the barbecue and season it with some fresh-squeezed lemon, sea salt, fresh-cracked pepper and a bit of garlic. "It's a nice, firm fish. It won't fall apart on you, so salmon is wonderful to barbecue," he says.
Of course, pan fried or baked are other ways to cook salmon, which can also be enjoyed chilled. MacLean suggests serving salmon either whole or in chunks on top of a Caesar salad — or any kind of salad — for a light spring meal.
MacLean, who is an expert oyster-shucker, says the people who come into his market enjoy experimenting with their food, finding recipes on the internet and wanting to imitate dishes they've seen prepared on TV. He's more than happy to chat about the best sort of glaze for salmon (he likes honey or maple) or how long to pan fry it (three to four minutes per side).
As for his favourite salmon, he prefers east coast Atlantic. That's because of its higher fat content — he likens it to the marbling in a steak — which adds flavour and helps the fish to not dry out as quickly when cooking.
Snow crab arrives too
Just in case salmon's not your thing… enter the crab. The snow crab, to be specific. Dave Rihbany, owner of Dave's Fish Market, 685 Plains Rd. E., in Burlington, says unabashedly, "I'm a crab guy." Like wild salmon, snow crab — sold cooked — also arrives in April and May. Rihbany gets his from Quebec. And he starts dreaming about it months in advance. "On the first of January I think, 'Three months until crab season.'"
He sells frozen king crab year-round, but says he waits until crab season for the smaller, sweeter crabs and then eats his fill for two months. Some customers don't like the trickiness of getting to the snow crab meat, but Rihbany doesn't mind, and says it just takes practice. Like riding a bicycle.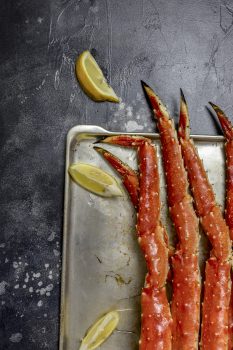 Most people are unaware of all that's involved in the seafood industry, including the many factors — like weather and logistics — that affect just when salmon, snow crab, and other favourite catches arrive at the store, Rihbany says. That challenging nature of the business is something he's more than happy to work with. "You can't expect the seafood to revolve itself around your life. You have to revolve your life around the seafood," he says.
Perhaps that's reason for the rest of us to appreciate our long awaited plates of salmon and snow crab just a little bit more.