By Stephanie Hounsell
Chef Mareya Ibrahim remembers strolling through the local food markets in Egypt as a girl with her grandfather. The aroma of spices and colourful explosion of fruits and vegetables made for a heady and memorable experience. It was a feast for the senses, and where Ibrahim's passion for food started. Real food. With nature's bounty of beautiful colours, textures and smells, not to mention tastes, she has always seen eating as a refined, delicate form of art.
"It's the only art form that's appreciated by all five senses," says Ibrahim, aka the Fit Foodie, who's passionate about just how delicious plant-based eating can be.
But for too long, when she looked around her, it seemed vegetables were relegated to the side of the plate, lonely and, yes, sometimes even bland. Fortunately, she says, there's a change on the culinary horizon — one that's a long-time coming. Now, there are Michelin-starred restaurants that feature vegan — containing no animal products, including eggs and dairy — and vegetarian food, she says. And in regular households, vegetables are more often THE dish instead of an insignificant part.
According to research out of Dalhousie University, as of last year almost 10 per cent of Canadians were either vegetarian or vegan. The number of vegetarians alone has more than doubled in the past 15 years.
People — whether vegetarian, vegan, or perhaps I'm-trying-to-eat-more-plant-based — are craving meals that taste and look every bit as appetizing as their meaty counterparts, Ibrahim says. They're looking for a more upscale version of plant-based eating, one they're proud to serve at dinner parties and that will appeal to everyone.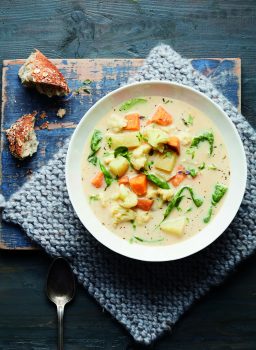 Ibrahim — featured on TV show Recipe Rehab as well as the Food Network and online at mareyaibrahim.com — is happy to oblige. Recipes in her new book, Eat Like You Give a Fork: The Real Dish on Eating to Thrive, embrace the notion that plant-based meals can be all these things and more.
Sometimes the most elegant, refined dishes are also the simplest. And, yes, salads are still a big and beautiful part of today's vegetarian eating. But Ibrahim shudders when she sees sumptuous ingredients drenched unnecessarily in dressing. Ibrahim's heirloom tomato, cucumber, feta and dill salad with pumpkin seed oil vinaigrette is a nod to simplicity. And the pumpkin seed oil elevates the salad to gourmet status.
Just like she did in her native Egypt, Ibrahim urges people to visit their local farmers' markets and take home something they've never tried before. Be curious, she advises.
Upscale and vegan
As a vegetarian since she was in her teens, and a vegan for the past three years, Alka Dhir knows what it's like to be the guest who can't find anything to eat. Fortunately, she too sees the scene changing. Now there are vegan dishes that everyone can enjoy, regardless of how they identify. "People are looking for beautiful foods done in a beautiful way, and it doesn't matter that it's vegan. It just happens to be vegan," she says.
Along with Vanusa Moore, Dhir owns the new Community restaurant in Oakville. Community fills a niche by offering guests a more upscale vegan dining option, with a chic atmosphere perfect for celebrations and special family moments, Dhir says.
But the desire for more refined vegan and vegetarian dishes isn't limited to dining out. People want to be able to cook this way for themselves and loved ones, providing delicious meals that "wow." They can, Dhir says. "You can skip dairy and meat and still have a meal that looks and feels beautiful." And it doesn't have to be particularly difficult. In fact, it's something even her kids can pull off.
For her last wedding anniversary, Dhir's four children prepared a fancy vegan soirée at home. First course? A simple plate of sliced tomatoes with olive oil. Then a sweet potato gnocchi in a buttery cream sauce — achieved thanks to vegan butter, which melts just like the real stuff — with fresh sage, served on a bed of quinoa, with asparagus on the side. To top it all off, there was a dessert of peaches simmered in wine sauce and served with tofu ricotta. It was perfect, Dhir says.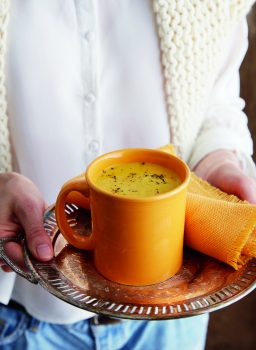 With the widespread availability of so many vegan ingredients, like cheese and butter, it's easy to cook in gourmet fashion, Dhir adds. She enjoys the surprise people often reveal when they eat at her restaurant and discover the food has all the flavours they crave. "There's a misconception. A lot of people think vegan food is boring. That it's just vegetables or salads," she says.
Community focuses on global flavours, drawing on the owners' backgrounds — Dhir is from India, Moore is from Brazil — and other cultures. Every country has its own vegetarian dishes that are worth delving into, she says. One of the most popular dishes at Community is butter tofu.
When it comes to learning how to cook plant-based meals at home that go beyond the basics, Dhir recommends taking to social media and following some of the many influencers doing just that. She's happy to talk to customers at her restaurant who want to know more about her dishes so they can try to replicate them at home.
Presentation is key
Of course, presentation is key to preparing top-notch plant-based meals. One of the ingredients Dhir likes to use is delicate micro greens, which look like tiny little leaves or flowers. One easy dish she prepares — which would be beautiful as an appetizer — involves sautéing or grilling mushroom caps with a balsamic glaze and filling them with micro greens and a drizzle of cashew crema. All wanna-be-gourmet cooks should have drizzle bottles on hand, she adds, which dispense their contents in an artful way.
When Dhir hosts parties, she doesn't want to put anybody in the uncomfortable position she found herself in. And there's no need. These days, small substitutions — such as vegan butter in the mashed potatoes — can easily be made, making the dish suitable for everyone, whether carnivore, herbivore or omnivore. And vegan/vegetarian dishes can be so delicious everyone wants to eat them. She likes to host a sort of DIY meal. She might have a Mexican night and serve tacos that guests can prepare themselves, choosing from among accoutrements like beans and tofu, but also offering cheese and sour cream for people, like her husband, who eat dairy.
Comfort in the familiar
Neven Madzarac and Melissa Rivers co-own Lettuce Love Café in Burlington and Oakville. The current trend in plant-based eating, they say, is dishes that mimic their non-vegan counterparts. People — especially those just dipping their toes into plant-based eating — want the benefits of eating vegan or vegetarian without completely changing their eating patterns. Hence the Beyond Meat craze. At Lettuce Love Café, spices, sauces and marinades — the elements that give familiar dishes much of their flavour — are often used to create dishes that give the same taste and sensation as meat. Madzarac gives the example of his restaurant's barbecue jackfruit sandwich, which features pulled jackfruit smothered in house-made barbecue sauce, topped with red-cabbage coleslaw and pickles and served on a bun. In a regular pulled-pork sandwich, the sauce is what gives that familiar taste. Same here. Jackfruit takes on the flavour of whatever it's paired with, and, when pulled apart, has a texture similar to pork.
The demand for higher-end vegan food has produced incredible creativity, Madzarac says, and the availability of so many ingredients means there's no feeling that something's missing. People who try the café's nachos with tempeh chili would never know they're vegan, Madzarac says.
Among Lettuce Love Café's most popular dishes are its bowls, which combine various sweet or savoury proteins, grains, and fruits and vegetables. They're filling and visually appealing — and easy to prepare at home. "Especially if you're a busy mom, it's like a one-pot meal," Rivers says, adding, "The fun thing I absolutely love about cooking vegan is not having to worry about cooking everything to the right temperature or cross contamination (from meat). You can't get it wrong."
When it comes to plant-based eating, it doesn't have to be all or nothing, Madzarac emphasizes. "We're not saying, 'You must be vegan today.' We encourage our customers to start incorporating one (plant-based) meal a week and to see how amazing they'll feel."
With meals this delicious, that seems more doable than ever.