The three things we can all do right now to help
By Carmelo Giardina
Extraordinary, uncertain, challenging: Words that seem to best describe the world's current 'is-this-really-real' situation.
To some, patience can be a trying exercise. People have become accustomed to going out – socializing, dining, entertaining with one another. It's a known fact that our economy depends on this very thing. Perhaps your personal income depends on this very thing. So how do you suddenly do the exact opposite? How do we respond to something we're just not used to being told to do?
For our local wine industry – an industry that thrives on entertaining and engaging with people face to face – times couldn't be more tough. But there are solutions that can ensure businesses stay afloat while this pandemic rages on. Agreed, perhaps it's not the way we'd all like it to be – who doesn't relish the opportunity to go to wine country and sniff, swirl and sample a newly released bottle of wine. But rest assured, those days will return. And business will boom again. All is not lost.
Right now, we can help make a difference from the safety of our home, and we can do it with less than 10 clicks of a mouse button (or taps on our smartphone). People want to support. It's in our survival DNA. There's been a rally cry and it has been heard. Now it's time to act on the impulse to want to help.
As each winery deliberates their own response and measures – which will undoubtedly continue to evolve – we can show our support by acting on one or all three of these helpful impulses: Buy online; Buy a gift card; Become a wine club member. It's that simple.
Buy online:
Most wineries have online stores and would love to arrange delivery for your orders. You can also contact many by phone for assistance making selections. (Many wineries have reduced their shipping charges or have offered free delivery service during this period.)
Buy a gift card:
A great way to tangibly show your support now but do your shopping later! Gift cards are also wonderful thank-yous to people who help you out during this time.
Become a wine club member:
Every winery's wine club is different, and while most typically will bring a periodic shipment to your door, some also have winery-based benefits and events. Something to look forward to when this health crisis has ended! (Circumstances vary, so speak to the winery whose club you are considering.)
Wineries of Niagara-on-the-Lake is a member-driven cooperative of over 20 wineries located in the Niagara-on-the-Lake region here in Ontario. They've been working hard to promote the 'support local' initiative on behalf of their member wineries.
"We are heartened by the interest that so many Canadians have shown for how the pandemic is affecting our winery community here in Niagara-on-the-Lake," says Andrea Kaiser, Chair of Wineries of Niagara-on-the-Lake. "We truly appreciate the support being shown in buying local and supporting our farms. In response, our winery members have made it easy for people to enjoy their favourite VQA wines in the comfort and safety of their own home with offers of free shipping."
To help streamline matters a bit, Wineries of Niagara-on-the-Lake have set up a page on their website that provides free shipping details for all their member wineries. Access it by clicking here
"In these uncertain times it is amazing to see not only local communities, but Canadians work together to support each other," continued Kaiser.
We all know what needs to be done to help stave off the persisting threat that COVID-19 carries. And so, while we're doing our part by staying home to help 'flatten the curve' we're also being asked to help our local economy – wherever we may live. It's one of the best, most important deeds we can do right now. Your support for local means so much to so many.
There are better days ahead. In the meantime, stay safe and stay healthy.
Below are some examples of local Niagara wines I recently tasted and would highly recommend, all of which I've scored above 90 points:
Bachelder 2017 Wismer-Wingfield 'Ouest' Chardonnay

The first time I had the pleasure of trying a Bachelder chardonnay out of the Wismer-Wingfield block was summer of 2018. It was the 2015 vintage and it hadn't been officially released yet – in fact, it hadn't even officially been bottled yet. I can remember thinking at the time that this was likely the best chardonnay I had ever tasted. I didn't even know that chardonnay could taste this good. And the fact that it was from Ontario? Kudos. Since then I have gone on to re-taste that exact 2015 vintage, and then the 2016 vintage and now the 2017. It is, for lack of a better word, a outstanding wine, year after year. The 'Wismer-Wingfield' vineyard is a late ripening parcel, furthest from Lake Ontario and at the highest elevation. This is further sourced from the western part of that block, intently focusing on the specifics of its unique terroir. There's intense flavours of lemon zest, apple and pear that hit the palate like a truck out of nowhere. Then refreshing stone minerality and salinity sending it all the way to the finish. There is perhaps no better chardonnay made in Ontario right now. Score: 95
Konzelmann 2015 'Family Reserve' Cabernet Merlot
This is the third time I have tasted Konzelmann's signature Bordeaux-styled red blend consisting of cabernet franc, cabernet sauvignon and merlot – and just like the first time (the formidable 2012 vintage), this one is superb. Velvety tannins and a chewy ripe fruit mix of currants and black cherries coat the mouth immediately. Black pepper and spice bring this wine to its lengthy conclusion. Very approachable now but will also age well into the coming 4-5 years. A good choice to go with home-cooked roast beef. (Regularly priced at $49.95 but on sale now for $10 off when you buy online!) Score: 94
Reif Estate 2016 'First Growth' Cabernet Sauvignon

Fruit for this special series was hand-harvested from a vineyard block planted in 1989 and thinned to a restricted 2 tonnes per acre. This wine is big and bold with a deep ruby colour and is loaded with flavour. The aromas are rich and complex with hints of black cherry, leather and even dark chocolate. (Pro tip: keep sniffing the wine as you drink throughout the night and get a sense of how this evolves.) The palate is tightly structured, laced with spice and noticeable oak influence at the moment but is sure to mellow out in several years or with a good three hour decant. Pair with red meats like leg of lamb, rare steaks or prime rib. It's a collector's wine for the serious Ontario wine collector. ($100) Score: 93
Westcott Vineyards 2018 'Estate' Chardonnay
You can check off all the boxes for this chardonnay coming from this small, artisanal winery located within the Vinemount Ridge appellation in Jordan, Ontario. Its sight, smell and taste are in line with some of the very best chardonnays this province has produced. It shimmers gold in the glass, evoking elegance and sophistication. Aromatic notes of apple, peach, cinnamon toast and vanilla lead the way to a very balanced, dry mouthfeel comprised of refreshing minerality, salinity, sturdy acidity and a wonderfully textured finish. Oak is ever so judiciously used here. This is nothing short of excellent and it's truly wonderful and satisfying to see expressions of terroir, via this chardonnay, coming out of Niagara. ($29.99) Score: 93
Leaning Post 2017 'Senchuk Vineyard' Pinot Noir
It's just the third vintage of his namesake home vineyard pinot noir but already Ilya Senchuk has touted this particular wine as the best pinot noir he's made to date. Back when the 2016 vintage was released, Ilya told me he wanted to release wines that were indicative of place and high-quality. For a wine coming from vines so young, the 2016 was astonishingly complex. This 2017 version kicks things up a notch and, thankfully, he's made more of it (2016's vintage only saw 59 cases produced, while 2017's output has almost doubled at 110 cases). If you're into terroir – like really into terroir – this is a wine that's sure to excite you. There's a real earthy vibe happening on both the nose and the palate. Beet root, mushroom, pine needle, floral and herbal notes. It's further complemented with savoury fruits, spice, a dose of minerality and vibrant acidity. It's got structure that will allow it to age throughout the latter half of this decade. This is a snapshot of a place and time that oenophiles shouldn't hesitate to buy multiple bottles of. The journey of evaluating and contemplating it over the next several years will be an exciting one. ($65) Score: 93
Icellars 2017 'Wismer Edgerock Vineyard' Syrah

Ripe, jammy, dark cherry fruit, accented with blueberry and blackberry notes, some smoked meat lingers with a hint of bacon fat. Ah, this is well made syrah! There's barrel spice, while other varietal characteristics of black pepper and smoke round out this young, yet already complex wine. Ageworthy yet ready now, let this wine really do its thing along-side grilled sausages and an assortment of smoked meats and cheeses. ($40) Score: 92
Stratus 2016 Merlot

According to the team over at Stratus, the 2016 vintage was one for the record books. Winter was mild and dry followed by a warm and dry spring. Favourable conditions continued in May through the middle of August making it one of the driest summers on record. After thoroughly enjoying Stratus' 2015 Merlot, I made it a priority to taste the '16, especially considering the stellar vintage. It did not let me down. Loaded with aromas of cherry, plum and leather, this is a complex, well balanced wine – smooth as a merlot should be and expertly crafted – what one has come to expect from such a reliable producer. Quite possibly the best Ontario merlot in the market for the price. ($39) Score: 92
Thirty Bench 2017 'Small Lot' Pinot Noir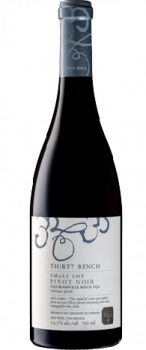 A lovely integration of fruit and barrel notes, winemaker Emma Garner has once again delivered on a wine that is quickly becoming one of my personal favourites to come out of an estate better known for its rieslings and hearty, Bordeaux-style reds. It's medium-bodied with fruit flavours of red currant and cherry, plus added notes of earth and beet root unfolding on the palate. I noticed more earth in this vintage and less barrel spice than the 2016 offering. Drink or hold for two years tops. Excellent value considering Thirty Bench is a premiere producer. ($36.95) Score: 91
Colaneri 2018 'Corposo' Ripasso Red 

Made with 90% cabernet franc and 10% cabernet sauvignon, then re-passed over 100% dried skins from cabernet sauvignon, cabernet franc, merlot and syrah. This Italian-style 'ripasso' has inviting aromas of cherry, plum, earth and clove spice leaping from the glass. The palate is rich and vibrant with succulent cherries, bell pepper, nutmeg and subtle earth. Let this decant and witness it become even more rich and complex. Serve this with pasta ragout for dinner and ensure that you save some to treat yourself with dark chocolate for dessert. Such a great value wine that can either be consumed now with a nice decant or will hold nicely for up to three years. ($21.95) Score: 91