story & photography by Barbara Ramsay Orr | 
There are some cities which exert an irresistible draw. For me, one of those cities is Cartagena. It has called to me for years. Even the name rolls off the tongue musically. 'Cartagena.' Or, 'Cartagena des Indias.'
The attraction was partly triggered by reading the works of the Nobel Prize-winning author, Gabriel Garcia Marquez, particularly his novel Love in the Time of Cholera. That story, of a love delayed, of solitude and devotion, conjures the drama of noble families, turbulent passions and a layered and complex Colombian culture. 
\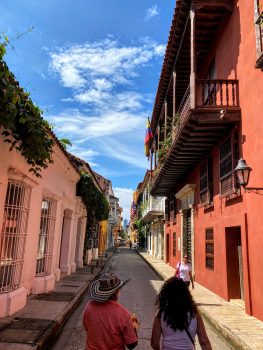 What I discovered when I visited was so much more than the backdrop to a famous novel. The city is a study in differences, with the vibrant narrow streets of the old walled section set against the soaring highrise towers of Bocagrande in the new city. And a short boat ride away, through the Bay of Cartagena and into the Caribbean Sea, lie the Rosario Islands and Baru Island, each with white sand beaches, blue water, coral reefs and resorts to beguile any lover of a beach vacation.
By far the most intriguing part of Cartagena is the old city, surrounded by thick walls built in the 16th century to protect the inhabitants against pirates and invaders. Here the architecture is primarily Spanish colonial, the streets are narrow cobblestone laneways and the houses are painted in harmonious hues of pink, blue, yellow and purple.
I joined up with a local guide, JC (Julius Caesar Lopez) who specializes in a Magical Realism Tour of the Gabriel Garcia Marquez locations in Cartagena. "We call Marquez the Cervantes of South America," he tells me. We walked to the ancient cloister, part of the University of Cartagena. That is where 'Gabo', as he is affectionately called by Colombians, studied and where some of his ashes repose. One of his white suits, his habitual dress, is displayed there, along with one of his flowered shirts, some of his original papers, a bronze bust and photographs of the author.
In addition to the places that are related to the Marquez, there are many things to see and do in Cartagena and it's easy to move too quickly from one interesting artifact to another. I had to remind myself to slow down and really see the old city. Gabo would have had a morning stroll and coffee along with lengthy chats in one of the many cafes. Cartagena is coffee mad and it's nearly impossible to get a bad cup of coffee here. Marquez may have lingered on a bench in Bolivar Square and listened to the conversations around him. Slow is the way to see this city, not just because its streets are so full of colour, art and flowers, but also because the heat of the day requires it.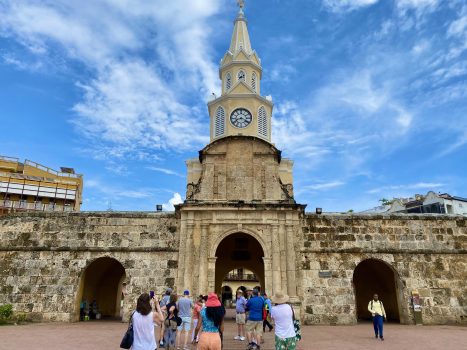 So, I lingered over a delicious lunch at La Cevicheria and explored the narrow streets and laneways inside the walled city that was named a UNESCO World Heritage Site in 1984. I noted the shaded upper balconies covered with flowering bougainvillea, hibiscus and morning glory that overhung the streets, imagining that they would be a cool place to sit in the evenings to watch passersby. 
The doors of houses in the old city often have elaborate door knockers and if you look closely you'll see that there are patterns to the designs. A knocker that portrays the god Neptune or a fish indicates that the family living there was connected to the sea in some way. An owl on the door says the family members were judges or lawyers, while a lion suggests a family with noble connections. One door had a parrot on it and JC explains that this is the house where the main female character in Love in the Time of Cholera, Fermina Daza, lived. Her husband, the fictional Doctor Urbino, died when he fell from a tree he'd climbed to retrieve a parrot that had escaped from its cage. 
Art is everywhere in this city and the narrow cobbled streets of the Getsemani District almost vibrate with colourful installations. Walls serve as canvasses for local artists and are painted with portraits, wildlife and symbols. Several upscale galleries feature works of mainly South American artists. Women in bright coloured dresses, the city's famous Las Palenqueras, angle for attention balancing bowls of fruit on their heads, hoping for a tourist to take their picture (for a fee).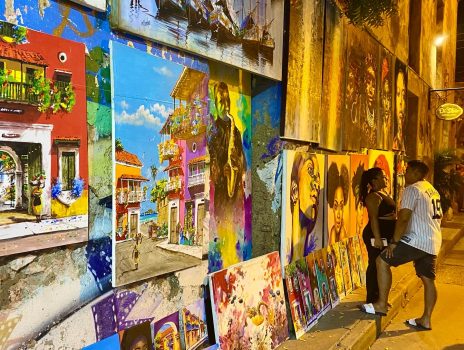 In Santo Domingo Square, located in front of the cathedral, a bronze reclining nude created by the Colombian artist Fernando Botero and donated to the city, attracts all eyes. And hands. The local belief is that if you rub her breast you'll return to Cartagena. If you rub both, you'll return and stay forever. Not surprisingly, the patina on that area of the statue is quite polished.
The streets of the old city are also lined with elegant shops which sell handicrafts, woven baskets, fine leather goods, upscale fashion and jewelry.
The Emerald Museum displays the history of Colombian emeralds and the museum store provides some irresistible jewelry pieces, with emeralds from small to large, set in gold or silver. The Museo Del Oro Zenu is a small but carefully curated museum where close to 600 pre-Colombian gold artifacts are displayed. 
Things not to miss include the great fortress with its underground tunnels, the beautiful watch tower, San Filipe de Barajas Castle, La Popa Monastery and the many stately cathedrals. 
If you have time, a day trip to the Rosario Islands or Playa Blanca on Baru Island is well worth doing. The view of the city from the boat as you sail out of the bay is breathtaking and gives you an excellent panorama of the coastline. Out at the islands, there are opportunities to swim, snorkel and scuba dive along the coral reefs. Visitors can enjoy a traditional Colombian lunch of coconut rice, fresh-caught fish and fried plantain, finished with local rice, coconut and Panella dessert. You can even schedule spa treatments from the island resorts. The boat ride to the Rosario Islands is about one hour.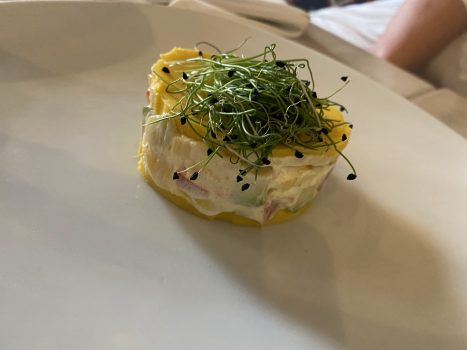 There are many exceptional dining options in Cartagena. Colombia is a lush country, fertile and productive, and the results are served to you at your table. I loved a casual lunch at Cuzco, a Peruvian restaurant in the old town. I enjoyed a bowl of the traditional Colombian staple, ajiaco, a robust chicken broth with potatoes and corn, followed by Pescado Iberico and Papas Cuzco. One evening I joined a group of friends to dine at Di Silvio Trattoria in the Getsemani District. We fell into conversation with a young girl waiting in line by herself, discovering that she was a Dutch tourist who had been travelling on her own through Colombia for the past six weeks. We invited her to join us and she entertained us with stories of her adventures. The open-air patio was busy and though the food was Italian, there was a Colombian pizza on the menu, with fried plantain.
There are undeniably good choices for accommodation. I stayed at the Ermita Hotel, a Tribute Portfolio hotel by Marriott. It has all the amenities of a first-class hotel and has retained local charm. The hotel was once a traditional private mansion, and many Colombian decor touches remain. It is about a five-minute walk from the old city.
Hotel 3 Banderas is one of the various small boutique hotels that can be found in the old city and there's also an excellent selection of Airbnb stays to choose from.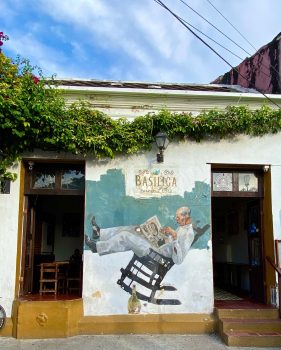 As the day cools, more people come out onto the streets. Some cluster around small food carts, grabbing arepas stuffed with cheese, and cups of good Colombian coffee, while others chat over a cold cerveza or sit streetside and play chess. This is a culture that lives its life on the street much more than we do in North America. 
At night the old city comes alive, with music everywhere, couples dancing in the main squares and busy restaurants buzzing with activity. 
Certainly, safety is a concern but at no time did I feel threatened or fearful. Colombia has come a long way in terms of ensuring that streets are safe. I walked alone until late evening and other than street vendors trying to sell hats and sunglasses, I was never bothered. But common sense means you don't walk in dark places alone at night and be aware of your surroundings at all times. Ubers are easily accessed, and restaurants will call a taxi for you.
I left Cartagena regretfully, feeling there was much more to experience in this multi-layered city but was reminded of a quote from Gabo, "Don't cry because it came to an end, smile because it happened."