By Barbara Ramsay Orr
Punta Mita, Mexico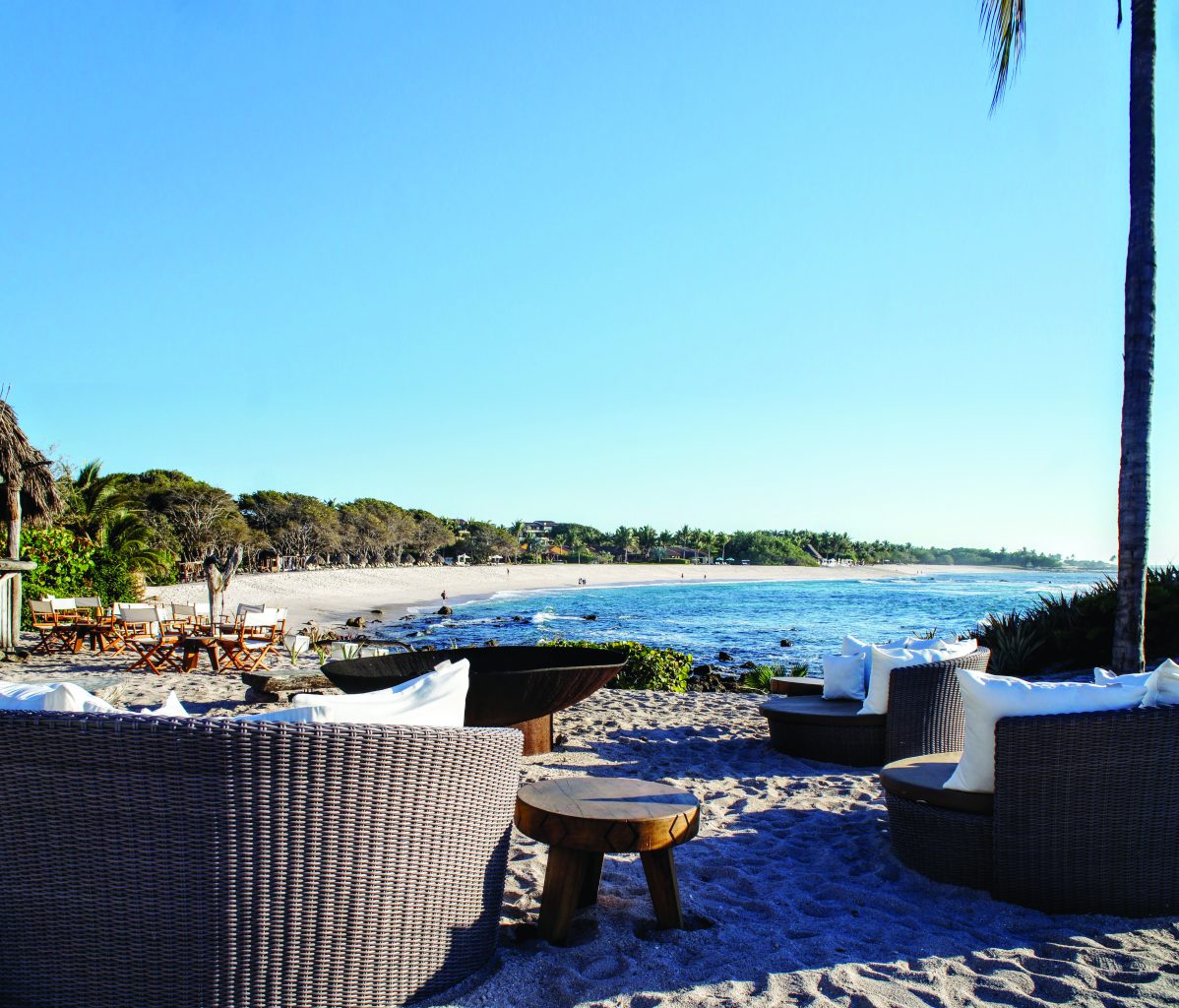 The chef scoops up a handful of large pink shrimp, caught recently in nearby Mazatlan, and dumps them into a sizzling hot molcajete. I had no idea that this stone mortar used in every Mexican household to grind spices, and make salsas and guacamole, could also be used as a cooking vessel. She squeezes fresh lime juice over the shrimp and the smell of citrus and seafood, garlic and cilantro rises in an aromatic cloud. It's irresistible. But then so is the view from the outdoor kitchen where the cooking class is happening. In front of me is the Bay of Banderas and a white sand beach featuring private cabanas with white curtains and cushions — on my list for the afternoon. There's a thatched roof beach shack where guests can order hamburgers and shakes to be delivered to their beach chairs.
This is the Four Seasons Punta Mita, one of the most highly rated hotels in the luxury chain, and the bolt hole of choice for celebrities and highly placed politicians. Charlie Sheen, Lady Gaga, Gwyneth Paltrow and Mexican presidents have all vacationed on the Gold Coast of Riviera Nayarit. Set in a secure private reserve at the tip of the Bay, and about 45 minutes from the Puerto Vallarta airport, the resort sits along 9.5 miles of pristine coastline. 
At one of the four pools, I am coddled with drinks, snacks, mist sprays and cold facecloths as the temps reach 30 degrees.  The resort sprawls over acres of jungle and beach so it never feels crowded.
Later in the dining room, the guests have exchanged beachwear for casually elegant attire. The food is remarkable, as you would expect at a Four Seasons, partly Mexican in style, locally sourced, with lobster, tuna, those Mazatlan shrimp, as well as European dishes. There's an excellent wine cellar.
The resort has two Jack Nicklaus-designed golf courses. Its most famous hole is the Tail of the Whale, 194 yards across water to a black lava island. The world's only natural island green, you reach it by using an amphibious cart. 
There are whale watching expeditions out to the Marieta Islands to see blue-footed boobies and visit Hidden Beach, only accessible by swimming through a cavern, but well worth it. Some of the best birding in North America is found just up the coast in San Blas. Scuba diving, paddle boarding, deep sea fishing and a chance to witness a turtle release all help pass the time.
Of course there is also a spa, fitness centre, an art gallery and some exceptional shopping.
Puerto Vallarta is an easy destination to get to for those of us fleeing the oncoming winter, with multiple daily flights from Toronto during the season. The hotel arranges airport pickup, and the careful security of this private reserve ensures that safety is not a concern.
Picking up a few extra pounds might be though — those shrimp!
www.fourseasons.com/puntamita/
Preparing Body and Soul for a Seasonal Shift: Ste. Anne's Spa in Grafton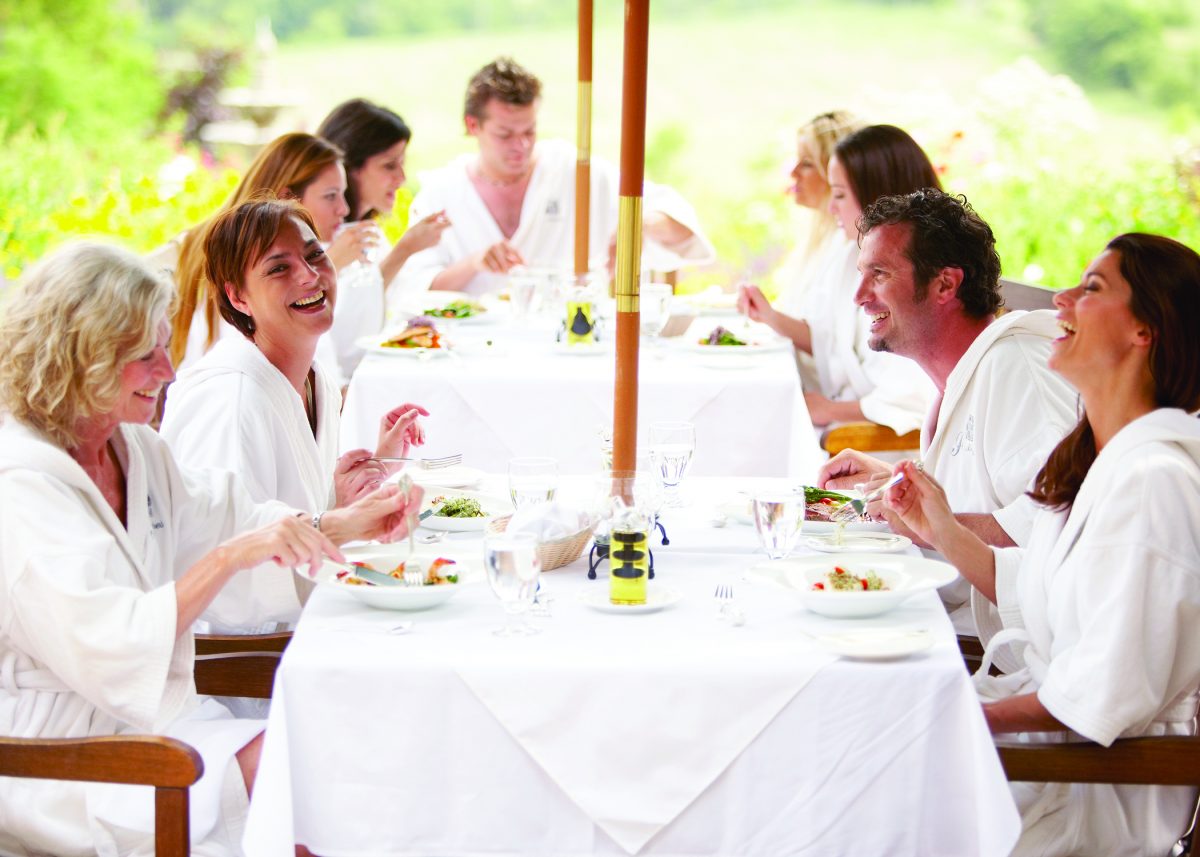 I have never left Ste. Anne's without feeling restored and somehow stronger. It's a healing place, and also a pampering one. Set in the hills about an hour and a half drive east of Toronto, this destination spa is a careful marriage of casual and luxury. The vibe is definitely laid back and restful, with no stuffiness or pretentiousness. Designed to de-stress, Ste Anne's requires you to do little more than leave your worries on the doorstep. Eating dinner with spa hair and dressed in a bathrobe is something you get used to very quickly.
I've done Ste. Anne's as a day spa experience and as a sleepover. Both are wonderful, but if it's possible to stay longer, do it. The extra time enforces the zen of the retreat. Stay in the Hudson's Bay room — gorgeous and so Canadian — or share one of the cottages with friends.
In addition to treatments, there are fitness classes and guided walks. Consider the three-day chakra journey yoga retreat for a total reset.
As an alternative to driving, the resort can arrange a limousine pickup from your home, or guests can take a train with pickup at the station (Aldershot station is one of the train stops). Men are made welcome, the meals are superb and the fall colours will make hiking the surrounding paths spectacular. 
www.steannes.com
From Hot to Cool: The Christmas Market River Cruise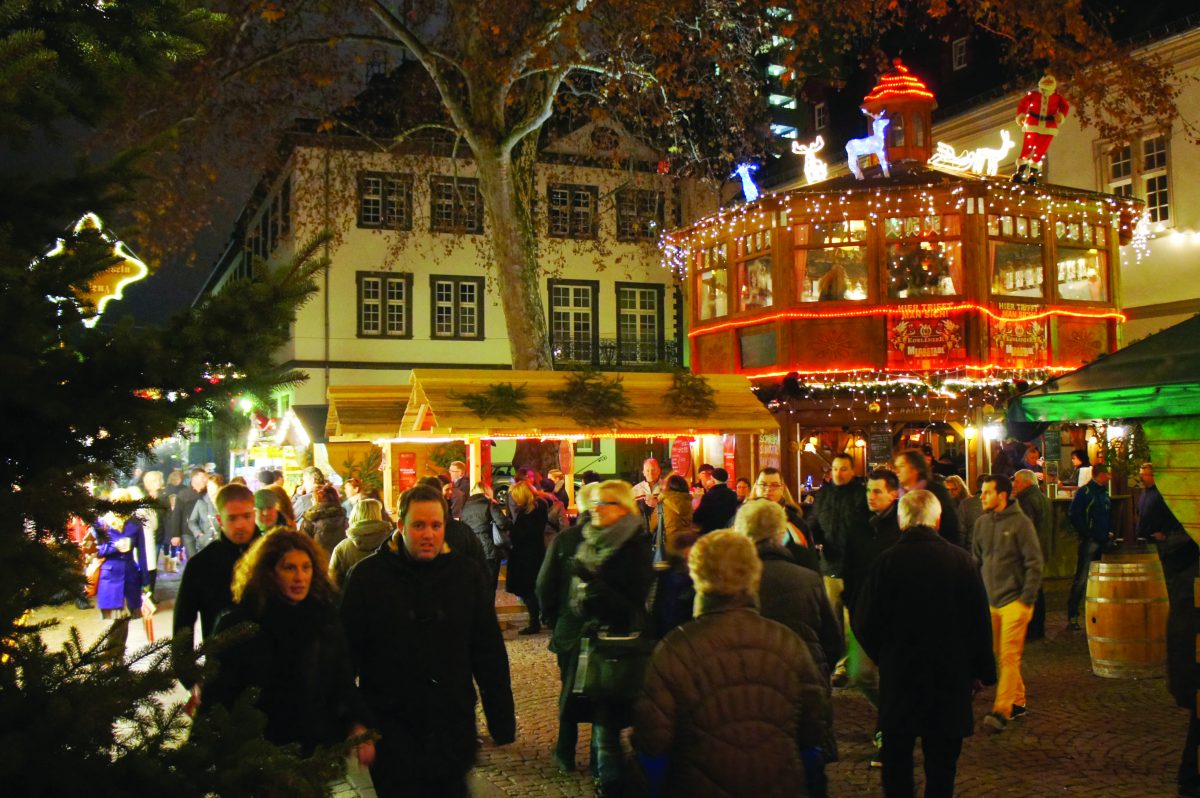 Christmas cruises have become one of the most popular ways to see Europe at its very best — dressed for the season. Even if you've visited many European ports on other river cruises, you have never seen them like this: full of light, festive with music and bursting with Christmas fare.
Each town has its own style of market, some centuries old, where guests can buy unique Christmas crafts and decorations and sample the local specialties — tasty sausages, warm and spicy mulled wine, cinnamon cakes and gingerbread. Durnstein, Bamburg, Rudesheim, and almost every small village along the river will have its own special Christmas market. It's magical to walk through the main square of one of these ancient towns — there may be snow, though seldom in large amounts — and impossible not to feel the spirit of the holiday.
Most of the major river cruise lines have a Christmas market cruise. I did the cruise with Avalon Waterways, which runs several Christmas market tours, including nine-day and 15-day excursions that are all-inclusive and include stops at the most famous of the market towns. The panorama suites on Avalon, with their floor to ceiling windows, let you watch the sparkly villages drift past as you sail in the evenings. A Christmas Market Cruise is the perfect way to combine a holiday cruise with getting your Christmas shopping done too. It's truly multi-tasking at its best.
www.avalonwaterways.ca