Exploring possibilities for curated experiences around the corner, around the country & around the world
By Barbara Ramsay Orr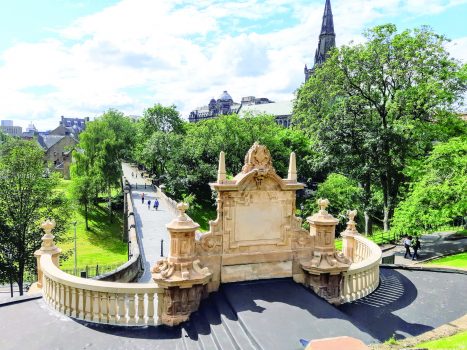 Near: Gourmet pop-up dinners
Chef Tobias Pohl-Weary is the man who seduced diners with his locally-anchored and creative menus at the now closed Red Canoe in Burlington. In a new incarnation, Chef Pohl-Weary is orchestrating gourmet pop-up dinners through the Blue Dinghy Kitchen Series in unique locations, with his signature insistence on quality and perfection. The most recent dinner took place on the top floor of Budds' Imported Cars in Oakville. Titled The Decadence or is it Gluttony popup, it featured Australian Kobe beef, fresh shrimp from the Gaspé, escabeche of swordfish, oysters with mango and creme fraiche – 10 courses, with wine pairings and tastings of Macallan single malts and Hibiki Suntory whisky. It sold out almost instantly. The chef partners with other chefs, local wineries, locations and distilleries.  There is usually live music, and one event included artists who created pieces in real time during dinner. 
Future pop-ups will explore some of the other deadly sins – envy perhaps – and will happen in unanticipated places. Past locations have included The Cotton Factory in Hamilton, the Burlington Art Centre and Nickel Brook Brew Co. Events are works-in-progress, with clues leaked through social media as new partners, new dishes or new entertainment acts
join the menu. 
Pohl-Weary's main business is his catering arm, Topowe  Boutique Events and Catering, which engineers no-hassle events at the gourmet high end. He has designed dinners for intimate groups as well as parties for two hundred and brings his always-evolving culinary aesthetic to every event he plans –don't look for any menu packages or standard dishes. Every event is a unique
work of art.
Follow the chef on social media to learn about the pop-up dinners, @blue.dinghy.itchen.series on Instagram and visit www.topowevents.com for catering details.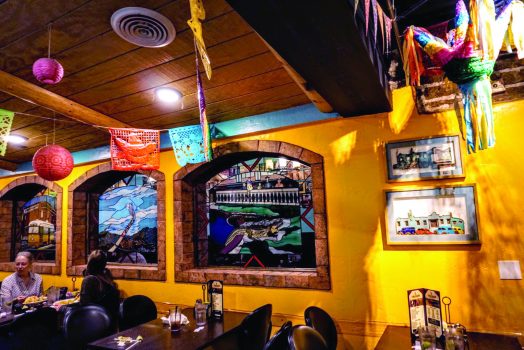 Far: El Paso
This storied Texas city is in West Texas, on the borders of both Mexico and New Mexico. El Paso is at heart a cowboy town, no longer the lawless one of Marty Robbin's heartbreaking ballad of the same name, but still a place that wears its Stetson proudly. And its boots.
At Lucchese Bootmakers, you can buy a pair of real cowboy boots from this exclusive boot maker who has shod every president, as well as celebrities like Johnny Cash and Willie Nelson. A pair will set you back more than a few hundred dollars, but will last a lifetime.
Touring Concordia Cemetery, resting place of gunfighters, Buffalo soldiers and Texas Rangers, is a lesson in the history of the old West. In contrast, the El Paso Museum of Art holds over 7,000 works of art, from the Byzantine era to Canaletto, as well as contemporary local artists.
The legendary Hotel Paso del Norte, where rumour has it, Pancho Villa and his men smoked cigars on the terrace and watched the Mexican revolutionary skirmishes across the border one mile away, is undergoing a complete renovation. It will reopen in November 2019 as a Marriott Autograph Collection property, but with all its historic details preserved.
A short trip takes you to the other-worldly terrain of White Sands National Monument in New Mexico, where fine white gypsum sand dunes roll away to the horizon, looking like snowbanks. Hike the Organ Mountains, try out the best chili dishes in old Mesilla, tour the Chili Pepper Institute in Las Cruces or follow the Mission Trail to get more of the old West history. For something forward looking, visit Sir Richard Bransom's Spaceport America.
El Paso is a multi-layered place, where past, present and future meet, and where the tacos are dangerously good. 
visitelpaso.com
www.marriott.com/hotels/travel/elpak-hotel-paso-del-norte-autograph-collection/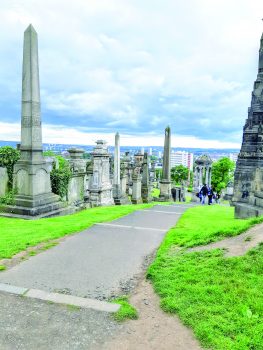 Farther: Glasgow
Glasgow, on the River Clyde in Scotland's western Lowlands, is Scotland's largest city.
It's rare that someone sends you to a cemetery to experience a city, but in the case of Glasgow, the necropolis really does give you an encompassing view of the city and its history. The cemetery is a testament to the wealthy industrialists who made Glasgow the  bustling 'Second City of the Empire'. It overlooks the river, the city and the massive stone ediface of St. Mungo's Cathedral, the oldest in Scotland.
But that industrial city has evolved into a new entity, smart, sharp, energetic and culturally cutting edge. As I walk down from the cathedral, I'm stopped in my tracks by the massive mural of a man whispering to a small bird perched on his finger. The city has become famous for its street art.
Buchanan Street is pedestrianized and lined with upmarket shops and cafés, spilling over onto neighbouring Argyle and Sauchiehall Street. 
There are museums like the Hunterian, well worth a visit, and the city's Victorian and art nouveau architecture remains well preserved.
Glasgow buzzes as a musical launchpad, with places like Oran Mor, (Gaelic for 'big song') and King Tut's Wah Wah Hut hosting some of the best bands in the country. 
Visit the Willow Tea Room, fashioned in the style created by Charles Rennie Macintosh for a traditional high tea, and party in Ashton Lane where bars, restaurants and galleries stay open till the 'wee' hours.  
There are many excellent hotels in the city, but consider a stay in Crossbasket Castle Hotel, about a twenty minute train ride from the centre of Glasgow in the small town of Balantyre. It's a 17th century castle transformed into a five-star luxury hotel. A bit of the old,
bit of the new! 
www.visitscotland.com/destinations-maps/glasgow/see-do/
www.crossbasketcastle.com/