By Shannon Mastaler
Muskoka — known as Ontario's  'Hamptons' — is a prime summer destination. With hundreds of lakes, rustic appeal, beaches, great shopping and dining, golf, boating and fireside evenings, it's no wonder Muskoka is the destination of choice for cottagers, campers and summer vacationers.
This summer, why not forego a weekend at the cottage for a weekend of pampering with your best girlfriends? Why not dine lakeside, be pampered at the spa and enjoy a classic Muskoka getaway? That's just what I had in mind when I planned a getaway with my best girlfriends at Deerhurst Resort in Huntsville.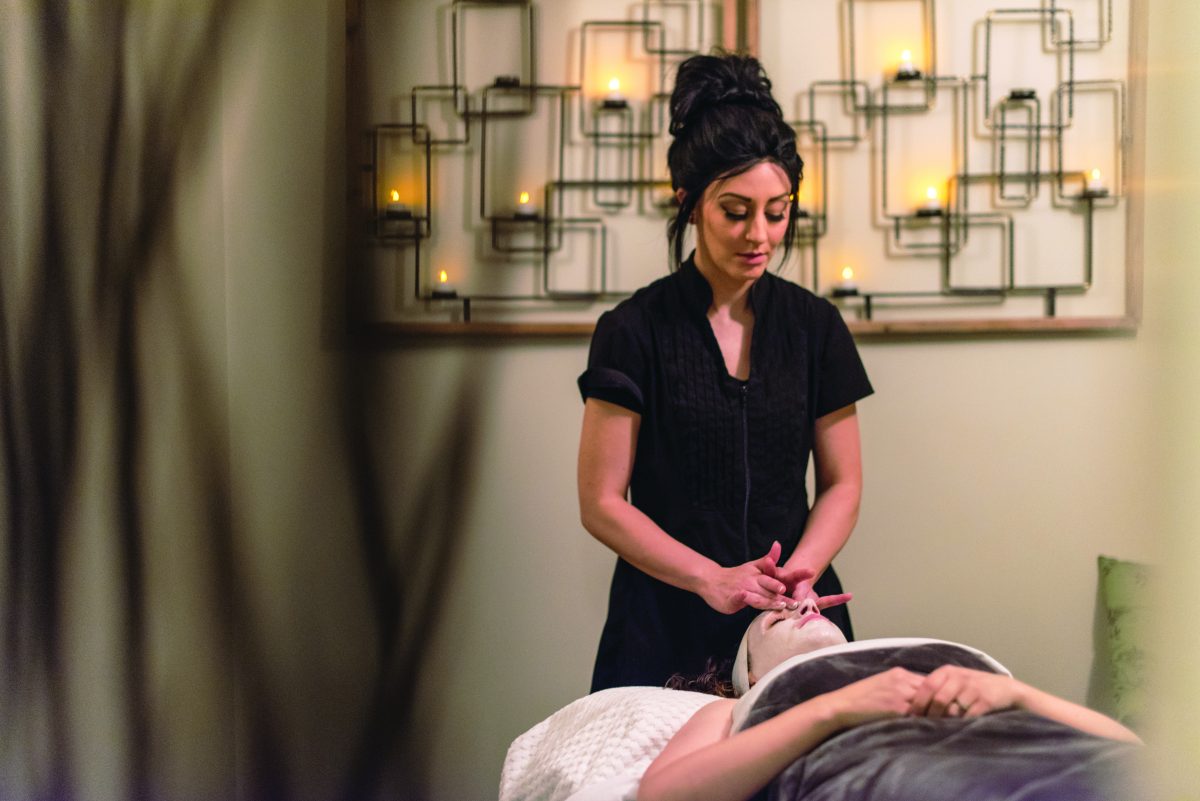 Off we went, leaving Oakville and heading north to Hunstville. Girls' weekend underway! Good friends, good music and a few stops along the way make for a great start. You can't help but get in the cottage and vacation mood as you head up the 400 and onto Hwy. 11 North. Passing Webers (well, not passing… stopping, of course, for a famous burger) is a tradition when en route to cottage country, as well as the Muskoka Store, which always draws us in with its rustic log exterior, brightly coloured canoes and famous moose. Inside, we can't resist a few purchases — this is, after all, a classic Muskoka vacation!
As the highway views go from city to town, to gleaming rocks, towering pine trees and crisp country air, we start to relax and unwind as Muskoka begins to take us over. Entering Huntsville, we stop for a couple hours and stroll the streets and shops, enjoying a refreshing beverage on a patio at one of the local restaurants. The town is oozing with charm and summer memories.
We enter the Deerhurst property and check in, welcomed by the large, warm and rustic lobby. Decorated with canoes and paddles, it's just what you'd expect from a five-star, classic Muskoka resort. We are shown to our accommodations, one of the resort's condos. The suite offers a kitchenette, fireplace and balcony overlooking beautiful Peninsula Lake. This is where we unwind, enjoy a chilled glass of wine and a few laughs.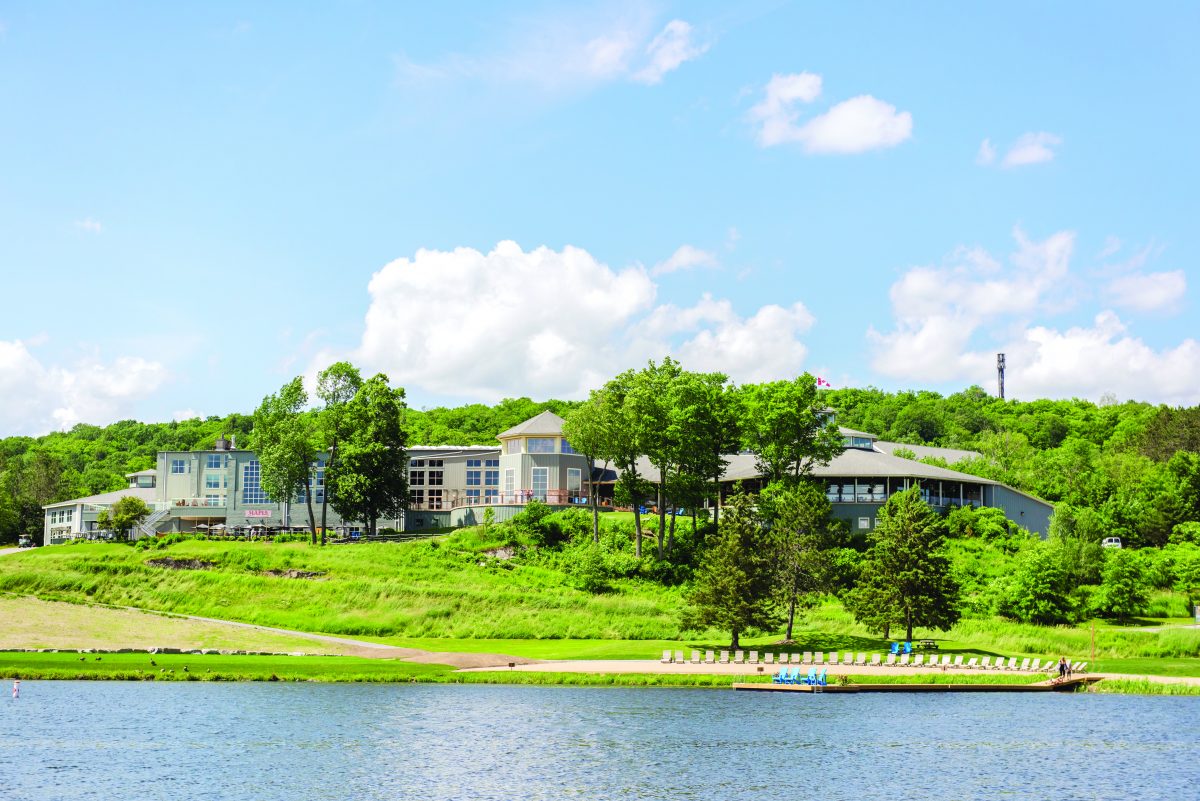 The property is large and beautifully manicured. There's so much to enjoy, but the top of our list is relaxation, so for us, the weekend will include a visit to the spa, the beach, dining and getting much-needed R and R!
With four dining destinations, there's no shortage of places to indulge in a great meal at Deerhurst.  Discover the tempting tastes of Muskoka, where eating local is a top priority! Seasonally, Deerhurst harvests its own honey, herbs, shiitake mushrooms and maple syrup right at the resort, and supports local Ontario farmers. The food is fresh, flavourful and beautiful.
We head to Eclipse for our first meal — a delicious breakfast buffet. With a luxurious selection of breakfast goodies, and sweeping views of the lake, this is the perfect place to start the day. We then head off to the Amba Spa for a full day of pampering bliss. We begin with pedicures, where we enjoy a glass of cool champagne and strawberries, followed by massages and facials. With a calming ambiance, lovely staff and relaxing amenities (check out the steam room!), our day is just what a bunch of busy women need. We lazily stroll back to our rooms to take in the view before getting ready for dinner.
Summer evenings at Deerhurst are just as alive as summer days. As the sun sets, candles are lit, fire pits are started and music begins. There are multiple dining options including The Antler Steakhouse, where the menu highlights a variety of AAA Canadian steaks and is brimming with locally sourced ingredients. The wine list is perfectly designed to match the menu that showcases and complements Muskoka's glorious bounty. Overlooking the historic canal between Fairy and Peninsula Lakes, this log house-style restaurant offers the perfect Muskoka dining experience.
While The Antler is tempting, we opt for Compass Grill and Bar. Centrally located just steps from the lobby, the restaurant features a tapas-style menu where sharing is encouraged and locally sourced ingredients are highlighted. The casual atmosphere is just what we want, with a menu offering mains and tapas-style dining; it's the perfect spot for a fun girls' night out, especially as the live music starts up (offered on weekends).
The menu has a selection of tapas including spicy steamed edamame, PEI mussels, charcuterie plates, smoked bacon lollipops, lamb meatballs and more. Mains include favourites like seafood paella, pork tenderloin, trout and so much more. There's something for everyone, including an impressive wine list.
After lots of laughs, a delicious and very elegant meal, wine and great music, our night is a success. We stop in front of the firepit outside the lobby for a few minutes before heading back for a restful slumber, in the luxe linens in our beautiful and comfortable room.
The morning brings another day of sunshine. With the lake sparkling, it's inviting us for a dip. We spend the day exploring the grounds and taking in the lake. But there's so much to do at Deerhurst, like the newly-created escape cabins, indoor pool and hot tub area, golf, hiking, boat tours, watersports, fishing, boating and just about every other watersport you can imagine.
As we pack our bags and head home, we're left feeling relaxed and extremely fortunate to be able to enjoy the very best of Muskoka's beauty while being pampered. Deerhurst, we will see you again next year!