By Linda Barnard
Picture a beach that appears to stretch forever with mountains in the distance, waterfalls, lush and peaceful forests and a Mediterranean-style climate.
It may seem like an unattainable getaway with travel plans on pause but there's no passport required for a vacation in Parksville and neighbouring Qualicum Beach.
There's a combination of relaxed small-town vibe and a variety of ways to connect with nature year-round here. Located on the east coast of Vancouver Island, British Columbia and overlooking Georgia Straight, Parksville-Qualicum Beach is about a two-hour drive from Victoria International Airport or 45 minutes by car from the Vancouver-to-Nanaimo ferry.
(Check the British Columbia Government website for the latest travel information and COVID-19. Visitors arriving from other provinces are expected to follow the same guidelines as everyone else in B.C., travelling safely and respectfully.)
Although you won't mistake it for a tropical vacation, it does have Canada's only Mediterranean-style climate, says naturalist Ronda Murdock of Pacific Rainforest Adventure Tours.
Daytime winter temperatures here typically hover around 8C, with occasional light snow. Spring comes weeks ahead of Ontario, meaning four-seasons golf and other outdoor pursuits. If you can't live without lots of the white stuff, Mount Washington Ski Resort area is an hour away. It boasts the deepest snow in British Columbia.
Summer is glorious, with temperatures in the mid-20s, plenty of sun and no humidity. Shallow water means great swimming, making Parksville popular for family vacations. "Good food, good beer, good coffee, good beaches," Jeremy Perkins says as he ticks off the local draws.
Perkins and his wife, Hannah own award-winning French Press Coffee Roasters in the centre of Qualicum Beach's quaint downtown, where the smoky-rich flat white is the best I've had anywhere. Perkins, an artisan coffee expert and former professional violist, moved to Qualicum Beach from the UK with Canadian-born Hannah and their family, opening the business in 2017. It's also a great breakfast spot.
"Winter is pretty good. We don't get a lot of snow, although there's a few awkward days," Perkins says. Being located about 2½ hours from Tofino and Ucluelet makes the wild west coast of Vancouver Island an easy trip from the Parksville area, he points out.
The snow-capped Coast Range mountains on the B.C. mainland seem much closer than reality, forming a dramatic backdrop to the long string of sandy beaches, including Rathtrevor Beach Provincial Park. Parksville's downtown community park has a wide, half-kilometer-long beachfront boardwalk.
The star of the coastal show is the dramatic tides. The water goes out for up to a kilometer, creating the unusual sense of walking on the ocean floor. At low tide, the beach draws families, beachcombers and walkers looking for some solitude amid one of nature's best shows.
Several hotels take advantage of this natural wonder. Downtown hotel The Beach Club Resort fronts the boardwalk and Tigh-Na-Mara Seaside Spa Resort, a mix of low-rise condos and log cabins, overlooks Rathtrevor Beach.
Paulina Alexander is the spa director at Tigh-Na-Mara, which is known for its indoor mineral pool grotto, spa treatments and Treetop Tapas & Grill dining room. The facility has re-opened with full and half-day spa packages and limited guest numbers visiting the grotto in half-hour blocks in order to promote safety and distancing.
Or you can play mermaid for an hour at Avacena seaweed baths experience in Qualicum Beach from April to October. Sink back in one of two repurposed claw-foot tubs filled with heated water. Located outdoors and overlooking a garden, the slippery, colourful seaweed in my tub was far from icky. It was cool and silky and felt good on my skin, making me feel somehow connected to the ocean as I played with the long fronds and popped bladder wrack seaweed pods to release an aloe-like gel.
Owner Liz Glowacki, a licensed harvester who gathers the seaweed from rocks at low tide on nearby beaches, is Avacena's owner and the "curator of seaweed experiences." She brews guests a cup of tea made from herbs in her expansive garden and adds a few drops of a customer's preferred essential oils to a jar of Epsom salts for the bath, which helps offset some of the more pungent seaweed aromas.This is also a year-round prime birdwatching area, especially during the spring migrations. Central Vancouver Island is one of three self-guided birding routes on the new BCBirdTrail, a kind of ale trail for bird lovers.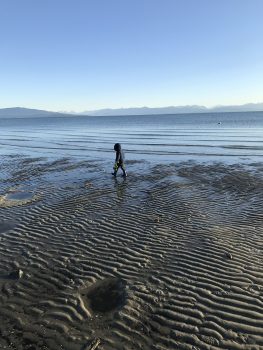 Speaking of ale, the funky tasting room at nano-brewery Love Shack Libations is temporarily closed, but drop by on Saturday afternoons to pick up a few bottles of the large range of excellent brews that Dave Paul makes one barrel at a time, then hand-bottles. Paul is well known both for his quirkily named, ever-changing beers that often use local ingredients and enthusiastic Facebook videos announcing his brew of the week.
Passionate naturalists Gary and Ronda Murdock of Pacific Rainforest Adventure Tours have been leading a variety of full and half-day eco-excursions in the area for 20 years. They've switched to private tours under COVID, where outdoor activities with distancing are considered among the safest things to do.
They took me on a customizable Parksville Qualicum Amazing Places Tour, choose-your-own adventure itineraries that can include exploring tidal pools at low ride or a tour of nearby waterfalls, including Englishman River Falls.
We explored two under-the-radar community parks that Ronda says even some locals may not know about. At one stop, I plucked crunchy green sea asparagus as we walked along flat rocks exposed by low tide. A high-priced treat in gourmet markets, it was there to nibble for free as we hunted for fossils, admiring sea creatures embedded in the rock millions of years before.
As a newbie birder, I've also taken one of their birdwatching tours, led by local ornithologist guide Christopher Stephens. Ronda also leads forest bathing walks in the Heritage Forest of Qualicum Beach. The Japanese practise of shinrin-yoku is a slow, mindful walk among the trees, a stress-easing way feel calm and grounded.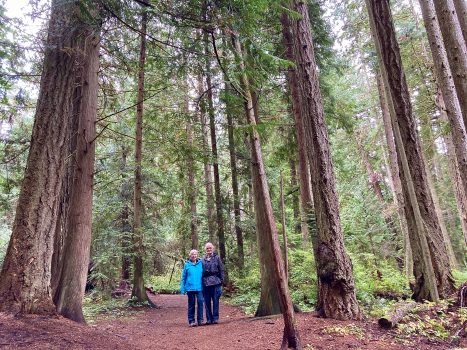 Just five minutes from town, the 50-acre Heritage Forest has a network of wide, easy-level trails, the paths covered with wood chips and pleasantly springy underfoot. The area was saved from developers by volunteers like the Murdocks, who were part of the push to raise more than $1 million to buy the land, ensuring it remained an ecological reserve.
Stepping into the cool and quiet heart of the old-growth forest and smelling the clean air is instantly calming. There are Garry oaks, magnificent arbutus and massive Western red cedars. The cedars have great spiritual significance to the Coast Salish people, including members of the Nanoose and Qualicum First Nations who have inhabited this land for thousands of years. They grow alongside towering Douglas firs, some more than 500 years old and stretching 60 metres tall and more. Gary explained the tree roots fuse with those of other Douglas firs, creating an underground communication network across the island.I can't come to Parksville and Qualicum without making a couple of other stops: I've got three things on my mind: cows, goats and shopping.
Morningstar Farm is a family run Parksville dairy where you can meet the cows that are milked when they choose, using an automatic voluntary milking system. Milk is pumped from the dairy barn to the Little Qualicum Cheeseworks across the yard. Pick up some cheese at the farmgate store or get a litre of fresh, pasteurized, cream-top milk whole milk for a toonie from the automatic milk dispenser. It was the first in Canada when it was installed in 2017.
Coombs, about a 10-minute drive from Parksville, is famous for the luxuriantly bearded superstar goats who graze on the sod roof at the Old Country Market. Follow a sideroad to a clearing in the woods and the last place you'd expect to find pair of small, ultra-cool boutiques. But The House of Leaves and Bamboozle always have eclectic, fashionable finds.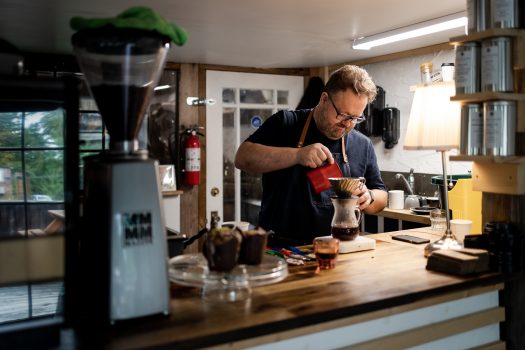 Some retail therapy rounds out the day nicely. Then a bowl of shepherd's pie made with famed Salt Spring Island lamb in the cozy snug at the Black Goose Inn and a glass of local cider. Before drifting off to sleep to the sound of the waves from an open window, I set my alarm to get one more beach walk in before breakfast, looking forward to strolling the sandy stretch towards the ocean and mountains beyond.
Linda Barnard was a guest of Parksville Qualicum Beach Tourism Association, which did not preview this story.