by Barbara Ramsay-Orr
The Scandinavian word, 'hygge' is what comes to mind when I try to describe the aesthetics of Wander – The Resort. It means, "a quality of coziness and comfort that engenders a feeling of contentment and well-being."
The word has been so overused that I hesitate to employ it, but I can't think of another descriptor that sums up the elegantly minimalist and quietly comfortable feel of Wander. Wander is a 10 cabin luxury resort near Bloomfield in Prince Edward County. It's tucked away along the shores of West Lake, which abuts Lake Ontario, in the very heart of the county. Minutes away from the resort, guests can bike the 49 kilometre Millennium Trail, sip wine at multiple excellent wineries or dine at one of the superb local restaurants in Wellington, Picton or Bloomfield. But first you have to leave the resort, and that may be difficult. It is the kind of place that embraces you immediately.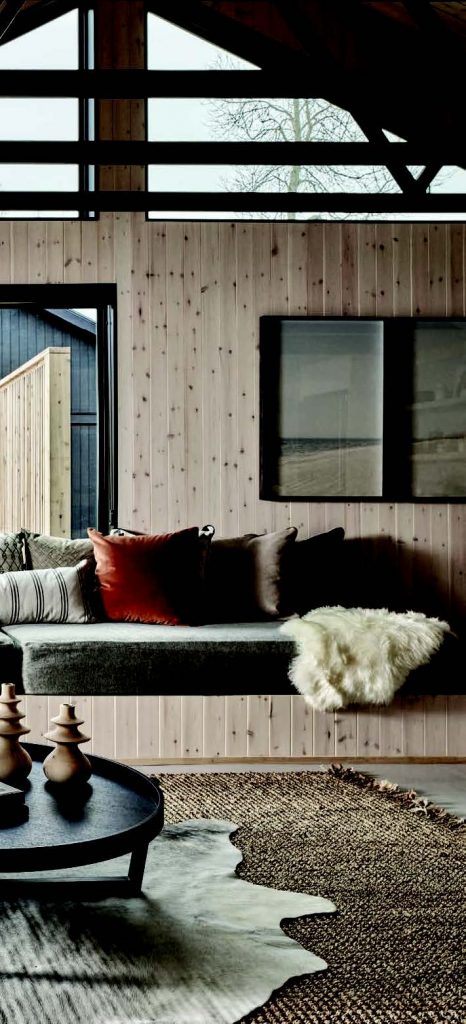 The cabins instantly feel like home, and I spent some time trying to figure out how the designer accomplished that. It is partly the colour palette of quiet pastels and gentle neutrals. Cream, tan, pale grey and white play nicely together, creating a soft spectrum of colours that are instantly soothing. It is also the clean lines of the furnishings, the open space and the lack of clutter – a very Nordic aesthetic. The special 'Great Lakes' light, beloved by painters and photographers, pours in through the floor to ceiling windows. A wicker egg chair with its furry cushion is the perfect place to read a book or just to reflect, and scent diffusers emit a custom blended scent of cedar and other comforting smells.
And as an added bonus, the floors are heated.
The founder of Wander is Shannon Hunter who is also the designer. While her original education was in other fields, she followed her love of design and developed a clientele, eventually running an interior design company, as well as obtaining her real estate licence. She succumbed to the draw of Prince Edward County on a visit a while ago.
"My husband and I vacationed here and fell in love with the area. It was apparent that the County was poised to become a coveted destination. We bought a small place and thought we would rent it out to help in the carrying costs but it was so popular that we rarely had a chance to use it ourselves," she says.
She eventually ran five B&Bs. When a small resort came up for sale, they bought it, since they had in effect already been hoteliers, hosting close to 3,000 guests in their B&Bs. After running the resort for six months, the potential for reinventing the resort became clear.
"Both my husband and I are avid travellers but when you travel with children it is difficult to get a quality experience. All Inclusive wasn't our style. We wanted something that would be welcoming and fun for children but would still provide adult luxuries," she said. "We hoped it would have everything you would need if you visited with children, but it's built for adults too. We wanted to tap into the nostalgia of cottage stays and camping trips, where you got to know your parents, played games, and sat around a fire pit and told stories."
They also wanted to create a place that would draw people into an authentic getaway experience that was strongly grounded in the area. As much as possible, all the finishings are produced in Prince Edward County or within Canada, with many items created by nearby makers, adding to the authenticity of the experience.
"It was really important that the aesthetic was right – everything speaks to that," Hunter says. "It was key that the details of design were local, and that the resort reflected the County."
There are intentionally no televisions in the cabins.
"We hope guests will go outside, sit on the decks, lounge by the pool or on the beach. And surprisingly, we have had no pushback."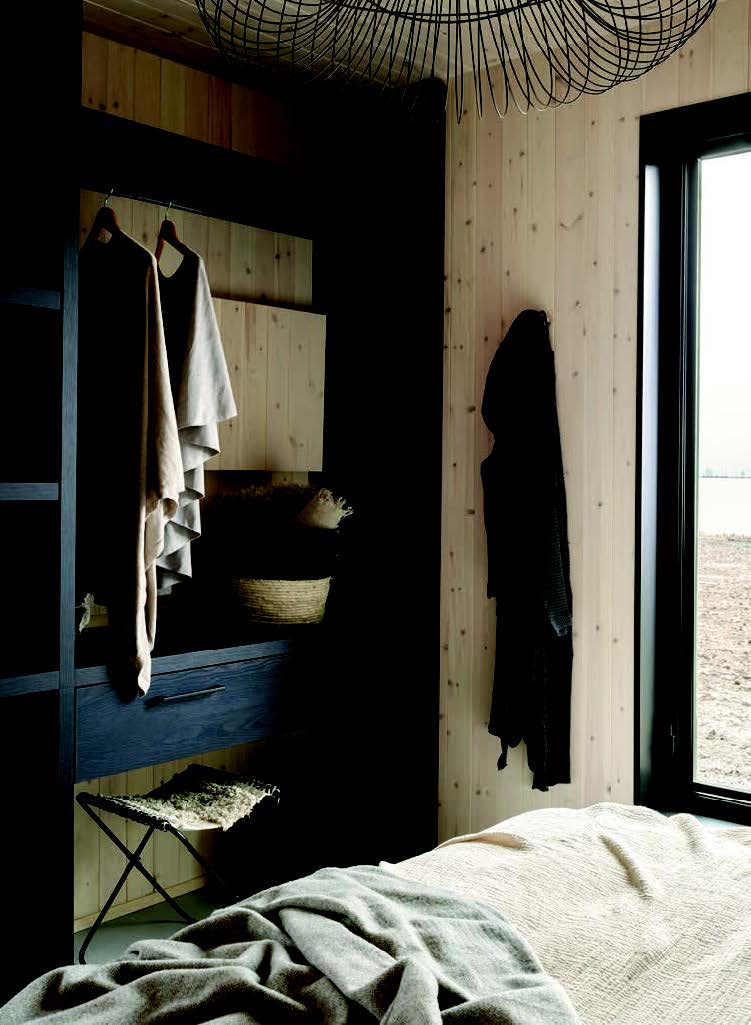 The 10 cabins, each of which sleep five in two bedrooms, have full kitchens with everything that is needed to prepare meals. All the finishings are top end – Meile appliances, Riedel glassware, cupboard drawers that automatically close with a whisper, right down to the natural loofa scrubbers for cleaning dishes. Other touches, like the Bluetooth speakers and curated Spotify list add to the feeling of welcome. The coffee mugs come from Yellow Studio, a local artisanal pottery.
Food is local and customized too. Wander will design meal ingredients to be delivered to your cabin, or they can deliver fully prepared meals. Guests can order pasta kits from Piccolina Mercato and charcuterie boxes from The Agrarian Market. We enjoyed a fine breakfast on the deck consisting of delicious butter croissants and tasty ham, cheddar, and leek quiche, seated by the fire pit since it was still chilly. The clubhouse was nearing completion but still under construction when I was there, but it will have a small cafe serving coffee, pastries and sandwiches and will become a cocktail bar in the evening with live music.
The pool area is stunning with comfy lounges, a hot tub and a sauna. There's also a sauna down by the beach. The sandy beach looks out onto West Lake. The dock and fire pit are natural places for guests to gather, either to swim and sunbathe, play games or to hang out in the evenings. There is live music by the lake in the afternoons, provided by local entertainers and there is a beach bar and raw bar planned that will serve casual food.
The potager garden was beginning to green up when I was there, the raised beds, from which the resort chefs will harvest herbs and vegetables for their menus, sprouting new little shoots. Guests are also welcomed to pick and use any of the produce. If you do manage to pull yourself away from the resort, there are bikes available for touring.
Bloomfield, just down the road, has antique shops, the Drake Devonshire is nearby in Wellington for lunch and Sandbanks Provincial Park is 20 minutes away. Wineries, like Closson Chase and Huff Estates are nearby for tasting, and cideries are nearby too. We managed to tear ourselves away long enough to have dinner in the newly renovated The Royal in Picton – fine food, friendly service, gorgeous venue. Back at our cabin, the fire pit on the outdoor cedar patio had been lit, the complimentary bottle of Huff Estates Riesling was chilled, and the stars were out. It was silent. Very chill.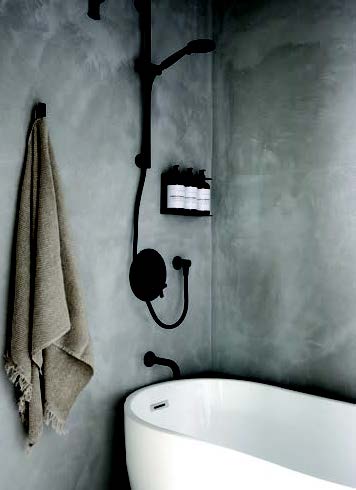 This property is perfect for winter getaways too. (Remember those heated floors, and there's an indoor fireplace as well as the outdoor one.) Guests tend to come primarily from the GTA, with about 25 per cent coming from the Ottawa Valley and Montreal, and a smattering of international guests.
"We are getting a lot of press internationally," Hunter said. "And France seems very interested in us. We expect to see a good increase in international visitors." There is also a happy percentage of multigenerational family visits. Wander is a zen kind of place, where you can shed all of the stresses of life.
"We want guests to feel refreshed, and to feel a new vigour, which was what we experienced when we first came to the County. There's something about the pace here. With Wander, we wanted to create a place that would be unforgettable and that would draw you back. We especially love the sense of community that seems to spring up as guests meet up at beach dinners and kids play together. Frisbee challenges and soccer games seem to break out spontaneously. "It's kind of like an adult summer camp, only the kids like it too."
Success means that occupancy is high, with most of this summer and much of next summer already booked. But the resort is now allowing Wander One Night bookings and all the openings for reservations are announced on the first of each month. If Wander is your kind of holiday, be ready early on July 1, August 1 or September 1 to grab a spot. And the good news is that Wander plans to build another eight cabins. www.wandertheresort.com | www.theroyalhotel.ca