By Rebecca Dumais / Photos by Lauren Miller |
A reimagined boutique destination where everything's coming up rosé…
Part of a great getaway is often the drive to your destination, taking time to pause, explore and connect with your fellow road-trippers. The drive to Sauble Beach via Highway 6 was simply serene. It was a beautiful sunny day as we passed through small towns and farming communities. You might also find yourself sharing the road with a horse and carriage.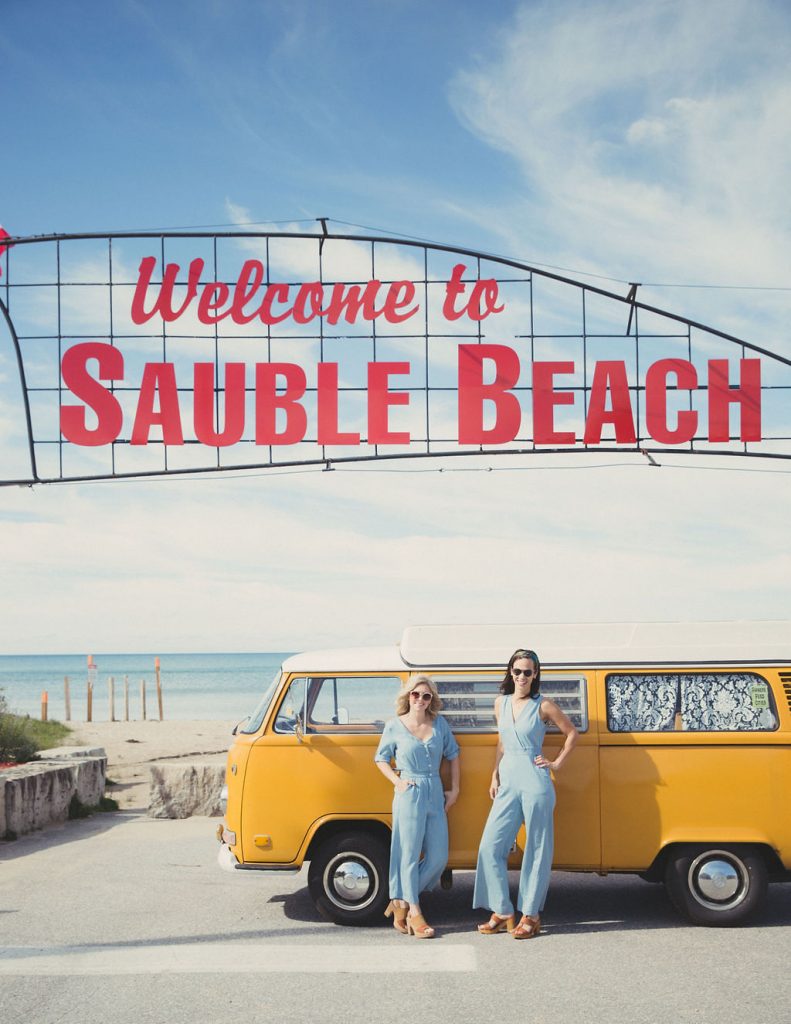 Our destination: The June Motel. This boutique motel brand with a penchant for great wine and good times is obvious. Rosé you say? It's a place that's turning heads for its rosé state of mind, pink doors and retro beach town vibes – and wine. Owners – and best friends – April Brown and Sarah Sklash created the motel through their mutual love of discovering new travel destinations, wine, and bold, feminine designs.
In 2016 they made the move to trade the metropolis for the motel industry, each quitting their jobs in Toronto.
Their first motel purchase was a dingy roadside motel in Prince Edward County, which then became the first June Motel. "At the time, buying a motel was the same price as what our friends were spending on houses in Toronto!" says Brown, adding that buying a motel was actually accessible, and relatively cheap compared to other hotels, resorts and inns. "We love that mid-century feel of old roadside motels and the sense that these places lived another life before us," she says. "In Sauble Beach, we've seen photos of the old motel back in the 80s and 90s when they were throwing theme parties, and it was the life of the town. It's really special to give these places a whole new chapter."
Brown discloses that they stumbled across the first property. "We had wanted to host a weekend wine camp for adults in Prince Edward County, and we were looking for a place to host our event for the weekend. When we came across the motel for sale, we were like 'OK, wow. We should just buy that!'" 
Since their dream initially started with an "adult wine camp" and the first motel located in wine country, it was a big reason guests came to stay. "It's evolved so much from that initial idea, but we see the motels as a platform for creating experiences for our guests. And Sarah and I do love wine!"
Diving in headfirst, they created a nouveau holiday experience. And hello, lobby wine bar.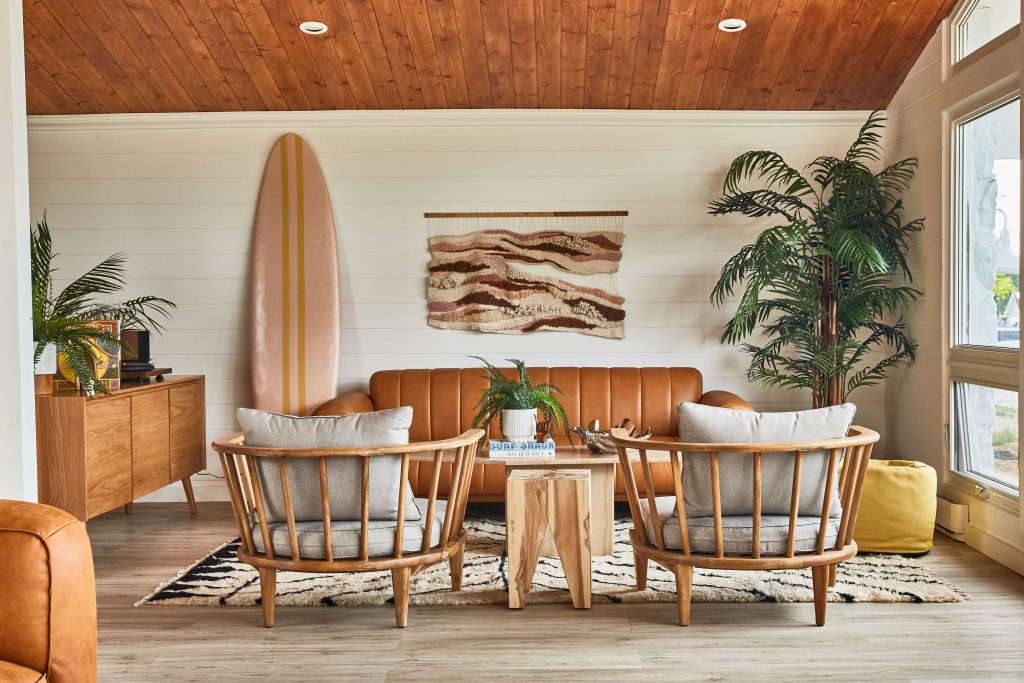 After an easy check-in, we then anticipated our welcome glass of chilled rose, which can be enjoyed in the lobby or taken to the room. We enjoyed ours on the second-floor balcony, which overlooked the entire property. It was a warm, sunny evening paired with the classic 70s hits playing over the outdoor speakers.
Beach towns will always draw a crowd, regardless of the era, but when they're neatly packaged into a reimagined chic 1970s colour palette and décor, the mood effortlessly exudes relaxation and good times.
You'll find sun-bleached wallpaper and retro rose shades set against the Sauble Beach sunset. All rooms offer views of the pool and patios. Just pick where you want to soak up the evening sunshine (and wine) or morning glory with your coffee.
Sauble Beach features 11 km of freshwater beach, world-class sunsets and day trips up the Bruce Peninsula.
There are 24 rooms with either king-sized or double beds. Rooms also have a mini fridge, a selection of Detour instant coffee and DAVIDs Teas and a swanky-looking kettle. You'll also find a bottle of rosé, should you wish to put it in the fridge and open it later at your leisure.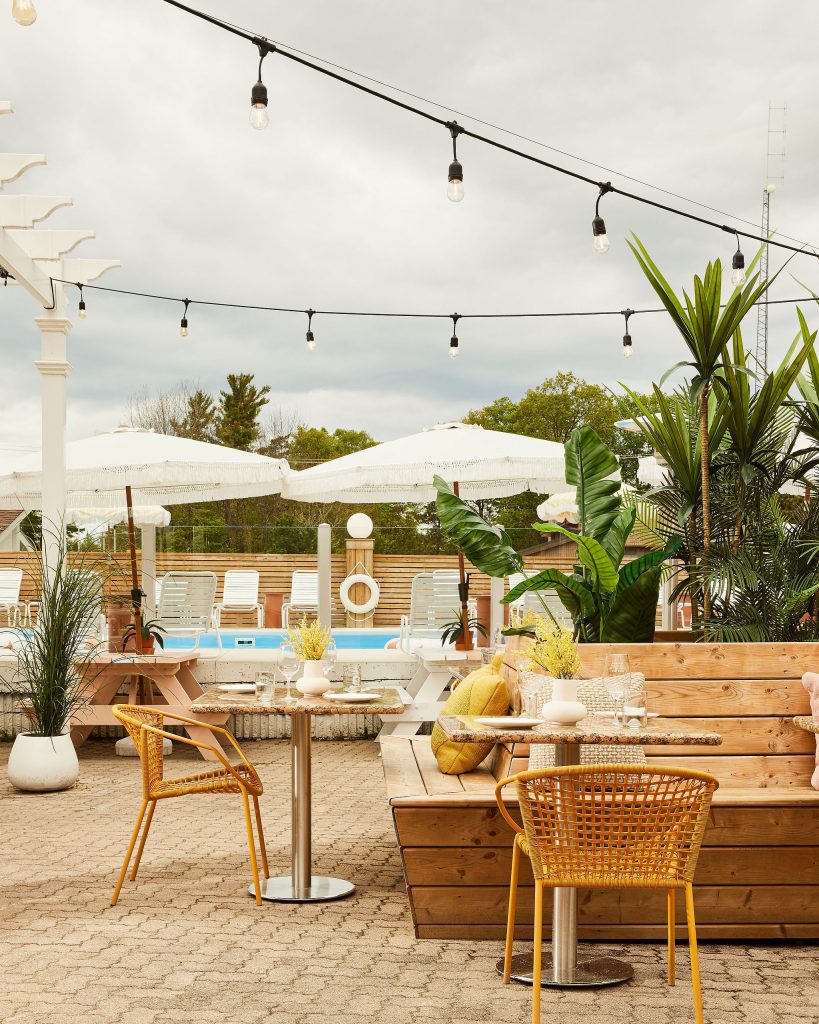 The lobby/gift shop also has a large selection of chilled adult beverages. There are lots of comfortable seating and vinyl records to play while you enjoy your morning coffee and baked goods (served every morning).
Everything you'll need is steps away, including a great place to eat. Heydeys Restaurant serves reinvented coastal classics, "with magnums of rosé and oysters, hot buttered lobster rolls, and a retro sundae on the menu." Indoor and outdoor dining is available.
Some of the owners' other favourite spots to eat or grab a coffee include Wellness Refinery, Amici's coffee shop, Luscious Bakery and pizza from Laszlos.
The pool, nestled between Heydays and the lobby building, is pristine and set at a balmy 85 degrees. Loungers are ready for you to recline and relax while you enjoy a poolside canned bevy or a frosé.
Besides a rotating roster of pop-ups and live music, the June Motel also hosts beach yoga every Saturday morning, followed by a canned cocktail or cold-pressed juice back at the motel.
If your late night has you feeling less than flexible, take a simple stroll along the beach (especially at sunset), read a book in your hammock, or at the pool, rent a SUP, spend the day on the beach, play a round of mini golf and then have cocktails at Bar Tiki, or shop at Grit and Grace. End the day at the June's campfire after dinner. "Sauble is just so casual and walkable," says Brown. "I really appreciate that you can just show up and take it all as it comes, and at your own pace."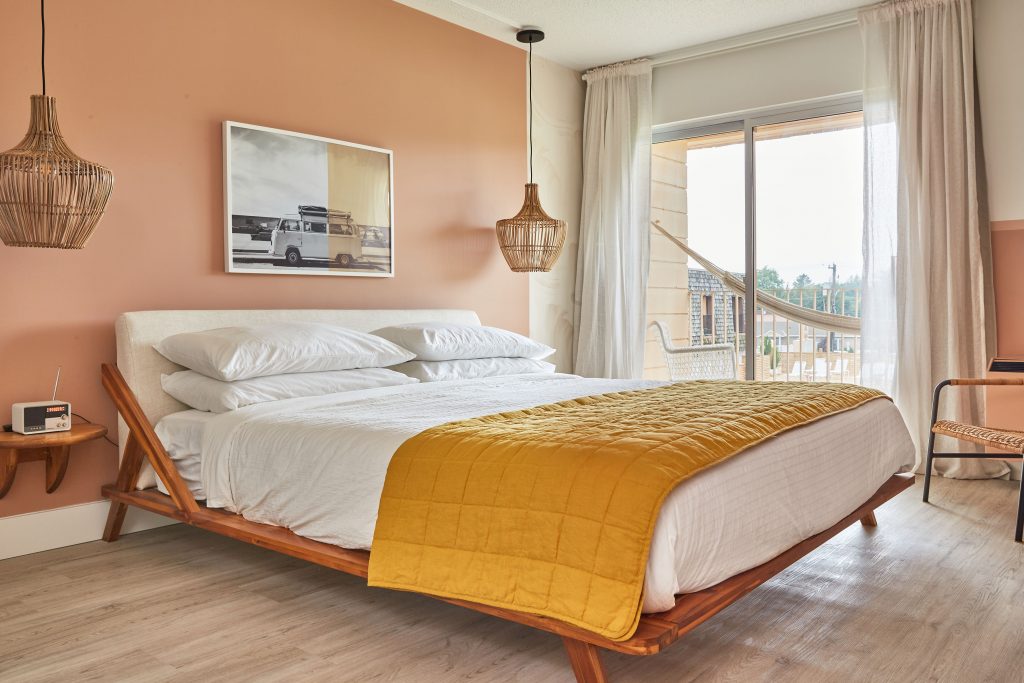 Since the beginning – and through COVID, both women found a great appreciation for the time they spend with friends, families and partners. "It's more important than ever to make these moments count," Brown says. "The June is a place you can come together and live the good life for a few days."
For more information visit
Thejunemotel.com