By Rebecca Fitzsimmons
Entering into the foray of having a home custom built, or a place with good bones remodeled right down to the studs is an exciting undertaking, but what's trending these days for architectural design elements? From the outdoor living space to party-central kitchens, builders and architects are noting several key design elements that clients are asking for in their spaces.
Structures with Style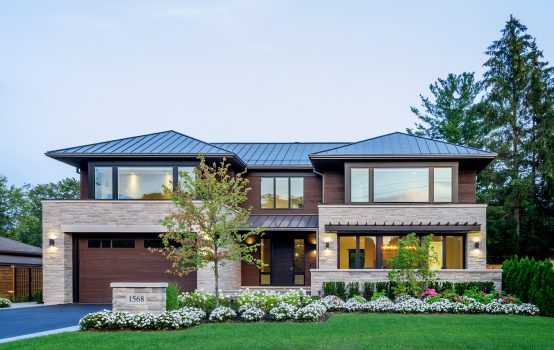 John Willmott of John Willmott Architect Inc. sees a definite trend toward modern design that takes advantage of advancements in large scale windows, new options in exterior siding, flat roof designs and other contemporary finishes.  "Modern design is becoming more accepted and desired," he says. "However, many of our clients prefer classic styles using traditional materials such as wood siding or shingles, timeless stone work and well detailed exterior trim."
Ways to highlight your home should be done with anything other than exterior recessed soffit lighting that lights up the front of the house. "I think it is obnoxious.  Softer landscape lights and some well positioned soffit lights or well-designed surface mounted sconces are a better look," he explains. He also suggests exciting bold light fixtures instead of an expanse of pot lights.
For overall architectural design that remains strong, Carlos Jardino of owner of Project Construction Management (PCM) says that his custom built home in Southeast Oakville is one of the most copied homes. Working off of the architect's designs he added large pillars and trim to make the home a cross between art deco (his favourite) and the traditional arts and crafts style. "Even after nearly 10 years we still get great feedback from all over North America."
At Ease Outdoors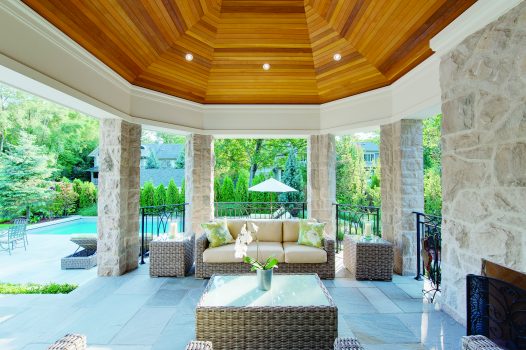 Outdoor spaces still dominate but on an even grander scale than a patio or deck. Gordon Baron, president of Lifestyles by Barons says, clients are looking to "have the home and cottage one and the same." What's even better is there's no long commute. Outdoor structures, built as one or two-tier, are very popular. Baron's recent project home, Shady Lawn, features a dramatic two-story structure at the back. Having exclusive access to the top tier from the master bedroom is something his client's desire. More often than not, there aren't any exterior stairs leading to the top, giving the upper floor ultimate privacy. When the space warrants, incorporating a Jacuzzi, surround sound elements, ceiling fans, hot tubs and an outdoor kitchen/BBQ areas is preferred and maintenance-free is also a must. Baron notes that structures made of composite material to look like wood need a simple hosing off to look pristine.
Inside Editions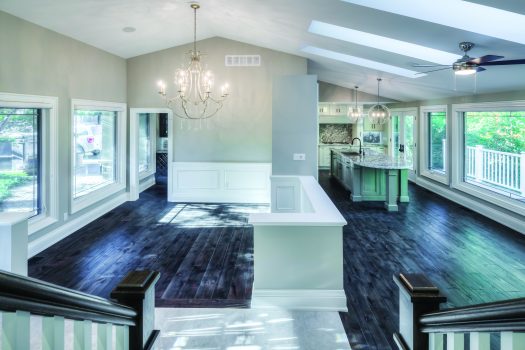 Above all else the kitchen is the heart and the hub. "Sure, it has to look esthetically beautiful but it's got to be functional," says Baron. Incorporating a servery and/or pantry builds on the use of space. "In our demographic we're finding (existing homes) are plenty big enough but it's about making them much more functional," he explains. Creating a servery between the kitchen and the dining room can look glamorous but also function as a quaint spot for a bit of wine and cheese or for cocktails. "It has that multipurpose – it can be the buffet or the second kitchen," he says. Pantries add storage elements with floor to ceiling shelves, eliminating the need to store surplus supplies elsewhere. Shelves are pantry depth, meaning everything's visible at once. "We're seeing that as a very significant trend and that's becoming commonplace." Other key items he highlights in a renovation are the (perhaps obvious) removal of bulkheads, cabinets that look more like furniture in their design, built-in wall ovens and warming drawers. He's finding fewer ranges are being installed, unless the client wants a commercial look. Also, he says creating continuity with flooring is popular, using the same material like wood, on the entire floor.
Rooms to Move
Salt stains and wet boots are best kept out of site, limited to a mudroom. "They're extremely practical for a family with kids, especially in this climate of ours," says Jardino. Great, 'great rooms' are in with no walls to break up the open concept. "Family room, kitchen-dining – an all in one large space with proper vignettes are more coveted," he says. "That's where people congregate and spend most of their time." Upstairs, Jardino says couples want all the trimmings in their master ensuites, including steam showers and his and hers separate toilets. Below grade, Willmott says multi-use entertainment rooms instead of dedicated theatres in basements also seem to be desirable.
Touches of Tech
Whole home connectivity is becoming more mainstream and more affordable for lighting and entertainment, plus they're low-tech in terms of installation. "We can't escape the digital world and the convenience of our phones. It's fun to control lighting, entertainment, security and your HVAC system from your phone and do it remotely," says Willmott. Both he and Baron concur that it's not the size that counts, but the functionality and esthetic. "Smaller, cozier and well-designed spaces are going to be more popular," Willmott explains. "I think homeowners are becoming weary of the excessive costs of large houses from the taxes and utilities they pay, to the cost of construction and maintenance."
Smaller details can have great impact, like fireplaces, according to Willmott – even wood burning styles. "There are a lot of options that don't require expensive masonry chimneys, can be zero clearance and are very efficient," he says. "While some units can be costly, they're still less than full masonry work in most cases. I think every house should have one!" On a grander scale, Jardino says adding a wine cellar and additional car storage space with a hydraulic elevator are luxury items to consider in a build.