By Jennifer Wright |  Photography by Nikki Wesley
The ex-NHL player and current manager of Hamilton Bulldogs talks hockey, holidays and family.
It can seem daunting to interview hockey royalty, but the minute I walked through the door of the elegant Staios family home, I was immediately put at ease.  Suzanna Staios, an ex-figure skater, showed me to where husband, Steve Staios, was having his portrait taken. At ease in front of a camera, his broad smile set the tone for a great meeting. Staios played professional hockey for many teams, including the Edmonton Oilers and Boston Bruins, so as a hockey pro, it was his modesty that drew me in.
Staios is manager of the Hamilton Bulldogs, winners of the 2018 Ontario Hockey League Championship, and lives with Suzanna and their two children in Oakville. Originally from Hamilton, he and his wife settled in Oakville after myriad moves for his hockey career.
"Close enough to the energy of the city but far enough away to enjoy the peace." When we discussed the holidays, Staios admitted that family traditions are not big for them.
"When you've moved around a lot and you're not in the same place every year, settling into holiday traditions can be tricky." He commented, instead, on the fun element of not being tied to the same thing year after year and the uniqueness that each Christmas can bring.  One year he was staying in a hotel for Christmas with his team; with only a few hours for his family, they still made it work.  He notes he can always count on his daughter playing the piano, singing carols and pumping up the festivities with music and holidays drinks. We talk about his hockey journey.
How did you get into hockey?
Well, that was my first lesson in adversity. I started at age seven and was a keen soccer player. I did not know how to skate. It's a story I often tell aspiring hockey players. I received hockey equipment for my birthday and the soccer coach, who was also the assistant hockey coach, asked me to play. I was still pushing a chair on the ice while my teammates shot pucks in the net.  The learning curve was incredibly steep. I told my mum I was never playing hockey again but for some reason I went back and kept trying. It was only when I turned 16 that I realized I wanted to get serious and was then drafted into the Ontario Hockey League.
What was your favourite aspect of hockey?
The competition was what I lived for, which hasn't changed since being part of the Bulldogs. Being part of a team and making a difference. Also being part of two world championships with World Canada. One of my favourite moments was in the Czech Republic in 2004 having won a tournament and being on the ice with my kids and singing the national anthem.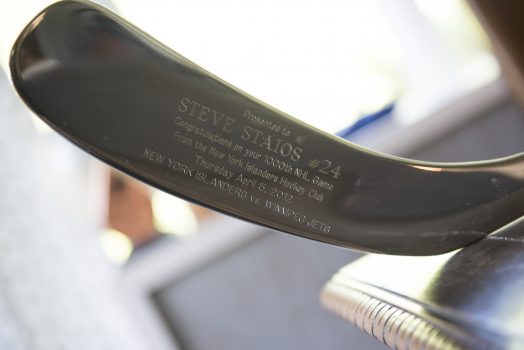 What was a disappointment you have had?
The greatest and most difficult moment was all in one for me. It was game seven of the Stanley Cup Final. We'd made the playoffs, it was a deciding game, and we lost. It was disappointing that we never got to play another Stanley Cup again and we were all heartbroken. Upon reflection, it was one of the most special moments because we came together as a team. It taught us the power of teamwork and playing together. We weren't the most talented group and not much had been expected of us, but me made it to one goal away from winning a Stanley Cup.
What advice would you give your younger hockey playing self?
Enjoy every moment.  It's hard to say in the moment as you are pretty serious and nervous about performing, and sometimes you fail to appreciate it all. 
How was your transition from player to coach?
You need to get more in depth, to get into the detail as a coach. It's more difficult and multifaceted than being a professional athlete and the transition can be uncomfortable. As a player you get more affirmation, playing in front of big crowds, and the generous remuneration. A coach doesn't get those benefits.  That being said, my transition was seamless. Only two weeks after retiring as a player I started working as a player development adviser for the Toronto Maple Leafs. I was grateful to be able to be part of team again so quickly.
If you hadn't become a professional hockey player what would you have done?
I always wanted to be a sportsman, so if it wasn't hockey, I hope it would have been soccer.  
What is your secret passion?
Well, it's not really a secret but it is golf. I love the competition and the skill needed to play well. When I have the time during the off season, the golf course is where you'll find me.