Chef Massimo Capra invites us for a personal tour of his newly renovated home
By Laurie Wallace-Lynch
Ever wonder what the home kitchen of a famous chef looks like? Chef Massimo Capra, famed restauranteur and celebrity judge on TV cooking shows Chopped and Wall of Chefs invited us to his Lorne Park home to tour his newly finished renovations. His kitchen is as big and as impressive as his signature handlebar moustache. In fact, Massimo's beloved wife Rosa quipped about the magnitude of the reno; "they don't call him Mini-mo, they call him MASS--imo for good reason!"
Chef Capra now has his dream kitchen and loves spending time cooking for his wife, entertaining or testing recipes for his regular guest appearances on Cityline or for his many restaurants including Capra's Kitchen in Mississauga, Boccone Trattone at Pearson International Airport and the Rainbow Room at the Crown Plaza Hotel in Niagara Falls. Rosa designed Capra's Kitchen and she is the design genius behind most of the renovations. The kitchen was custom designed by Braam's Custom Cabinetry in Oakville.
To call this a makeover is like calling a Tsunami a wave. This is an almost complete do-over from top to bottom, including removing walls, flipping the house layout to move the kitchen from one side of the house to the other, bedroom renos and adding an addition to the new kitchen.
"We moved in with my cousin for a year while the renovations were happening and just moved back recently," explains Rosa.
To do justice to the scale and magnitude of this makeover, let's talk about the 'before' of this makeover.
Massimo and Rosa purchased their 1960's-something home about 10 years ago, knowing full well that one day they would renovate it into their dream home.
"The exterior was rather mixed up looking, with a Frank Lloyd Wright look on one side of the house and a Leave it to Beaver situation happening on the other side," chuckles Rosa. "It was the Frank Lloyd Wright side of the house we loved, which was the living room side with big windows. The living room and the fact that the property backs onto a ravine, and this neighbourhood, is why we bought this house in the first place."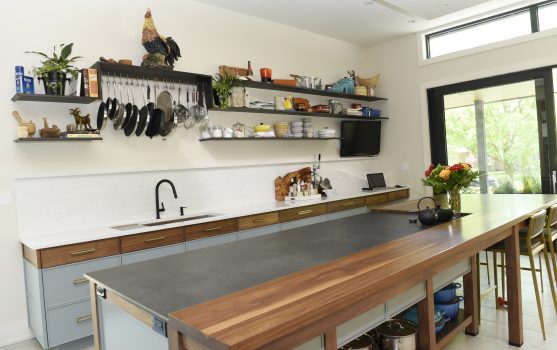 Rosa scrambles down to the lower level family room and comes back with the original real estate brochure from when they purchased the house. The photo of the original kitchen looks typical of many kitchens of the era of avocado-coloured fridges and stoves. Massimo chuckles at the 'before' photos and adds, "the front hallway was dark and cramped. We removed several walls and opened everything up to be light, modern and airy."
Indeed. As you step past the welcome mat boasting a big handlebar moustache (a gift), the expansive foyer leads your eye to an open-tread, custom designed staircase and then up to the second level foyer with floor to ceiling windows overlooking the backyard and ravine.
Massimo flashes a huge smile as we walk into his new dream kitchen and is almost giddy as he makes cappuccinos at his beverage station including a coffee station, wine fridge and the beautiful cabinetry enhanced by a mosaic of Spanish tiles, selected by Rosa.
Working with Massimo and Rosa's vision of their dream kitchen, Designer Corinna Haimerl of Braam's Custom Cabinets (Oakville and London) created a modern, open and welcoming heart of the home.
Says Corinna, "We do very custom work and every kitchen is unique and special because we help bring the homeowner's vision to life.  The cabinets are painted in a lacquered finish in Benjamin Moore Brewster Gray which is greenish gray, and we designed LED lighting over the cabinets with pot lights over the coffee bar."
The showpiece of the kitchen is a solid walnut island that is 14-foot-long by 4 ½ foot wide, inset with a state-of-the art induction cooktop. "We are the only ones in Canada who carry this professional induction cooktop and Massimo fell in love with it."
Eager to show off how the induction cooktop works, Massimo places a small pot with water onto the dot on the cooktop which indicates an element. Before you can say Capra's Kitchen, bubbles are forming in the pot indicating the water has reached the boiling point.  The island has a lower level which houses the chef's notable collection of pots, while his frying pan collection hangs from iron hooks above the sink.
"Guests always like to gather in the kitchen and we recently entertained about 25 people and many of them were gathered around this island watching me cook," says Massimo.
No doubt guests were also checking out the collectibles on display on open upper shelving which flanks one wall of the kitchen. Rosa adds, "We had the shelves custom made by Ironworks Niagara. We wanted a modern linear kitchen and not a lot of cabinetry and had the open shelving designed to display collectibles and things we treasure."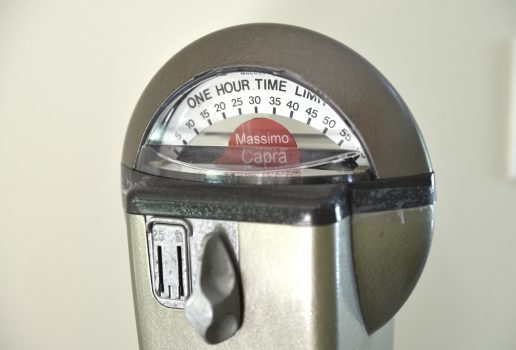 Massimo once again has a twinkle in his eye as he shows off one of his favourite features of the kitchen—a walk-in pantry that's fully stocked with every kitchen gadget a professional chef could possibly need—food processor, blender, toaster oven—you name it. "There are even plugs in the room so you can use the equipment right where it sits and don't have to cart things around," says Massimo.
As we sip our coffee, the warm afternoon sun streams into the kitchen through floor-to-ceiling windows and the modern garden doors which lead to the newly renovated outdoor covered sitting area. An old porch on what was once the Leave to Beaver side of the house was gutted to make way for a kitchen expansion and outdoor room. "We love to sit out here in the evenings and enjoy a glass of wine and say hello to people as they are out walking their dogs," says Massimo. (Massimo and Rosa's beloved dog Ellie sits curled up at Massimo's feet).
It's clear the Capra family love to entertain and can now do it with ease. Across the foyer, we step up (they had the floor raised) into a massive open concept living/dining room which truly earns the term 'Great Room'.
Following up on the MASS-imo (go big or go home) theme, the dining room table is castle-sized and can seat 16 people. Sitting on top of the table is an equally massive charcuterie board that Massimo loves to pile high with specialty meats, cheeses, olives and other treats as an edible tabletop centrepiece for guests to enjoy. The Great Room is filled with natural light thanks to overhead skylights strategically placed between ship-sized wooden beams, and that wall of windows in the living room.
Adding further intrigue to the dining room is a collection of large framed photographs which have special meaning to Massimo and Rosa. "These photos were taken by our son Andrew who was a very talented photographer. He passed away in 2018 while working in Europe," says Massimo.
The living room also boasts more of Andrew's photos, along with an eclectic mix of paintings and collectibles including gifts and items collected during their travels (including a totem pole). It's likely that all 16 guests could fit on the enormous sectional which Rosa had custom designed to fit the space.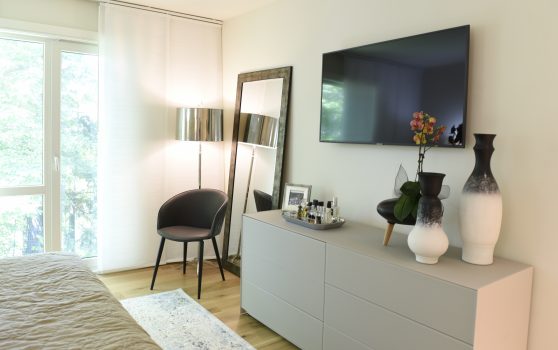 The lower level has a cozy family room and a newly renovated guest bedroom and ensuite. "We renovated four bedrooms into three hotel-style bedrooms, each with its own ensuite," explains Massimo.
The two other bedrooms are on the upper level, which include the master suite and a room reserved for their younger son Daniel who lives in Toronto and works for the company and often comes to visit on weekends. The master bedroom is a room with a view, with large windows overlooking the ravine, plus a walk-in closet and a 5-star hotel style ensuite.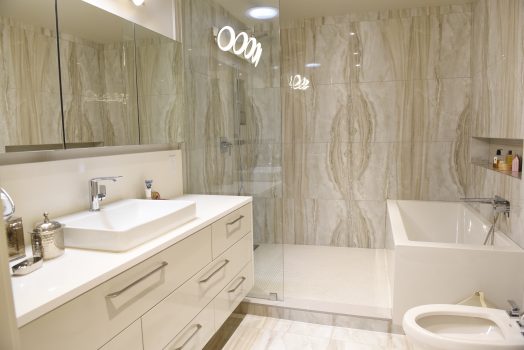 Massimo sums up his thoughts on the renovation: This is a combination of 35 years of hopes, wishes and dreams to be able to design and build a home and say we did. It's so rewarding to see our vision come to life."