Emily Cade's design reflects what she wants to share with the world…
By Rebecca Dumais / Photos by Alex Lukey | 
Form and function permeate every aspect of our lives via feasibility and visual appeal. From practical pieces to those of pure aesthetic, it's a designer's role to create interiors that tell a story.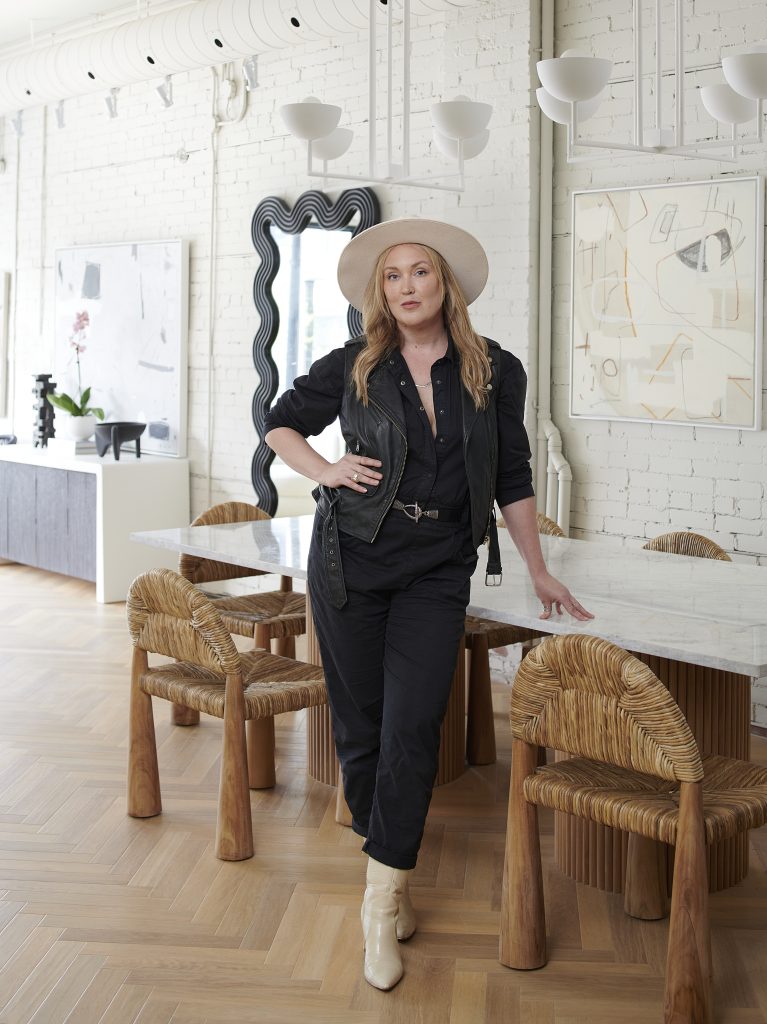 Emily Cade's self-described design aesthetic is "curated modern," but it's not limited to just that. "It's a dynamic and ever-evolving entity," says the co-owner of Arcade Home and custom furniture designer. "I'm in a perpetual state of evolution as a designer, constantly refining my filter and design voice. While I deeply respect classic design principles, I don't feel confined by them. Instead, I find my passion in the interplay of contrasts and juxtaposition within my work as a multi-disciplinary designer."
Cade began her career in fashion styling, followed by set design for the film industry. When fashion styling began to expose its limitations and couldn't sustain her creative interest, she began working on sets and became immediately loved the process. Creating new worlds and atmospheres "felt so much more involved and layered," she says.
She aspires to design spaces that convey a sense of gradual curation over time, to speak from the soul of the home and the client. Cade is launching a new line of furniture and accessories, which will coincide with a celebration around the store's first anniversary on September 22.
The new collection will include pieces Cade has already created and that are on display in the store. Pieces include marble goods and hardwood furniture such as dining tables and chairs, coffee and side tables, and customizable upholstery in bespoke shapes and forms.
Being unable to find appropriate designs she felt matched her vision or was unable to access spawned the creation of Arcade's line of goods. Opening the store on the heels of COVID was also a factor. "We wanted to bring a high level of design and quality, I didn't want to bring things in from overseas," she says.
What made the most sense was to carry over her independent custom furniture design for clients into what would be offered in the store. She felt that High-end dining tables were lacking in the industry, specifically quality solid wood. Gorgeous hardwood is sourced mostly from British Columbia, and marble pieces are carved from blocks (not slabs) of Turkish marble.
There's heavy inspiration from the 70s in Cade's design work seen in the shapes and material finishes. "I'm very much inspired by chrome again, which was huge back then – and marble; heavily-veined marble was very much of that era."
A chair in the store covered in a rich avocado green fabric is a clear design nod to the 70s. This and other earthly tones of rust and shades of caramel with warmer woods sees Cade designing pieces that are moving away from that Scandinavian minimalist look.
"We're kind of going back into an overdecorated and lush (design). "What happened for me when designing and creating the line, I was coming from a place of wanting to create a comfortable environment but inspire form and function and make it accessible. I wanted to push the envelope and bring some wild pieces in that would be unexpected but show a very organic palette. It makes it feel approachable, accessible and comforting," she says.
After COVID, Cade felt that people needed that and designers have put forth work that's a little bit more layered, warm and textured. No one wants to live in a showroom, they want it to feel like lived-in luxury."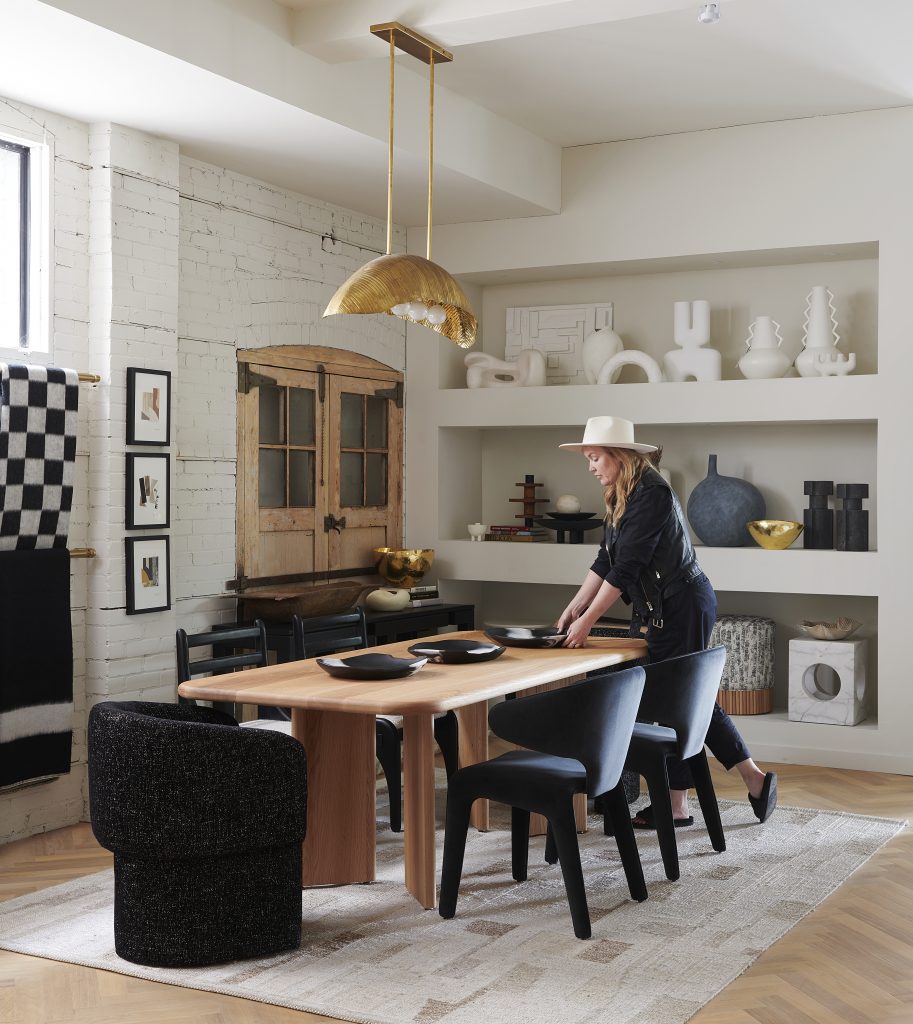 Cade also favours organic forms and loves to create juxtapositions between brutalist profiles and sharp angles. "I love mixing and you'll see that in the new collection," she says. "You'll see a collection of organic forms and shapes – things that you'll notice in nature." This could include pebble-like forms and edging; freeform and organic elements that fall into more of a natural palette.
This intersection of different design elements is where Cade finds the most excitement. "Throughout my journey, I've amassed an assortment of past and present influences that I incorporate into my creations," she says. "I cherish the process of reinventing my approach, especially when confronted with projects that push me to innovate and produce something entirely outside the box."
Most of her creative work takes place late at night – there's too much is happening in the middle of the day. "I like nighttime. I like quiet and just to deep dive into it, but you can't force it." Sketchbooks are at the ready (in her bedroom or on her desk) for drawings and ideas that can be explored further and transformed into new pieces.
There's a heavy slant toward sculptural furniture and interesting pieces in an unexpected mix. "That's where the eclecticism comes from that you see that in my body work but I could go super minimal, I can go super decorated and I can go classical or somewhere in the middle because I appreciate all levels of design."
Cade's biggest inspiration in the design world is Kelly Wearstler. "She's one of the best, most inspiring designers of our generation, in my opinion." There's a kinship that they speak the same language. "She's a little bit wild; a little unexpected. Someone said to me 'You're good at good at picking the thing (you'd assume) that's not going to work and somehow make it work." 
That in itself describes the role of a curator. "The tagline for the store is 'Curated for living' so it was that idea of being a curator more than anything else," she says of gathering all of the inventory of everything in the store. "I've always considered myself a curator. Obviously, you need things in your space, you need the function but how do we make that beautiful? How do we make it inspired and timeless, even if it's trend forward? The things around it can change. We can have form and function and not have to sacrifice design."
In her 14 years of professional design, Cade says there's a confidence that happens from experience, the mistakes we learn from that result in adaptation. "There's that ability to be confident in your decisions and also not hang on to things. I think you have to be malleable; you have to be flexible. If something doesn't work, well there's an opportunity to pivot and maybe it's going to be better. It pushes you to rethink and re-imagine. I've had lots of that in my career. It's made me quite resilient."
For more information visit Arcadehome.com