Who doesn't love a beautifully designed kitchen? It is, perhaps, the most important space in the home when we consider its many functions, most notably, meal preparation. Perhaps it's the allure of food that has turned the kitchen into the prime gathering space in most households. Whether preparing a snack for your kids or a lavish dinner for friends, it is in the kitchen where we make memorable connections and have the best conversations.
Today, it's easier than ever to create a dream kitchen thanks to an abundance of design options in flooring, cabinetry, lighting, countertops and more. Of course, with more choices comes tougher decision-making. The thrill of renovating an outdated kitchen can quickly turn to fatigue when faced with myriad decisions.
West of the City talked to the experts to get the low down on what's hot in kitchen design today, and for tips on how to ensure your choices create a space that is as functional as it is stunning.
Kitchen as sanctuary
Aaron Miller is the founder of HummingbirdHill Homes + Construction in Oakville and an expert on designing and building spaces that combine functionality and aesthetics to create rooms that calm, rejuvenate and promote overall wellness among its occupants. As a luxury PassiveHouse™ and WELL™ Certified Builder, HummingbirdHill Homes is leading the way in ecologically sensitive home design that is centred around human wellness.
The PassiveHouse standard is the most stringent building energy standard in the world; buildings that meet its standard use up to 90 per cent less energy than a conventional building. The WELL building standard is based on a mission to improve human health and wellbeing through the built environment. It is considered the premier standard to implement, validate and measure features that support and advance human health and wellness.
"Institutions such as the Mayo Clinic and the Well Living Lab continue to publish research demonstrating how our built environments can either positively or negatively impact our health and wellness," says Miller whose clients are increasingly interested in designing their homes to have a calming effect. This can be done with a clean lines aesthetic and by improving the connection between nature and the kitchen space: thnk less cabinetry, more glass, bigger windows and abundant natural light.
Miller explains that we experience our built environments with all five senses, yet traditionally, kitchen design is built using only one sense – vision. Today, there are so many options available, from air purification systems to acoustical and thermal comfort elements, to create a full sensory experience that boosts its occupants' wellness and maximizes its potential.
Custom cabinetry
No kitchen is complete without storage space – and lots of it. While there is a trend toward few cabinets around the upper perimeter of the kitchen, the need for storage will not likely ever wane. The solution? Super pantries.
Pauline Black, designer for Selba in Oakville, says, "People are replacing the usual upper cabinetry with no cabinets or with floating shelves to get an open area look, particularly around the sink and stove area." The chunky style shelves, both functional and beautiful, are typically comprised of the same material as the cabinetry.
To maintain storage, a big pantry can be built with custom storage solutions such as wire racks for spices and pull-out shelves with recycling bins. Diane Bilaillon, sales and design manager for Gravelle Woodworking in Burlington, says, "People are thinking about how they use their space more than ever these days. They want a specific spot for everything, including charging drawers to organize tech stuff." To streamline the look even more, Gravelle's custom pantries offer pocket doors that, once opened, can slide into a discreet opening and disappear.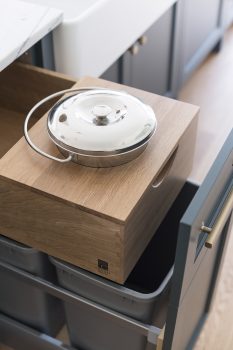 Not everyone, of course, is choosing to forego upper cabinets these days. While classic white is still popular, there is an increasing tendency is to infuse the kitchen cabinets with a pop of colour.
"I'm seeing a trend toward base cabinets in a dark colour with the upper cabinets in white," says Black. "Greys are still very popular, but navy is making a comeback, as well as a lot of blues and seascape colours like aqua." The most popular material for cabinetry is painted medium density fibreboard (MDF) which offers a superior surface to wood for a beautiful, durable coloured finish.
With the trend toward transitional in many homes – a cross between contemporary and traditional – a simple cabinet door with a recessed panel is a common choice in the kitchen. Its clean, simple look can then be spruced up with hardware. Bisaillon says mixed metals are in, noting brushed gold and brushed nickel look amazing together.
Amy Barnett, designer for Braam's Custom Cabinets, says more people than ever are seeking out custom cabinetry. Why? She believes it's powered by social media.
"With Instagram, clients are looking at what's possible and realizing they can do more than they'd thought possible," says Barnett. And, with more people than ever living in condos, there's less space for all their stuff.
Form, function and flooring
Choosing the right floor for your kitchen depends on many variables ranging from durability to aesthetics and is often dependent on understanding the homeowners' needs. Relying on the expert advice of a flooring specialist can ensure you select a floor that will last, and still look beautiful, for many years.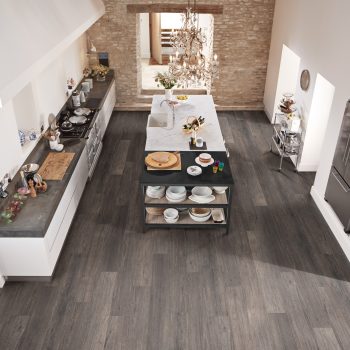 Carl French, owner of Speers Road Broadloom in Oakville, is an advisor to Sheridan's interior decorating program and works on the sets of popular TV talk shows such as The Marilyn Dennis Show. He combines his knowledge of the latest flooring trends with an in-depth understanding of different flooring materials to help homeowners select a floor product that's right for them.
Today, a hot trend is luxury vinyl plank (LVP) which recreates the look of stone, wood or tile so realistically that it's almost impossible to tell the difference without touching it. The benefits to LVP are plentiful according to French. The tiles are lined with cork to add greater warmth as well as comfort on the feet than real stone. For a busy household, the tiles boast waterproof, kid-proof and pet-proof qualities.
"When selecting a floor, you need professional advice," says French. "An expert will drill down to find out what your lifestyle needs are and make sure your floor will stand up to whatever you put it through."
Shelley Alexanian, owner of Alexanian Carpet and Flooring, sees homeowners bravely using more colour in their floor selections than previously.
"I'm seeing more colour in Europe, which is always ahead of us in style," she says. With more open concept homes than ever, the kitchen is no longer defined by walls. Alexanian says this has led to another flooring trend: inlays. To distinguish the culinary space, the homeowner is laying down a tile that showcases a different texture or colour than the rest of the larger space. This inlay may be set between the island and the facing cabinetry, for example, to mimic a runner. While wood and tile are still great choices, Alexanian agrees that luxury vinyl is a game changer. With more visual textures than ever, and really good images, vinyl is making a huge comeback.
"There are wood planks and stone looks in vinyl that even I have to put my hand to the floor to determine if it's a stone or a vinyl."
Backsplash
A monochromatic style is hot right now, according to Natasha Gauthier, owner of Eden Tile-It in Burlington. With more people choosing open shelving in their kitchens, homeowners are able to highlight backsplash tiles. The trend is toward solid colours, particularly white, in unique shapes such as hexagon, herringbone, even triangles. A bolder and increasingly popular option is black tiles.
Lighting
With the kitchen being one of busiest and most active spaces in the home, proper lighting is key. Gerrie Lighting offers a beautiful array of light fixtures for tastes that range from ultramodern to farmhouse traditional. Too often, says lighting specialist Judy Beckett, homeowners leave the lighting decisions until the end of the design process.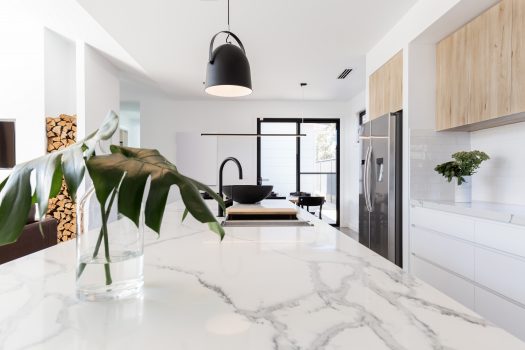 "We advise homeowners to visit the showroom at the start of the kitchen design process," says Beckett. "That way they already know what they want, rather than waiting until the end and possibly finding it harder to fit."
For overall lighting, pot lights are the best choice, according to Beckett. Determining the number of pot lights depends on the size of the space as well as the quality of the light. Under counter lights are essential for task lighting. As the population ages, there is an increasing need for abundant lighting options in the kitchen to perform tasks ranging from reading food labels to chopping vegetables.
Pendants are perfect for placement over an island or peninsula. Beckett is seeing a trend toward two larger size pendants versus three or more smaller size pendants clustered together, as well as a movement away from clear glass to opaque in pendant design. And, lastly, install dimmers on all the switches, she emphasizes. This saves on energy and is ideal for setting the right mood at any given moment.