Two Oakville realtors create their perfect home — from the ground up
By Peter Bailey
When Royal LePage agents Michael and Anna Phinney decided on their new home's design, they didn't go halfway. They purchased the site, on Oakville's Douglas Avenue, tore down the original structure, and started over.
"We bought with the plans and permit in place," Michael says. "We tore down the house and began building. The builder, Randy Scarrow of Forestwood Homes, had an architect's plans. We knew the builder's work, we visited five or six of his homes, and that began an eight-month building process."
Michael adds Scarrow was very helpful in keeping them on budget. The house was finished Dec. 16, 2019.
Scarrow, who is Forestwood's owner and president, says the design of the home fits in well with the other houses in the neighbourhood. He and the Phinneys worked closely with his designer, Oakville's Lou Ward Design. "It's a great house," Scarrow says. "Michael and Anna added great finishing touches. I always let my clients know where they stand with their budget. Good communication between the builder, the designer and the clients is vital."
Scarrow adds that, whenever he can, he keeps the same tradespeople year after year. "I like to work with the same people. And I don't advertise. I get referrals. Word of mouth is the best advertising." The Oakville builder says he has constructed 35 homes in the area in the past 13 years.
The neighbourhood is family friendly, "a mix of young and retired, and people in their 30s and 40s moving from Toronto," Michael says. "We live close to downtown Oakville, and there's a vibrancy to the downtown now."
The couple decided on a traditional style for their home's exterior, with a more transitional look for the interior. The home is decorated in neutral tones, Anna says. "All our walls are white. Using bold decorating choices may not appeal to potential buyers," she says. "We're not going to live here forever – even so, we built and designed the home for ourselves."
The house has 4,700 square feet of living space, with 3,000 of it above grade, Anna says. The front features granite stepping stones in the walkway, a stone address wall and a herringbone patterned driveway with a granite stone border.
The small back porch has a cedar tongue-and-groove ceiling and the porch features a fireplace and a TV mounted to the wall. While not large, it offers shelter from the rain and the sun.
"It's nice when it's raining," Michael says. "We like the effect."
"We had a huge porch on our other house," Anna adds. "This is a good in-between."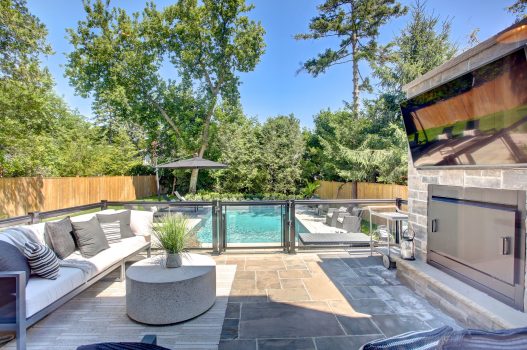 The 49-by-150-ft. backyard contains a 14-by-28-ft. swimming pool. Because the pool is not too large, it is low maintenance, Michael explains. They installed it for themselves, he adds. "Some people are 50/50 about buying a house with a pool," he says, pointing out that a pool does not always increase the value of a home.
As for the house's interior design, "We went for a good mix of modern and traditional, to keep it classy and simple," Anna says. The main colour of accents is black, to provide contrast.
The result is a bright and airy interior, accented by designer Shawnna Truelove, senior designer at TRIG Inc. "I came in to help with the lighting," Truelove explains. She also added various accessories to make the house feel warm and homey.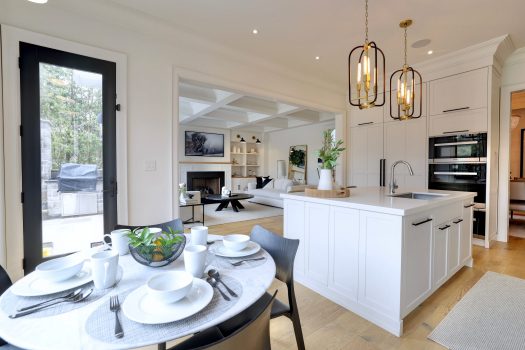 "Anna and Mike are the perfect clients," Shawnna says. "They knew what they wanted, and trusted me to make their vision come to life. Their home features a black and white modern farmhouse look with an inviting air that is not too stark. I knew I didn't want to go too modern as the bones of the home have some beautiful transitional elements to it that were fun to play off. We spent a lot of time making sure the lighting was perfect and it shows from the elegant chandelier in the dining room to the additional farmhouse wall lights located in the kitchen and family room.  In the end, the success of this house was achieved by having just the right balance."
"We went for oversize, high-end fixtures. Beautiful lights change the feel of the room. They can have a huge impact. To me, it creates a feeling of luxury." Their furniture was purchased from Cocoon and Accents for Living.
The entrance to the home is a sheltered open space that provides protection from inclement weather while you're fumbling for your keys. Inside, the home is surprisingly spacious, with light pouring in from the windows and reflected off the white surfaces.
One of the first rooms encountered is Mike's office. The black door with its large glass pane not only provides a sense of space but also serves to bring light into the room. Although its purpose is office space, both Michael and Anna prefer to go to their Royal LePage offices to work. Their daughter Harper, four, has taken the space over as her play area, Anna laughs.
"In real estate, it's better to be in an office, to get out and meet people," she says. "At home, it's easier to be distracted."
The black-on-white theme is also used to create interest in the main floor powder room, Anna adds. "Those are tiles on the wall, not wallpaper."
Another striking use of contrast as an accent is found in the mudroom which has a black door to the garage as well as to the side of the house.
But the real sense of spaciousness is to be felt in the kitchen. It opens into the coffered-ceiling family room, which features a large gas fireplace and shiplap panelling on the shelves at either side. The shiplap theme is found in other rooms. "I strongly dislike rooms with totally different identities and colours that don't match," Anna says. "I believe you should follow a theme."
Again, the accessories to be found in the family room were selected by Shawnna Truelove.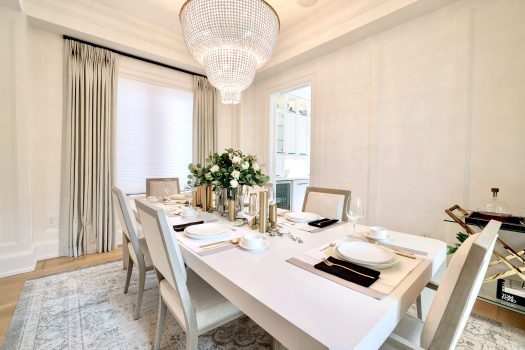 The dining room is highlighted by the large light fixture which sparkles above the dining table through its thousands of facets. It's a cozy place that in future will comfortably accommodate large family gatherings.
Upstairs, there are four bedrooms, plus another in the basement. The master bedroom has a five-piece ensuite. It also features a large walk-in closet.
Daughter Harper's room also has an ensuite. A third bathroom is shared by the other two bedrooms, and there is a 3-piece bath in the basement.
"Nowadays, everybody wants their own bathroom, and home buyers want four bedrooms," Anna says. "A lot of families are moving into the area. Usually two kids and their parents want their own bedroom, and they need a fourth for a guest room. Or, people are using a bedroom as a home office or a studio."
The basement includes an entertainment area as well as a playroom. Anna and Michael are proud of the results of their endeavour. The main reactions they get from guests are due to the attention to detail the designers and workers put into building the house.
"The trim work is very well done," Michael says. "It's solid poplar wood."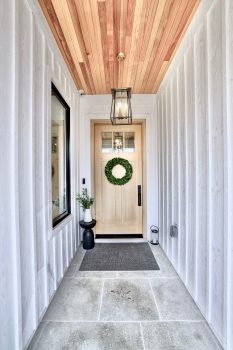 Both are thrilled with the spacious feeling of the family room and the styling of the shelves. Again, accessories make the difference, Anna says.
"Shawnna was here all day yesterday adding accessories. She decorates the shelf units, the coffee tables, the kitchen tables, and she adds pillows, throws, bedding – all the little details." The dinnerware shown was supplied by Nicetys, with floral arrangement by True Flowers.
In the end, although Anna admits she can be a stickler for details and a house that is neat and clean, she wants a home that looks lived-in – a place where she and Michael can relax at the end of a hectic day. For while many businesses are suffering during this Covid 19 pandemic, the real estate business west of Toronto is booming.
"We had our busiest year last year," she says. "Inventory is low, interest rates are very low, and I can't see it slowing down. I've seen sellers get $400,000 over their asking price, and I feel sorry for first-time home buyers. I've even seen first-time buyers with $1,000,000 who can't get a home.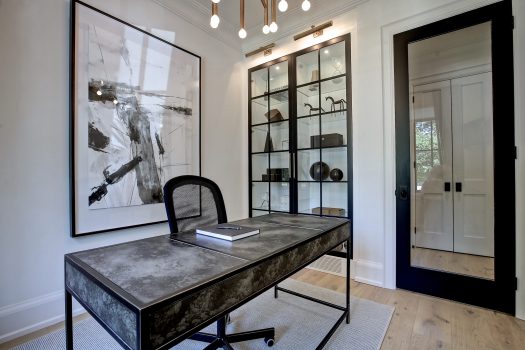 "Sellers are strategically listing houses low to create a bidding war. As a real estate agent, I don't know how to price houses today. Houses may go for $1.2 million, or $1.3 or $1.4 million. Lots of buyers are backing off because of these bidding wars. They may only have one or two days to decide. And instead of getting an hour to look inside a house, they may only get 15 minutes," she says. "The market may slow down, but I don't know when."
So, what's a home buyer to do in such a situation?
"My advice is to pick a good realtor," Anna says. "Someone who is used to handling multiple offers, someone who is experienced and very active in the marketplace.
"Using a lawyer isn't enough. A lawyer doesn't know the market. A realtor who is active and who has a good reputation is important."
So, how do you find a good realtor?
"Ask family and friends," she advises. "That's the best way to find someone you can trust."