By Kelly Putter
When you create stunning interiors, as many talented designers do for a living, some may think the work is all about putting a pretty face on your space.
And while cosmetic improvements are a definite part of the process, interior designer Jackie Glass whose firm's design and décor work is featured regularly on Cityline, digs much deeper by calling on her instincts when conceptualizing a design. The seasoned pro draws on 20-plus years of experience and the knowledge she has gained as a leader in her industry. The result? A designer who listens to what her intuition tells her and that, quite frankly, takes guts. 
It was one such gut feeling that led Glass and her husband to the Niagara region after having lived in Oakville some 20 years. Glass felt the need for a change. What informed the radical move was her recollection of a country home the couple once owned.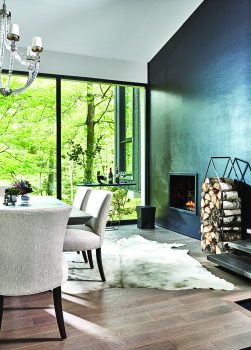 "Some of our best times were at this country place, so we started looking for something that gave us that feeling," says Glass. "I thought this was a jewel of a property. My husband and I love wine and we love wine country — that prompted us to expand our search and this house spoke to us; it really did."
Located on 13 acres in Niagara Escarpment wine country, Glass sensed this dated mid-century modern bungalow would be a designer's dream in the right hands. She knew the views were spectacular – a two-acre, spring-fed pond filled with large-mouth bass, forested greenery as far as the eye can see, grazing deer, wily coyotes, birds and wildlife abound – so she decided to bring the outdoors in by "blowing open," as she puts it, the exterior walls of the home and slotting in black-trimmed, floor-to-ceiling windows wherever she could. The effect easily rivals the best artwork. Glass likes to point out that the home's new windows create a treehouse vibe.
"One thing that strikes people is the windows," says Glass, whose professional design office is located in Oakville. "Everywhere you look, you're looking at trees and ponds. I enjoy that Frank Lloyd Wright aesthetic, that is to merge architecture with nature. The windows were the biggest part of our budget for this project. I went to a commercial company and got commercial-grade windows that are over nine feet high. It really makes for a striking interior from that perspective."
When Glass began outlining her design scheme for the house she was confronted by a dark and outdated home decked out in brown. Glass and her husband were downsizing from their two-storey Oakville home, and the pair wanted all their living space on one floor. Working with architecture firm Len Angelici Design, they added about 1,000 square feet to the home's footprint, converting the garage into a master bedroom and spa bathroom.   
"I went in thinking mid-century modern," she recalls. "I wanted less stuff. I like warm modern. You know when you see a pure modern space there is nothing on the coffee table. My curation of modernism is a few books and a few flowers. It needed to be warm and comfortable, but still have a clean-line aesthetic."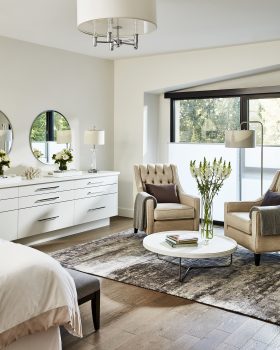 Since the couple loves to entertain and enjoys sharing the bounty of wine country cuisine and drinks with friends and family, the kitchen would be the second biggest concern after the windows. As the home's hub, the kitchen is outfitted with two islands, one of which is a large island perfect for dinner or cocktail parties or just hanging out and chatting. It features a marble herringbone backsplash, Cosentino quartz countertops and counter-height chairs in natural wood and leather, which add a warm contrast to the modern amenities. The second island is smaller and perhaps better described as a breakfast nook, complete with Thermador appliances, including a wine fridge and 18-inch dishwasher. The base is wrapped in shelves for cookbooks and collectibles. "My husband has said why such a big kitchen? (And I always say) because that's where the party is!"
Visitors are greeted to the home with a gorgeous white Cosentino porcelain tile entryway, which was custom cut in slab form, transforming the original entry from dingy and dull to bright, welcoming and lively. The porcelain slab in contrasting charcoal was used on the fireplace surround in the sunken dining room and living room.
About 95 per cent of the home's flooring is Lauzon Pure Genius hardwood in a soft medium taupe. Its titanium finish allows it to absorb environmental toxins as well as cooking odours. "It's like having three trees in your home," Glass notes.
The floor has a durable wire-brushed and matte finish that Glass often recommends to clients because, as a devoted dog owner, she knows a home's flooring needs to be resilient to scuffs and scratches.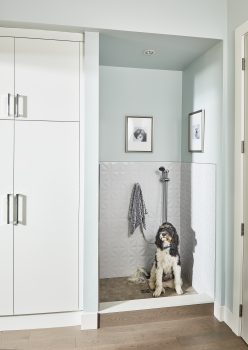 As homage to Glass' three dogs, the laundry room is canine-themed and includes a much-used dog shower. "With three dogs and living in the country, the burrs and other things that come off of those dogs are crazy," says Glass. "I use this room daily as I'm always washing something, either dogs' paws or linens."
The home's large lower level had low ceilings, so Glass decided to work with that and create a wine-room lounge area atop luxury vinyl "wood plank" flooring in country oak from Karndean Designflooring. The wine wall creates warmth and evokes a cozy country vibe with its custom walnut cabinetry and stainless steel sling-style wine rack by Papro Wine Cellars. A warm stone mural by Mural Unique is featured behind the wine rack and many visitors actually think it's real. A four-chair lounge area is perfect for great conversations and wine tasting.
The home's look is completed by Parand Design's custom cabinetry throughout and luxurious paint hues from Benjamin Moore.
Jackie Glass Design Inc. offers a full range of residential design, décor and renovation services, including project planning and management. Glass is a regular design contributor on Cityline and often shares her firm's design and décor work with a variety of national and regional publications.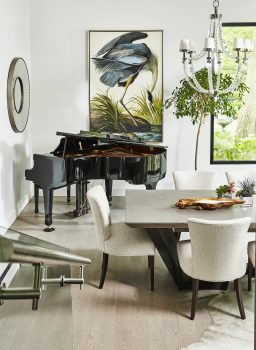 Glass and her husband were so enthusiastic about their reno they purchased a trailer that would let them live on the property so they could keep an eye on the progress of the project. The 460-square-foot trailer was updated with paint and lighting, and Glass even decorated it for the holidays — an effort that, along with the house, was featured in the Toronto Star, House and Home TV and on Cityline. Since delays are naturally a part of renovations, Glass and her husband ended up living in their temporary space for five months, moving their beloved trailer off the property just earlier this year. See www.jackieglass.ca for more on the trailer.
"Renovating is not for the faint of heart," she adds. "Be prepared. Buy a case of wine and just know things are going to happen. They might go sideways now and then, but in the end you have a beautiful space."