Reviewed by Jenna Mohammed
In 2015, Toronto Life magazine ran a cover story by journalist and activist Desmond Cole about police surveillance of black people in Canada. In it, he shared his personal experience of being carded more than 50 times by police in Toronto. The acclaimed article earned him three National Magazine Awards and led to his recently released book, The Skin We're In: A Year of Black Resistance and Power published by PenguinRandomHouse. Cole recounts cases of harassment, intimidation, police monitoring, and racialized violence across the country, discrediting the claim that systemic racism doesn't exist in Canada.
I picked up this book because I've always been interested in the topic of racial identity in North America. As a first-generation Canadian of Caribbean descent, I have personally experienced and witnessed racism and have long been curious about the experience of other minorities in Canada. With the Black Lives Matter movement taking centre stage across North America, Cole's book offers an exceptional opportunity for Canadians to educate themselves on racism here, at home, and how to work toward a truly equitable society.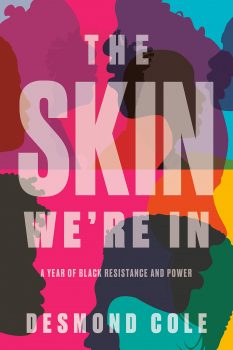 In The Skin We're In, Cole offers a month-by-month account of Black activism in Canada, beginning at the start of 2017. His personal encounters with systemic racism are relayed alongside cases of police brutality across Canada, notably that of Dafonte Miller who experienced a violent encounter with an off-duty police officer while out for a walk with his brother three years ago. It is one of the more recent examples of racism and corruption in modern policing, according to Cole, which he cites included a cover-up of key information.
Cole raises other issues of concern, such as the negative effect of policing in schools and draws important comparisons between the Indigenous movement for justice and the Black Lives Matter movement, stressing that they are not mutually exclusive issues. He explores the movement, Idle No More, that advocates for Indigenous rights and respect for treaties, as well as other groups that speak out on missing and murdered Indigenous women.
The Skin We're In: A Year of Black Resistance and Power is an outstanding book with historical and contemporary investigative research. While the book concludes rather abruptly, I saw this as a powerful demonstration of the struggle against racism that is far from over. It's an important read for anyone interested in learning more about Canada's colonial past and its lingering effects, as well as those who, like me, have experienced injustice but aren't aware of how deep systemic inequality runs within our country – in government, laws, traditions and social norms. An eye-opener, for sure. I highly recommend it.