The world class violin virtuoso is on a mission to share the joy of music for students of all abilities
By Kelly Putter
Much like the rest of the covid-plagued world, Adrian Anantawan can withstand its hardships. But unlike many of us, he's accustomed to adversity, overcoming a major disability to become a renowned one-handed violin virtuoso.
Born 37 years ago without a right hand, Anantawan took up the violin when he was a boy of nine, practicing long hours thanks to lessons, physical therapy and a prosthetic device that grasps the bow and rotates on an angle. He affectionately calls it the spatula. Educated at prestigious schools including Yale and Harvard and having worked with musical greats such as Itzhak Perlman, Anantawan has performed at the White House, for Pope John Paul II and at the Vancouver Winter Olympics.
As one of the world's most accomplished violinists, Anantawan, who is of Chinese and Thai descent, is most enthused by his work in music education. He is who he is today thanks to his own boyhood experience which introduced him to an art form that would prove to be the great equalizer.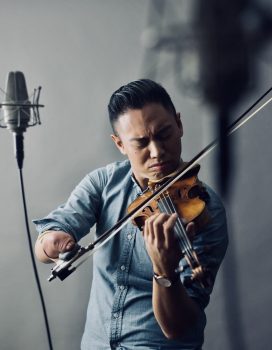 "When you play music it's about how you sound and not how you look," Anantawan said recently from his parent's home in Mississauga, where he is currently riding out the pandemic. "My introduction to the violin was a transformative experience for me.  It was the first time I had people who could connect with the universal language of music. I was the only one with a so-called disability and I was very lucky to have a social network and feel a sense of inclusion."
That early experience with the Mississauga Chamber Players, a youth music ensemble, inspired Anantawan over a year ago to found the Music Inclusion Program, which engages students with disabilities to play in orchestra.  The program is a partnership between the Henderson Inclusion School in Boston and the Milton Academy, a private prep school just outside of Boston, where Anantawan is currently employed as chair of the music department. He would like to one day translate some of the program's model to the Toronto area. For now, he's working on a virtual winter program for the students. "We're hoping to engage the kids and we're trying to retain our core mission to remove barriers of access for kids with disabilities to engage in orchestral learning."
Thanks to the pandemic, Anantawan decided in March to leave the Boston area and move back to Mississauga with his parents. From his home base, he delivers musical instruction to his students virtually via zoom. He is also using the lockdown to offer mini performances to staff and patients at Boston hospitals in addition to offering one-on-one violin lessons virtually to students all around the world. "I can zoom into anywhere in the world," says Anantawan who has students in New York, Hong Kong and Australia. "It's nice to just travel like that. It's been a wild year for everyone. We're doing our best to keep afloat."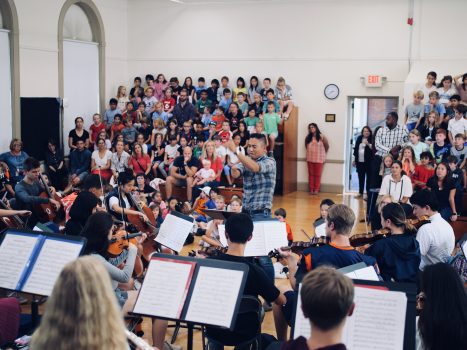 Not one to let opportunity slide, Anantawan continues to explore self improvement, having just completed an online course at Harvard that focused on non-profit financial management and taking 30-minute stress-reducing runs with his dog, a black Labradoodle named Wolfie.
When it comes to musical faves, Anantawan is an open playbill. Though he loves Bach and Brahms, Billie Holiday has been bending his ear of late as has 1970s trance music, a type of electronic dance music that's been featured on Netflix's Stranger Things. He also enjoys the work of contemporary violinist Hilary Hahn. "I like going to a random concert downtown and experiencing unknown musicians," he says. "That's where the excitement is. I love going to The Rex and hearing a concert and just seeing who's there."
While he's shared the stage with some giant names, his most memorable moment happened with the Dalai Lama. "I was his opening act at MIT a few years ago. We met backstage and the moment of intimacy with the two of us praying – it was something better than a selfie."