Public art lifts spirits and offers hope for a post-pandemic recovery
By: Kelly Putter
History is only beginning to write what legacy the pandemic will tell.  So as we soldier on through persistent waves and social distancing, let's lighten the load some by moving outdoors where public art serves to lift spirits, provide meaning and offer hope for a post-COVID return to normalcy.
Throughout the pandemic we've seen numerous examples of how public art has the power to unite people, to build communities and to restore our faith in each other. Remember how moved you felt watching the Italian opera singer serenading from his balcony? Or how it warmed your heart to see those cheerfully painted rocks with hopeful messages carefully placed outside of shops and homes. While major cities everywhere have been busy taking art to the street during these trying times, so too have many smaller municipalities, including those in our own backyard.
One such work, a mural completed in October just north of Lakeshore Rd. on John St. in Burlington, was done thanks to Canadian artist Chris Perez, who is known for his bright and colourful abstract expressionism.
"With everyone locked down and trapped indoors I think public art projects are a good way to go," says Perez. "It gets people thinking outside galleries. It's just another way for people to accept art and get a sense of belonging to a community and exploring their space a bit more."
The Burlington mural is part of a larger, province-wide program called I HeART Main Street created by STEPS Public Art, a national charity whose aim is to create public art initiatives showcasing Canadian talent. Formed in response to the pandemic, the I HeArt Main Street program works with BIAs across Ontario to celebrate local culture, foster vibrant spaces and support Main Street recovery through public art initiatives and paid artist opportunities.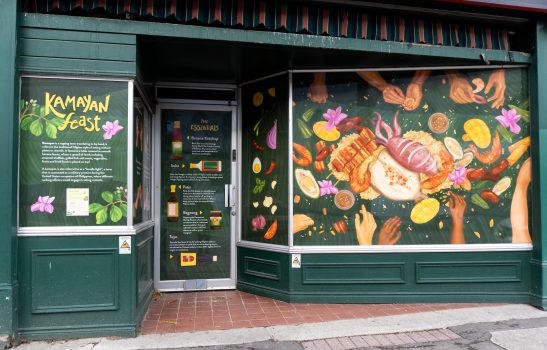 "The program came about after seeing storefronts shuttered and foot traffic diminished and artists having to cancel their gigs," says Erin Glover, interim program director with STEPS Public Art. "This is a way to start a conversation that will engage the community."
Oakville artist Elena Martoglio created her mural at Kerr St. and Washington Ave. in August as a response to the pandemic and to what she sees as a lack of public art in the town. Her 35 feet wide by 25 feet high piece, a hybrid of mosaics and aerosol paint called Take Me Higher, was funded thanks to a Go Fund Me effort that raised $9,200.
"The idea for the mural felt more necessary during the pandemic," she said. "I thought this has to be done now. I think public art is a great way to enhance a community and help give it an identity. It can help lift people's spirits and allow a bit more colour to buildings that are pretty bland."
Public art can also serve a very specific community with its messaging as was the case this year with the Peel Children's Aid Society. Thanks to the support of the Mississauga Arts Council, a handful of artists are working on several murals that will appear in different rooms on the main floor of the building on Capston Drive.
"We take a lot of pride in the storytelling of murals," says Jacqueline Mak, a creative director and strategist with the Mississauga Arts Council (MAC). "We don't want the artwork to not be reflective of the client's needs. What that means  is that the murals will translate to spaces for families and children in which to bond and feel safe."
A fledgling online platform that connects artists with those seeking their skills and talents was created by MAC in October as a response to the pandemic's crushing blow to the arts community. MartysHUB.com connects Mississauga artists, arts organizations and businesses to the public. Its content includes artist profiles and a searchable directory that includes news, events and articles.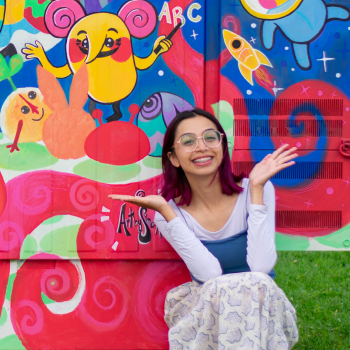 Naturally, large imposing murals aren't the only vehicle for artistic creativity that seeks a public audience. Martoglio is currently working on another public art project that's converted an old, shabby looking bulletin board on Kerr Street into a mini art gallery. Each month a new artist's work is featured on the panels that are protected by plexi-glass.
And thanks to the vision of Ontario BIAs and STEPS' I HeArt Main Street program, Port Credit is now the proud owner of a giant painted Muskoka chair and a series of painted concrete benches. In Clarkson, painted benches and planter boxes were installed. Malton lays claim to a fence exhibit of paneled artwork and printed vinyl that's affixed to a high-trafficked fenced area. Brampton is home to vinyl murals installed on the glass windows of six vacant downtown storefronts. According to Glover, some of the installations have already become attractions in their respective communities.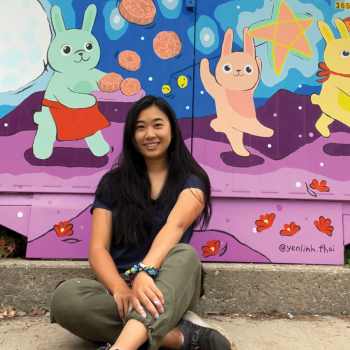 Making use of existing structures is a clever way to inject art, colour and shapes into the public domain. At Oakville's Queen Elizabeth Park Community and Cultural Centre, a riff on a traditional mural was used to conceal an unattractive beige generator, says Tonia Di Risio, who oversees public art for the Town of Oakville. The result is a vinyl-wrapped work by Toronto artist Emily May Rose that reflects the community centre by combining aspects of the town's local arts and culture, recreation, nature and history.
In 2016, to commemorate Canada's 150th birthday, the town participated in a nation-wide mural project that was composed of 750 mosaic tiles painted by local residents. The mosaic brought together 150 communities across Canada and asked that each mural reflect the country's history and culture.
In an effort to honour Canada Day during the limitations imposed by COVID, the Town of Oakville decided on a unique twist which would feature seven local artists representing each of its seven wards. The temporary installations included textile made from plastic bags which was then wrapped around a pavilion and four utility boxes in prominent locations designed by local Indigenous artists.
"There are numerous gestures being offered through art," says Di Risio. "You see messages painted on rocks. In England where the rainbows took off I thought that was positive messaging. People are saying we'll get through this pandemic. It's community taking care of community. When you can't be with each other these displays of public art is a form of sharing a message."