THIS ARTIST'S FLORAL ARTWORK ENCOURAGES VIEWERS TO DIVE DEEP INTO THE CONNECTION BETWEEN BEAUTY, MOVEMENT, LIGHT, COLOUR AND THE ETHEREAL SOURCE OF THEIR EXISTENCE
by Kelly Putter
The colour-happy, larger-than-life size of her acrylic floral paintings belies the heartache and longing that ultimately served to inspire Oakville artist Paula Anderson.
Born in Lisbon, Portugal, this lifelong artist-at-heart's contrast of light and dark shades shown in her mammoth roses and peonies reflect the emotions she grappled with due to hardship – both personal and public. "I was in lockdown on the tiny island of Bonaire, which is off the coast of Venezuela," says the 61-year-old retired flight attendant and mother of three grown sons. "We were stuck there for 90 days. I felt a lot of emotions because we were in paradise yet I was still mourning the loss of my mother the previous year and missing my autistic son."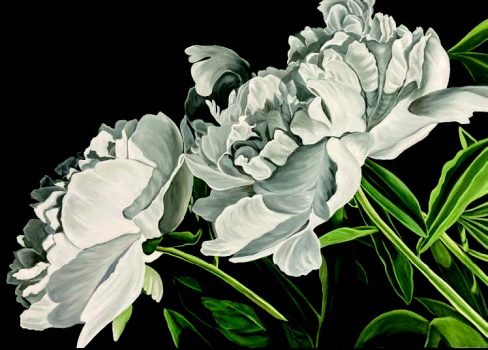 A practiced traveller, given her 28-year career with Air Canada, Anderson quickly assembled art brushes, paints and small canvases with which to paint.
While her materials needed to be small, that didn't prevent her preoccupation with heavy thoughts of death, loss, shutdowns and closures. "That's when I had an epiphany," she says. "I had lost my mom the year before and I had a son in a treatment home and I was very sad about that. But a good friend who is a psychologist said you don't have to paint these (morose) things."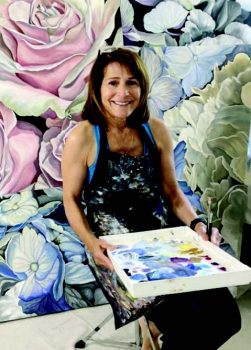 The results of Anderson's work are large-scale paintings that portray her deep connection to beauty, movement, light, colour and the ethereal source of their existence. She views this stage of her life as a rebirth of sorts and she wants her artwork to offer hope, inspiration and the message that there is recovery after suffering and sadness. "The world was in mourning but I wanted to paint joy," says Anderson. "For me, it's about the life force of something natural and beautiful, and flowers have so many meanings. We remember dead soldiers with poppies; lilies represent sympathy at a funeral – there's healing in flowers."
Anderson's work is currently being shown at Summer & Grace Gallery, a new venue for established and emerging Canadian talent, located on Lakeshore Road in downtown Oakville.
As a flight attendant, Anderson, and her husband – a retired airline pilot – have travelled extensively. Fondest memories include the Canadian north, specifically Yellowknife, where she saw an Inuit woman and baby in full traditional garb. She would also see the northern lights from the vantage point of a cockpit. Narita, an ancient Japanese Buddhist village and Hong Kong were also favourites. "I don't think a person who creates ever forgets the images they see," she says. "There is profound beauty in the world and I got to see some of the most beautiful things. People are very different and unique and I love the diversity in the world. It makes you feel so alive when you travel and witness things first-hand. It inspires a passion for life."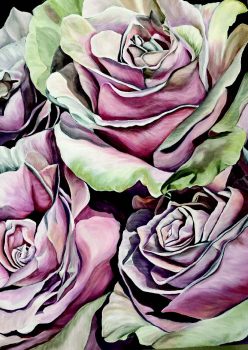 Anderson always fashioned herself as an artist, a bohemian in fact, and studied fine arts at the former Ontario College of Art in Toronto. Inspired by the work of Pablo Picasso and Georgia O'Keefe, she dreamt of living in New York or perhaps on Queen West in Toronto as an avant-garde creative type. Unfortunately, her dream was never realized as her father died prematurely, and her mother moved back to Portugal.
With a need to support herself and her younger brother, Anderson put art on hold. But her love of it never died, despite a demanding career and three babies. Ironically, it was her youngest son, now 19 and in a group home due to his pronounced autism, who inadvertently aided her return to the paintbrush. While living with his disorder, her house became a busy hive of interventionist activity with social workers and therapists coming and going all day long.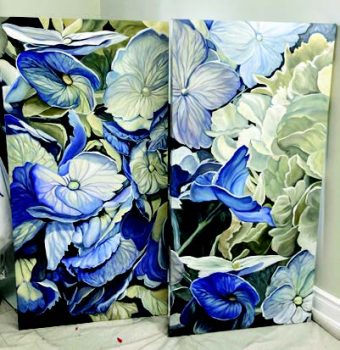 A self-described "warrior" advocate for her son, Anderson then found some time to paint again. More recently, inspiration has come to her from Oakville's St. Jude's Anglican Church and a rose garden in Gairloch Gardens, a pretty lakeside park known for its views and flower gardens. "That's one of the first places my husband and I would go with our second son in a little sled," she says. "It was one of our first exposures to Oakville and we said let's move here."
To see images of Anderson's art, visit summergracegallery.com and select Paula's name under the artists tab. Her work is also on Instagram:@paulaandersonart