By Jenniefer Wright
Floral artist Jennifer Cummins is more about psychology than floral design.  Everything she creates is completely bespoke, made specifically for each client's desires.  She'll meet and discuss with a client, get a feel for their home, surroundings, preferences and then create her floral art around that.  She'll use her design feel to decorate a home using many different materials so that the colour scheme and style of the house are enhanced.  Greens and whites are her favourite colour combo, using anything from hydrangeas, white roses and tulips to add an exotic air, always layering with interesting greenery from a wide colour palette with different textures.
Her creativity is certainly inherited; from a family that ran a greenhouse business with her mother specializing in floral design.  In her later years, her mother became an artist and painter and designed Jennifer's latest business logo.
Cummins' trade is focused largely around winter and spring, bringing florals into the home when the garden outside is still bare.  Vases can be full of fresh greenery, with notes of magnolia, boxwood and BC cedar, accompanied with ornamental items such as faux sticks, branches and moss balls. Sprays of fresh white long-stemmed roses can create real elegance, while adding a few faux items when the natural greenery is lush and rich adds interest to the arrangement.  They do not look faux when added as accents, last longer and can also create height and scale to suit the size of the house.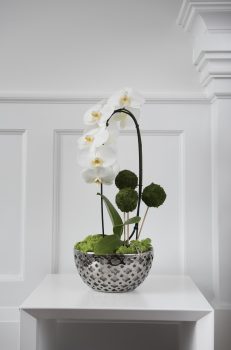 When asked about her craziest request for floral arrangements, Cummins said that she normally doesn't have any as it is all about trust.  Her clients trust her opinion based on her unique design skills.  She has a feel for design as well as positioning.  At times, she will enter a client's house and listen to what the request is.  On discussing options, both she and the client realize the solution is something totally different, ending in a beautiful, elegant creation.
Today's trends lean towards faux florals and foliage.  The benefit is that faux florals can be used and recycled, as well as not drying out or wilting in any way.
"The quality of the faux florals these days is so high that it has become a better option for many situations," said Cummins. Including orchids also gives an arrangement real longevity over the winter with the average orchid lasting up to three months. Mixing in other water-wise succulents, including moss or ornamental balls, is always a big hit.
Cummins also applies her distinct taste to her own home.  While not being fond of the colour red, even over the festive season, she opted this year for traditional greens and white, creating a layering effect from the various shades of green and different textures and foliage options for added interest.