By Jenna Mohammed
My shopping experience with fashion designer, Joseph Tassoni, is like no other this winter morning as he pulls another beautifully designed coat from the tightly packed rack of outerwear that spans the wall in his Burlington studio. Of course, I'm not actually shopping. I'm here to interview him but, instead, find myself silently listing the reasons I need to replace my current winter jacket.
Tassoni has a sparkling persona that is equal parts talent, passion and down-to-earth fun. His latest collection of outerwear for women and men reflects this. Each piece, crafted with the finest Canadian-made materials is impeccably finished with thoughtful, as well as functional details. Most notably, perhaps, is the abundant selection of fabrics and colours on offer. No small feat considering Canadian coats and parkas are typically black, grey or an equally uninspiring hue.
"With me, you're always going to find colour. I love colour," says Tassoni with a wide smile that he has a hard time suppressing. His studio in downtown Burlington features a massive cutting table under which he stores bolts of fabrics, lending a refreshing workshop atmosphere to the couture vibe. A sewing station is slightly obscured in a nook where, presumably, the young designer turns his ideas into form.
He urges me to try on one of his signature pieces, the Tulip Parka. It's surprisingly light for a winter jacket and comfortably hugs my body without feeling in any way restrictive.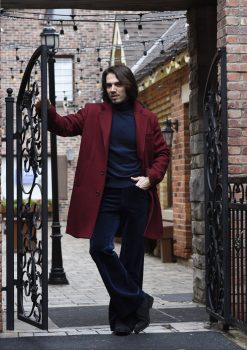 "For women's wear, I love seams that wrap around the body," explains Tassoni. "Any garment that I work on, I don't like the eye to just stop in one place. With my pieces the eye is constantly flowing." Creating and designing clothes always came naturally to him. Growing up in his Oakville household of women – three sisters, his mother and grandmother – Tassoni consistently saw them struggle to find clothes that fit their figures.
This experience later inspired him to create garments that highlight women's best features and honour the female silhouette. His initial foray into fashion, however, was at age eight when he fashioned the living room curtains into outfits for his three younger sisters. A framed photo featuring him with his sisters, modelling his first couture collection, is hanging in his studio.
Since launching his eponymous brand four years ago, his focus has been outerwear for both men and women. Tassoni's staple parka is described as "a quality but timeless piece." He recognizes when a client purchase one of his fit-to-form coats, it's an investment meant to last.
The Joseph Tassoni brand doesn't sacrifice quality or style in any of his pieces and is as equally committed to his made-in-Canada vision. From the zipper to the down, every inch of a Joseph Tassoni garment is made in downtown Burlington with Canadian sourced material.
Tassoni could have gone anywhere in the world to launch his brand but chose to stay close to his Oakville roots by opening up in next-door Burlington. From the outset, he wasn't entirely certain that his made-in-Canada label would resonate with customers.
"I figured the community would embrace made in Canada or they wouldn't care," says Tassoni. "Independent retailers would tell me that nobody cares that garments are made in Canada, so when I opened the studio, I didn't know what to expect. Meanwhile I see the complete opposite with my proud clients that think it's incredible that these pieces are made here with locally sourced material."
While he admits to loving the city life of Toronto, Burlington offers greater access to nature and more opportunity to zone out when he needs a break. He also appreciates the hometown feel: "Being in a community where people walk by the gallery and are excited to see something made right here really inspires you to want to create more," he says. "It's like my little den, here in Burlington."
His foray into the fashion industry began when he was 18, eventually making his way to Joe Fresh when it first launched. Founder Joe Mimran was his mentor, exposing the young Tassoni to exciting new possibilities as a junior men's designer. He later tried his hand at jewellery, launching a collection while living in South America, before returning to Canada to consult for other fashion brands.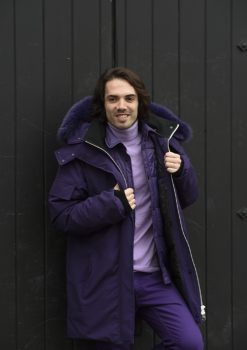 "For about eight years, I was a ghost designer, sales manager, brand manager, I basically did it all," he says. "I wanted to do it all. When I reached this point in my career, it was crucial to understand the value and time of everyone's job. You can't run a company without knowing how to do everything."
Tassoni has high hopes for the future of Canadian fashion. There is so much talent across the country that needs more mainstream attention, he explains. It is part of his mission to help guide the next generation of fashion enthusiasts so that they thrive in the industry and regularly invites students from local colleges to shadow him as part of their co-op programs.
"They get a taste of every job and task that goes into being a brand owner. Students can be taken aback by this because there are so many responsibilities. It's not as glamour as they think." His ultimate goal is to inspire students to appreciate the beauty that can come from working hard.
While the pandemic has created new challenges for the fashion industry, Tassoni found ways to embrace the new normal. In March 2020, Tassoni became the first fashion brand in Canada to create reusable masks. All profits from the sales of the masks go directly to the Joseph Brand Hospital Foundation. It was new way to take care of the community that has embraced his brand since launching four years ago.
"The only reason that I'm here is because of a community that believes in my work." Another pandemic first? Tassoni was the first Canadian designer to launch a digital runway show which went live in December 2020. A second show is slated to take place early this year.
When asked what's next for the spring collection, he is contemplative. "I had visions of what my brand would be for next season, but does that still make sense for people's budget right now and is it what they need?" He knows that his next collection will be a reflection of where we are as a community, "but with a pretty twist."