Brush strokes that create a wistful dream world | By Rebecca Dumais
What do you see when you first glance at the works of artist Emilija Pasagic? Do you see beautiful blooms or something deeper and more meaningful in the abstract? Her compositions may appear to be florals, but to the creator herself, they represent her interest in creating a dream world.
"In my pieces, you may see flowers, but I see people in all their glory, gathered together, dancing, talking and going about their lives," she explains. "Their personality, complexity and layers can be compared (equally) in a painting." A viewer's first impression may form one idea, but upon further inspection, she says there's discovery in their unique qualities, just like her pieces. "I believe relationships are at the core of life. The work I create commemorates personal dynamics based on emotional connection and the viewer's experience."
As a child growing up in Belgrade in the former Yugoslavia, Pasagic was given an opportunity to paint and learn through the osmosis of play. "At the time, I didn't know I was being inspired. A friend of my parents was an artist and he allowed me to go into his studio and play with charcoal and paper," she recalls. "I loved wandering around his studio with the smell of fresh oil paint, turpentine, easels out with unfinished work on them. If I think back, I was really fascinated by the materials I found there. It started a lifelong interest in exploring new materials and techniques."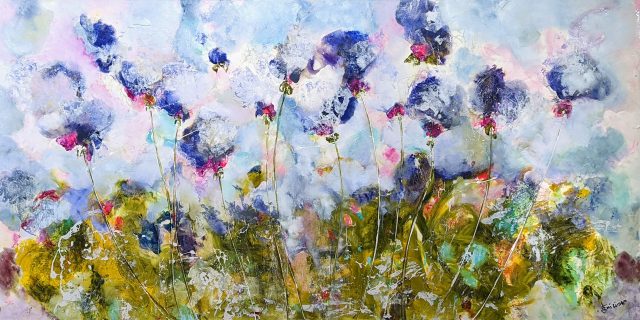 Unfortunately, it was too difficult and too competitive to be accepted into an art program, so Pasagic chose a degree in landscape architecture from the University of Belgrade. "I chose a design-related field where I knew I could express my creativity. It was a rewarding career, but it wasn't the instant gratification I get in the studio today."
In the early 1990s, Pasagic, her husband and their daughter immigrated to Canada, settling in Toronto. With a desire to decorate her new home, she bought a silk painting kit at a garage sale and got some library books to help guide her through the long and difficult process of setting the paint. "I loved learning a new technique," she says. "After this, I began painting on found objects like doors and furniture."
Pasagic refers to herself as an opportunistic painter, using items in her studio that speak to her and experiments with construction materials, wire, kitchen utensils, mesh from screens, sponges, and branches. "Ultimately, I'm trying to remove myself further from the image and allow the media to guide me," she says. "I'm trying to create opportunities for unique motifs to emerge. I like being spontaneous. Many of my pieces have some elements of oil paint, acrylic paint, gesso, oil sticks, epoxy and charcoal."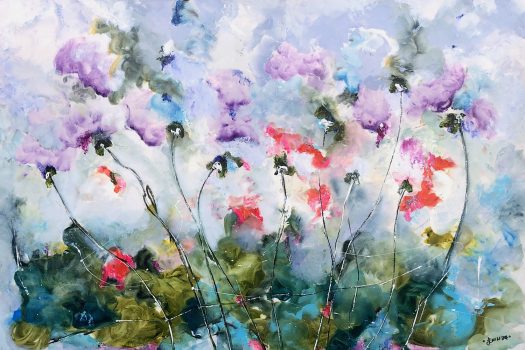 Prior to her current work, Pasagic experienced four major phases in her practice over the last 30 years.
The first was silk paintings – pieces that were "whimsical and colourful and often featured figures in an Eden-like scene." The second involved encaustic (using wax). The art became more elemental with linework carved into the surface and warm earth tones and Mediterranean colours. "In a way, this series showed that I was reaching for the past – an old-world aesthetic." Next, she used many of the same colours but began seeing people and narratives in her abstract paintings. "Now, in phase four, I work with an amalgamation of materials from (those) phases and I'm always trying to reach for a less rigid practice in my studio."
As part of her process, ideas and imagery appear to Pasagic through instinct and intuition and trying new materials where possible. "I'll see what's working for me and explore it further. I let the materials lead me. You never know what will and what will not work. I see a similar thread in relationships. Relationships are experiments – some work and some don't. You shouldn't be afraid to let go of your insecurities and let yourself be free to dream and connect with others. Don't limit your experience."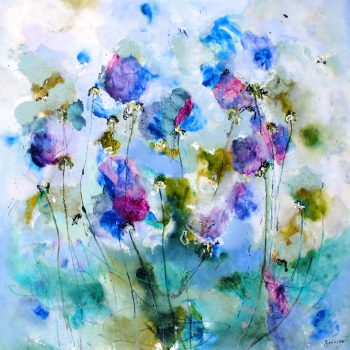 Along with continuing to paint in her Toronto studio and expand her collection internationally, Pasagic will assume a new, privileged role. "This upcoming year I want to be the best grandmother I can be to my new baby grandson, Patrick."
To view more of her work, visit Crescent Hill Gallery. Crescenthill.com