By: Kelly Putter
Bowls of fruit or floral bouquets offer an old-timey vibe as still-life art subjects, but getting the public to pony up for quaint depictions of yesteryear would prove a near impossible sell.
That's why Etobicoke artist Harold Braul turned to the streets of Toronto for his inspiration. To become a culturally relevant and in-demand painter, Braul knew he had to chuck his paintings of grapes and other inanimate objects.  He also knew it was time to pack it in on a long-time career as a designer of public spaces. Work, quite simply, was no longer lighting his fire.
"My work paid for my painting," Braul, 60, explains as to why he stayed in a job he grew to loathe. "I would find excuses to paint. I had the most dentist appointments of anyone because I was unhappy at work and wanted to go home and paint."
City life and simple everyday observations are his muse. Braul finds beauty in glimpses of everyday existence: a woman carrying a backpack, cyclists navigating a corner, birds on a wire. With a style that echoes French impressionists of the 19th century, Braul explores the allure of these mundane yet lively scenes using bold colours, blurred lines and luminosity.
"I find something that catches my interest and it might take five or six years before I paint it as the idea swirls in my head," he says. "My design career influenced me in a lot of ways. Every square inch of my paintings is designed before I start."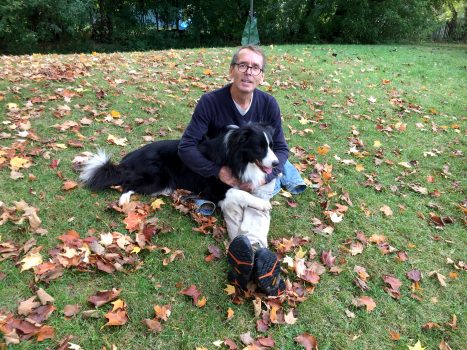 Born in St. Catharines, Ontario to German Mennonite immigrant parents, Braul grew up in a household that emphasized education and work. And though Braul struggled in school, it's fortunate that his parents somehow recognized his creative prowess and sent him to a local art teacher when he was just eight.
"I would sit with a bunch of housewives in a cloud of cigarette smoke but he would give me a separate lesson," recalls Braul, who works in oil paint. "He introduced me to the notion of using colour as characters in a painting. That really fascinated me and I stayed with Roger through my grade school years. He told me nothing should get in the way of my painting."
And give or take a few minor diversions, nothing did. Braul continued to paint through high school, dropped out, opting to work in the construction trade and on oil rigs out west. Eventually he obtained his high school diploma and would go on to study industrial design. Braul worked his way up, reaching the level of creative director, where he designed banks and iconic public spaces such as the Hockey Hall of Fame.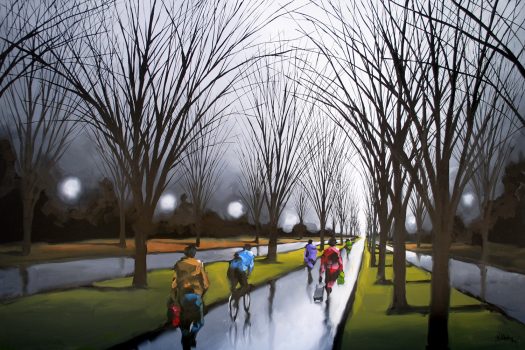 Through it all, he continued painting.
Pushing 50, Braul knew his days as a creative director were numbered.  He began hanging his paintings in jazz clubs, bars and coffee shops. That's how he learned what the buying public liked and didn't like. It was also around that time that he met Michael Havers, a Toronto-based art dealer with whom Braul works exclusively, and the owner of Crescent Hill Gallery, located in Mississauga.
A prolific artist, who once painted 198 paintings in a year, Braul enjoys artwork that he can turn into a series. His themes have included cyclists, commuters and chefs. Seven months into the COVID-19 pandemic, Braul is working on a very popular series that explores how society organically comes together. Named CCTV after closed captioned TV, Braul thinks the subject matter is not only ironic but also culturally relevant. His larger-than-life canvas paintings take a bird's eye view of people clustered together. From far away, the viewer might think they're flowers. Up close, the viewer zeroes in on the detail.
"We function as a crowd," he explains of his inspiration. "We make money as a crowd. We socialize as a crowd. We pray as a crowd. We work as a crowd. This is so socially relevant right now. We live en masse. That's how we function and survive."
Visit Crescent Hill Gallery to get an up-close look at Harold Braul's artwork. Book an appointment at Crescenthill.com