Editor's Letter
Three blossoming orchids grace my front window. The stem of a fourth is slowly ascending with the promise of blooms in the coming weeks. Just looking at them brings me joy; something any orchid aficionado can appreciate. The blooms, after all, are rare and only arrive after many months of care. I patiently and dutifully watered, fertilized and even talked to them, without any sign that blooms would emerge. Until they did.
The days of the pandemic feel somewhat similar to my orchid experience. While it feels like we are in a holding pattern, isolating at home and waiting for more businesses and public facilities to re-open, this period is also cultivating something new. Change is happening, even if we don't know what it will finally look like or when it will be fully realized. If anything, we've come to better appreciate the need to focus on the present, making the most of our current circumstances.
Certainly, the home quarantine has been the biggest adjustment for most of us. The now common phrase 'we are in this together', while poignantly sums up the community spirit, is perhaps most meaningfully felt among family members living under one roof, every minute of every day.
Although the new household dynamic has its challenges, it has had its benefits too. We are forced to slow down, enjoy more family time and invite some introspection. All of them, opportunities for joy to blossom as sure as spring.
I'm pleased to share this digital-only issue of West of the City that celebrates the home and the joy it brings us. In this time of uncertainty and fear, it is more necessary than ever to appreciate the things that make us happy.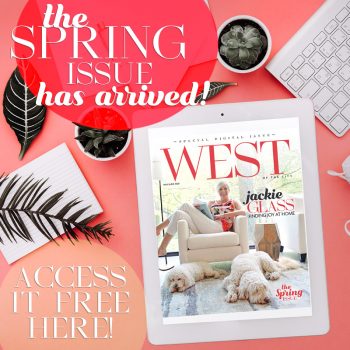 We reached out to a number of local celebrities, including designers, authors and music artists, to find out how they've made the most of their quarantine time. We hope their answers inspire and entertain you as much as they did us.
For simple and creative ways to update your space, designing expert Jackie Glass will surely spark some fresh ideas. For fun painting projects, look no further than painting guru, Annie Sloan, founder of Chalk Paint, who shares DIY projects for spring. If baking has become your favourite pastime, turn on your oven for delicious recipes by Anna Olson. Nothing fills a home with happiness like the aroma of baked treats.
Last, but not least, I want to pay homage to the countless frontline workers in our communities who face a vastly different reality than those of us in quarantine. We thank you for your selfless work to keep the rest of us healthy.
As spring hesitates to emerge and the return to normalcy feels like a distant dream, these words of Lao Tsu resonate: "Nature does not hurry, yet everything is accomplished."
Stay healthy and be joyful,
Danielle
Click here to read West of the City digital edition