By Danielle Leonard
Time to update your image? there's a stylist for that.
What to wear… it's a conundrum most of us face on a daily basis as we search our closets for the perfect outfit, too often with little success. Personal stylist, Sarah Collins, is all too familiar with the struggles of wardrobe rut. Since 1999, she has provided style solutions in wardrobe, wellness and real estate to individual and corporate clients across Oakville, Mississauga and Toronto. Her wardrobe assessment service is often the first point of contact with clients seeking a simple update in how they present themselves. What often results, however, is a transformation that spans personal growth, career opportunities and even relationships. Collins has seen it time and again. The lesson? Don't underestimate the power of looking your best.
"People often hire me for a wardrobe assessment when they're experiencing some sort of image itch," explains Collins. "It could be they're going back to work, have a new partner, change in weight or a special event. Whatever the reason, they're looking to put more time into themselves." Her assessment is a first step in helping people feel more confident and put together. In the age of busy lifestyles and schedule constraints, it's also a significant time savings for those who have the will, but not the time, to update their look.
Once an assessment is booked, Collins visits the home to view the client's current wardrobe and get to know his or her fashion sense before hitting the stores and recommending new pieces. She finds the most common wardrobe faux pas are repetition and impulse purchases.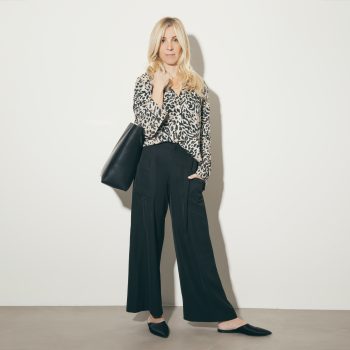 "I see lots of clothes with price tags still on them and I'll ask, why did you buy these?" says Collins. "They'll admit to impulse buying, maybe they couldn't sleep one night and went online shopping, or something was fifty per cent off and they couldn't resist." She also sees many clients buy clothes that are the same look, style and colour which creates a monotone wardrobe.
"They know it's time for another opinion," says Collins. "They've become stuck in their comfort zone." The initial consult is followed by a meeting at a designated location where Collins presents a variety of preselected clothes and accessories. Thanks to her extensive knowledge and familiarity with brands and local stores, she can efficiently pull together a number of looks more quickly and expertly than someone trying to do this alone.
While budget is certainly an important consideration, quality should take precedence in some instances. For trendy fashion pieces, Collins agrees that cheap and cheerful is fine; fads quickly come and go. However, she is a firm believer in the value of good quality (and a higher price tag) for foundation pieces that are essential to every wardrobe. The financial investment is higher up front, but the longer term benefits are worth it.
"For a suit or coat, I encourage spending more," says Collins. "It will amortize nicely if it's manufactured well and has high quality characteristics."
Once the purchases are made, it's back to the client's closet to coordinate new pieces with the old. Collins typically puts together 10 to 15 interchangeable outfits. From here, the wardrobe makeover can have a snowball effect on self confidence that transcends aesthetics.
"Clients often hire me thinking they just need help with getting dressed, but there ends up being a domino effect that inspires more psychologically impactful changes in a positive way," says Collins. "It's not just about the clothes, it's about how you feel about yourself. I've seen it create tremendous change in people's lives such as job promotions and new relationships."
In fact, as the relationships with clients deepened over the years, Collins found she was frequently asked for style advice above and beyond the wardrobe, encompassing wellness and even real estate.
"It dawned on me that they know I can be trusted without pushing product," explains Collins. "I'm a trusted advisor and there's real value in that."
Today, Collins describes herself as a luxury lifestyle ambassador and includes real estate among her services. It's a holistic approach that resonates with an increasing number of people. Looking good, feeling great and living well is an approach that, simply put, makes sense.