Always Dreamed of Having a Professional Chef Cook for You? Chef in the House Can Make it Happen! | By  Laurie Wallace-Lynch
Growing up in Paris, France Adrienne Giroux fondly remembers peeking into the kitchen to admire the famous chefs her parents often hired for their dinner parties. These memories were the inspiration to start her own company, Chef in the House. As a professional planner, Giroux will arrange for a renowned chef to come to your home to prepare a restaurant-style meal while you and your guests sit back to watch, enjoy – and eat.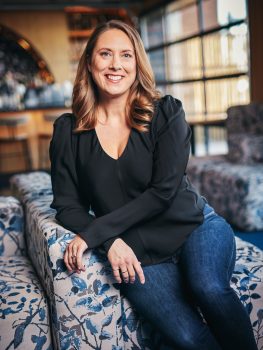 "I lived in Paris as a young girl and my parents often held chef-led dinners at our home," says Giroux. "Guests got to watch the chef in action and then enjoy their creations. Chef Jean-Pierre Vigato came to our home to cook. He owned several Michelin Star restaurants, so there was a lot of excitement and anticipation surrounding his visits. When I launched Chef in the House last January, it was partly nostalgic for me, but it was also about my love of entertaining and organizing events. It also had to do with my admiration of the many great chefs we have in the GTA."
Whether you want a simple BBQ, a four-course Italian meal, a French feast or melange of Mexican for your holiday gatherings or any time of year, Giroux has a roster of impressive chefs on call. There are about a dozen celebrated chefs to choose from, including Chef Craig Harding, the executive chef of Campagnolo, La Palma and Constantine. His specialty is classic Italian, Mediterranean and European cuisine. Chef Nick Liu, chef and partner at the critically acclaimed DaiLo and Little DaiLo, specializes in new Asian cuisine. He has worked at the CN Tower's 360 Restaurant, Scaramouche and spent three years travelling and working in Michelin Star restaurants.
"The chef and the food become the star of the show and your entertainment for the evening as guests gather in the kitchen and watch the chef prepare the different courses," explains Giroux. "Some clients want a hands-on immersive experience where the guests help cook, but mostly, people want the chef to prepare a restaurant-worthy meal for them as they watch. Everyone is having fun, and since we do the cooking and cleanup, no one has to lift a finger! Each chef brings their own personality and passion to the event as they tell stories or share cooking tips with the guests. Our chefs are friendly and personable, and are so passionate about their work." 
Giroux meets with each client to determine the type of experience they are looking to achieve.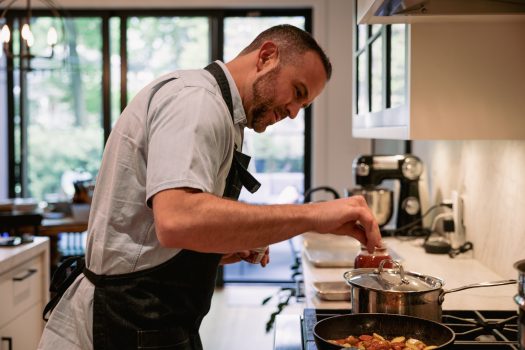 "I make sure to listen to the client to find out what kind of experience they are looking for and then curate the evening accordingly," she says. "Once I know the type of evening they have in mind, I then recommend a chef that I feel would work best for the occasion. Every menu is customized. The chef prepares two complete menus from appetizers to desserts and the client can pick and choose from either. Seasonality is important as everything that's fresh and in season tastes better."
An Italian-themed meal has proven to be the most popular.
"Italian, French and Mexican food has been the trend with Italian being the fan favourite, as chosen by most of our clients," states Giroux. "Most chefs will do three or four courses, including appetizers and dessert. The meal experience can be two to four hours in length and the chef will serve each course at the table."
Speaking of the table, clients can choose to set the table with their own tableware, or Giroux can design a tablescape for you and take care of the rentals, provide a bartender or servers and even hire entertainment, if desired.
"Most people choose to use their own dishware and set the table themselves," notes Giroux. While our chefs are not sommeliers, they can suggest wine pairings if you choose to BYOB, or we can bring in a sommelier to elevate the evening. We also have a roster of mixologists who can create signature cocktails for the event."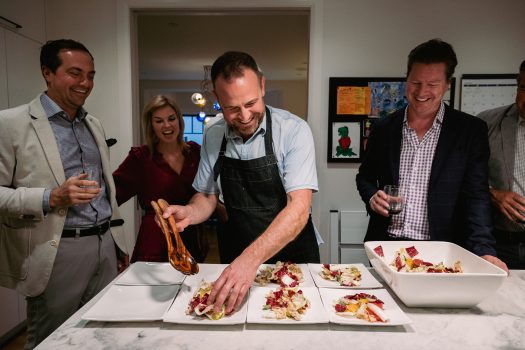 Two memorable events Giroux recalls include a meal prepared by two neighbours on the adjoining balconies of their luxury condos overlooking Lake Ontario. "It was a stunning venue with a high excitement level as guests socialized with friends while the chef cooked a special meal," she says.
"We did a special dinner for a mom in Whitby who, due to Covid, was seeing her children and grandchildren for the first time in two years. I feel blessed and proud to be part of people's special occasions. Seeing the evening come to life as we watch others have fun and enjoy the results of our hard work is what makes this job so much fun. We're not a catering company; we are a culinary experience."
Just like some of the popular TV cooking competitions, Giroux is organizing a 'chef throw down' between renowned chefs Craig Harding and Rob Rossi for a fall dinner party hosted by a Toronto financial corporation for their valued clients and spouses.
"The chefs are preparing three courses plus appetizers for about 20 people. Our goal is to make the dinner unique and memorable, so we put a spin on this event. The corporate event is the largest chef-led dinner we've done. The smallest dinner party we've organized was for a party of two. In this case it was for a husband who wanted to surprise his wife and have a renowned chef prepare a special dinner for the occasion. It's best to keep it small in terms of numbers. The sweet spot is six to eight people," she says.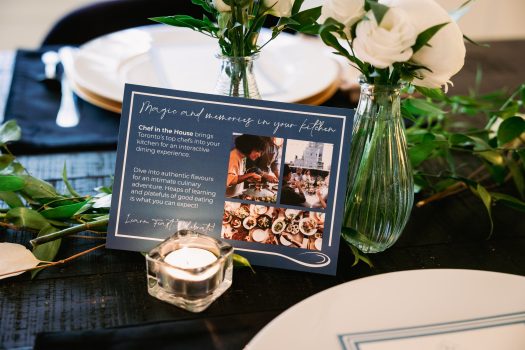 Have chef will travel, says Giroux. The chefs hail from the Toronto area and can be booked for events in the GTA and beyond. "I had no problem finding chefs who were interested in becoming involved in the Chef in the House concept. The chefs love engaging with people and connecting to the food they're preparing. They love talking to people about their love of food. The chefs can share their recipes if requested, but mostly they're there to share their love of food. A lot of fun things happen live and on the spot, making this an experience people won't soon forget." 
For more information visit
chefinthehouseto.com