By Shannon Mastaler
The weather in Rome is a perfect 26 degrees celcius when we arrive. Magenta and yellow flowers line the narrow gravel road as we make our way to our port, while around us sunbathers are enjoying the sea and sandy beaches and cafes are filled with tourists and locals sipping espresso. The sun is shining down, sparkling across the water at the Port of Civitavecchia, Italy, where our beautiful ship
awaits.
We step from our limo and aboard the Silver Spirit (a Silversea small luxury ship), and are immediately in the lap of luxury. Happily greeted by white-gloved staff with chilled champagne, and personally escorted to our check-in, this is when we get our first glances at the stunning vessel. With rich, carved wood, luxurious fabrics in teals and blues, and an art collection of original paintings by Picasso and Renior, we are surrounded by all things beautiful, including the magnificent view of Civitavecchia's cafes, shops, red roofs and beautiful shoreline.
Our first stop is our glamorous suite. It is 700 square feet of pristine opulence and the place we will call home for the next eight days. Our personal butler offers to unpack for us and I fully take in our room – our beds are dressed in Egyptian cotton linens as well as our individual pillow preference (asked of us weeks before our trip), Blvgari shampoos and conditioners and soaps await us in the large jetted tub, and the fridge is fully stocked with our choice of champagne, wine, beer and water. The suite boasts a dining area, living room, bedroom and spectacular large double patio. We open our curtains and look out to the stunning European view of the city, and the vast sea. This view becomes one of many the highlight of our trip – ever changing, and always offering up a surprise each morning as we draw the curtains open and feast our eyes on the town, village or city that we have docked at overnight.
Out of our suite, we explore our new home which includes a library, cigar lounge, casino, world-class spa and fitness centre, various restaurants, bars and cafes and of course, the glamorous pool deck. With sunhats and book in hand, we make our way to the pool. As we find a spot to read, the pool and hot tubs (three of them) glisten under the Italian sun. We are offered towels and loungers and our drink order is taken. As towels are laid out for us, and we skim the menu, relaxation beings to sink in… we are here, in Europe, aboard one of the world's most luxurious cruise ships and I'm going to take in every moment.
The glorious sights
During our eight-day venture, the Silver Spirit makes seven stops throughout the south of Italy and France, in addition to Civitavecchia where we boarded the ship. Sailing at night, each morning is like Christmas, as we open our curtains and step onto our spacious deck to see what incredible sight awaits – each location more beautiful than the next, all offering their own unique beauty, history and things to do.
On the second day, I lazily climb out of my soft bed and onto the patio, and set my eyes on stunning Calvi, France. Perched on the cliffs, at the edge of the sea, the view is jaw dropping. Boats in the marina, cobblestone roads, old colourful buildings of reds and oranges and blues, a fishermen getting ready for his day, beach-goers dressed in long white flowing dresses, and cafe owners setting out chairs and sun umbrellas as they start their day. This classic old world French scene is set on a rugged mountaintop, overlooking the turquoise sea, so stunning it could be a painting. The birth place of Christopher Columbus, our day in Calvi is spent meandering though narrow streets, peeking inside small, charming shops, chatting with the friendly locals (my French is better than expected!), and touring the historic churches and landmarks. Of course, this setting calls for a glass of Sangria seaside. With views of the old town, our ship in the distance and rows of cafes, Sangria has never tasted better.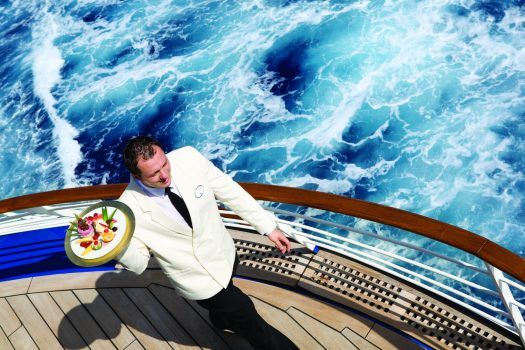 At our stop in Livorno, Italy, Tuscany is calling our names. Our drive into the wine region is full of beautiful sights, and as the rural landscape of apartments, shops and restaurants slowly turned into rolling hills, beaches, lush flowers, olive trees and soaring cliffs, we were mesmerized by the seaside drive. Beach after beach, view after view, the hills of Tuscany revealed themselves the further we drive. After about an hour and a half, we arrived to the wine regions of Bolgheri and Castagneto Carducci – home to exquisite vineyards, villages, historic castles, churches and more. After purchasing homemade pasta to take home to my dad (who tries his very hardest to cook like an Italian) and indulging in a latte from one of the cafes, we tour the small and quiet streets, watching the locals chat and enjoy a beverage at an outdoor café. What a beautiful life it must be calling one of these small villages home! I am of course drawn into this dream of waking under the Tuscan sun, enjoying vineyards, fresh coffee and pasta, and the quaint serenity that seems to only be found in Europe. From here we head to Argentiera Estate Winery, a vast estate that is worth visiting if you're given the chance. Overlooking the ocean in the distance, bright flowers and vineyards – the winery is a wine lovers dream. We are treated to cured meats, fresh olives and bread, and of course, wine tasting. Bravo!
The morning we arrive in Monte Carlo, Monaco, I excitedly opened the curtains. I am not prepared for the view in front of me that quite literally takes my breath away. The clouds drape over the mountaintops, and the famous city built along the cliffs hovering over the sea glistens as the sun began to poke through. Red roofs, yachts, winding roads, narrow streets, and the historical and famous Monte Carlo Casino…there it is in front of me – beautiful Monaco in all its glory. Excited to get out and into town, we head out for a day of extreme luxury. It's no wonder why the Grand Prix draws such crowds. It's no wonder why celebrities grace the streets with their presence before, during and after the Cannes Film Festival. And it's certainly no wonder why Princess Grace Kelly made this her home. This town has a completely different vibe than the others we've explored. It's elegant, pristine, and oozing with old Hollywood history. As we head back to our ship for dinner, Monaco has become part of us… captivating us in its glory. Monaco, I will see you again!
Throughout our voyage, we also explored Antibes, a historical city located in the southeast of the French Provence region, one of France's oldest cities. Our stop in Marseille is one of my favourites. One of Europe's most vibrant cities, with a huge community built around a marina in the centre of town, the feel here is coastal, with rows of open-air cafes and shops. It's also currently undergoing an extraordinary transformation, with new art centres, a refurbished port and revitalized neighbourhoods. We visit the absolutely stunning Notre Dame de la Garde – a large cathedral perched on top of a mountain overlooking the city and the sea. In Spain, we visit Barcelona's famous Gothic Quarters for shopping, and tour world-famous cathedrals, markets, restaurants and more in streets so narrow you can touch both sides! The city captures our hearts with its spirit!
Opulent Dining and Entertainment
No one goes to Italy expecting to be hungry. Not only does each village, town and city we visit tempt us with pasta, gelato, wine and pizza among many other gourmet delights, but aboard the Silver Spirit the cuisine is also incredible. With gastronomic excellence the mission, the Silver Spirit makes dining not only delicious, but an experience. There are six restaurants (plus in-suite dining, that we indulge in for breakfast each morning while we take in our private view), all of which offer five-star dining, unimaginable views and impeccable service.
Each night is a treat, as we put on our best gowns and jewels for our evening of fine dining. We sip champagne in our suite and then stop by The Bar to enjoy the live jazz and a pre-dinner cocktail.
At The Restaurant – the ships main dining spot – guests are offered delicious fresh ingredients amid sparkling crystal, fine porcelain and candlelight. With views of the open sea, The Restaurant offers breakfast, lunch and dinner.
Stars Supper Club is inspired by the legendary Rainbow Room and provides a spectacular ambiance. The dimly lit, small restaurant is romantic with small plate selections, cocktails and live jazz or cabaret.
La Terrazza, the ship's authentic Italian restaurant offers farm-to-table ingredients and provides guests organic olive oil from Umbria, air-dried prosciutto from Parma and 24-month aged Parmigiano Reggiano from Emilio-Romagna. Anything from this menu is a treat!
The poolside restaurant, The Grill, is an interactive dining experience with a lively atmosphere and friendly staff. Enjoy fresh seafood and prime cuts grilled tableside on heated volcanic rock plates.In the evenings, the Silver Spirit is alive with music. From the cocktail lounges that offer live bands, various live theatre nights, dancing and theme nights like chocolate and champagne are an exciting addition to the evening's entertainment. You'll want to check out the Connoisseur's Corner, where you can purchase exceptional cognacs and premium cigars as well as the boutiques and the Observation Lounge where you'll take in panoramic views while sipping cocktails.
For us, our favourite after-dinner spot is the patio in our suite. As we watch the lights bounce off the sea, we enjoy cocktails and conversation about the stunning day we just enjoyed, and make plans for another exciting day tomorrow.