By Carmelo Giardina
Florida's luxury capital is without question Bal Harbour. Located at the northern tip of Miami Beach and just minutes from world-renowned South Beach, Bal Harbour is for the affluent vacationer, where an appreciation for the finer things in life is the expected norm.
It is here that one can expect the very best of Miami. Deluxe oceanfront resorts and hotels, ultra-chic and luxurious shopping, and an enviable selection of dining options await you. The beach is a natural paradise, boasting pristine white sand, turquoise waters and a serene spirit.
With accommodation selection ranging from the prestigious Ritz-Carlton, the very classy St. Regis, the historic Sea View and the contemporary Quarzo, Bal Harbour's extravagant hotels offer luxurious private oceanfront views, unforgettable dining experiences, pool-side and spa relaxation, and plenty of other reasons not to feel the need to leave the property (brunch on the patio of The Ritz-Carlton's oceanfront restaurant is simply breathtaking!).
However, if you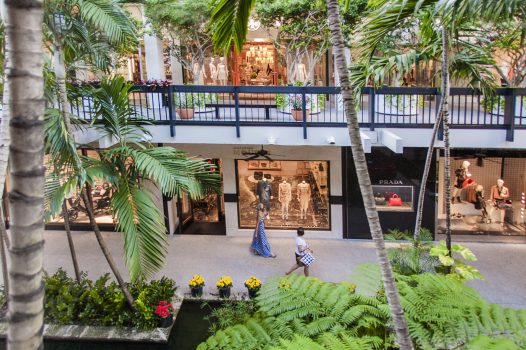 feel like venturing away from your private paradise, shopping at the Bal Harbour Shops is a very good excuse. Featuring a collection of the most sought-after boutiques and brands in the world, The Bal Harbour Shops attract perceptive luxury shoppers from around the globe – all on two floors of boutiques and cafes, lined with palm trees, fountains and ponds. In fact, The Bal Harbour Shops rank as the number one luxury shopping district in the world. It is here that you'll find Tiffany & Co., Saks Fifth Avenue, Salvatore Ferragamo, Rolex, Oscar de la Renta, Harry Winston, Gucci, Prada and Zimmermann.
Restaurants including Le Zoo, Carpaccio and Makoto – all located at the Bal Harbour Shops – will have you feeling like a celebrity, as it is the place to see and be seen, especially after dark, when reservations are most definitely needed. The St. Regis Hotel's Atlantikos Restaurant will re-affirm your love of authentic Greek cuisine and will have you praising not only their quality menu selection of both food and wine, but also their exceptional personalized service (ask for their signature olive oil!).
Bal Harbour is an avid supporter of Miami art museums and arts and culture in South Florida. Guests in Bal Harbour have complimentary access to some of the most dynamic, creative and captivating art in the country. For example, Art Deco Weekend, which runs January 12-14, is a free community festival which supports a full roster of over 85 events including live music, tours, fashion shows, and the Deco Film Festival.
For more than 40 years now, Art Deco Weekend has played a major part in Miami's initiative to preserve, protect and promote historic preservation in the Art Deco District and greater Miami. More information on this wonderful cultural event can be found at artdecoweekend.com.
Florida is certainly North America's vacation capital, but more specifically, it's a trip to Florida's luxury capital Miami and Bal Harbour that's simply unparalleled.