A stately historic building gets reinstated as an elegant hotel 
By Rebecca Dumais |
Chris Millsap's original idea for the landmark at 172 Hurontario Street was to renovate and offer high-end apartments with one floor operating as a hotel.
Luckily for those who love vacationing in Collingwood, he and his wife Tammy chose to give the historic structure a complete renovation and open a beautiful hotel.
The Dorchester Hotel Collingwood, which opened in December 2022, is the epitome of style and elegance in the heart of bustling downtown Collingwood.
A modern take on a historic treasure, the recently refurbished hotel has elegantly appointed rooms and suites, perfectly suited for a weekend or a longer stay.
For 127 years, the brick building has been a landmark heritage building in Collingwood's downtown core. It was built in 1895 and was originally named The Dominion Hotel. It was later restructured into apartment buildings, and then back to a hotel with a new (and more established) name, The Dorchester.
Not only was The Dorchester building originally one of Collingwood's first hotels, but it's also rumoured to have kick-started Stompin' Tom Connors' career.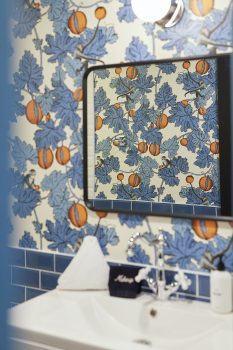 High school sweethearts, Chris and Tammy are locals – he was born in Creemore and she was born in Stayner. Tammy owns At Home Interiors, a home decor shop located next to the hotel.
The building came up for sale, but Millsap felt it was priced very high. When the asking price lowered over time, the couple began to mull the idea over to do something great. "I was able to walk through it – and it was in awful shape. I was well aware of what I'd gotten myself into – to a point. You never really know until you get into it."
About three months into the renovations, Millsap decided to create a full hotel. "We never looked back," he says.
With such strong community roots – personally and through their store – Millsap says they felt obligated to beautify the building and give it a new purpose. Chipping away the stucco to reveal the original brick was exciting. "Once I saw the old brick underneath it was (exciting) – let's make this thing beautiful."
Comfort and style are at the core of the hotel's design and finishes. Each room is unique in its style with custom furnishings, beautiful wallpaper and tiling, as well as hand-picked accent décor.
The design was a collaboration between the Millsaps and Amy Harris of Interiors X AG. "We laid out the overall vision, we were very clear we wanted to tie into the old," Millsap says. "I kept referring to the term 'the new Roaring '20s – because this was a hotel in the 1920s. With that mindset when things were classy." The era is nicely reflected in the panelling, trim work and herringbone floor.
Among the bold choices of wallpaper, paint colours and the tiger rug in room 206 was up for debate, Millsap recalls and laughs. "We had some fun with that – and some of the wallpaper she showed us too, but Amy really believed in it."
Harris brought the tiger rug to a meeting and Millsap wasn't keen on it. "But we made a wager," he explains. "I said let's make a bet. You buy it, we'll put it in and we'll get 10 people for their feedback. If I win you have to buy this back and she said if she won, we'd have to put one in our home."
And yes, there's another now on order for the Millsap's home. "To Amy's point, it's a conversation piece," he says. The entire building is.
Harris knew right away the potential the building had. "We were so excited to dive into bringing it back to life. Our most intense, fun project to date," she says.
The colour palettes, Harris says, are classic and mixed with funky wallpaper that's truly unique. "Adding in the wainscotting, classic subway tile and the most classic black and white checkered floor really bring to light the entire concept of the building. It's a modern take on a historic treasure.  In any old building, it's extremely important to us that we pay tribute to its original glory and this was our take on restoring this very deserving building."
The hotel's front doors have a history of their own. The two full-brass doors, which were sourced from the Door Store in Toronto, were originally installed in the old Manulife Building on Bay Street, Millsap says. They've even had guests recognize them. "I guess they were that well-known," he says.
The attention to detail is evident in so many of the finishing touches, including the book in each room, which is detailed with pertinent information for guests, along with black and white photos depicting the hotel and the downtown core.
The hotel is steps from great shopping and restaurants and it's just a short drive to Blue Mountain, beaches, golf courses and more. Pages in the information book list the couple's favourite restaurants and shops. Just snap the QR code and get instant access to menus and more.
There are 30 guest rooms offering a mix of king and queen beds. Each is unique, having been thoughtfully designed to maximize space, style and sleep. Guests will find unique touches throughout with luxurious linens and bath products, free-standing tubs, record players and full kitchens or kitchenettes. You'll likely be tempted to put a record on the turntable and turn up the volume a little while you unpack and settle into your accommodations.
Millsap plans to create a bar and restaurant on the main floor, just as there once was. It will be located off the lobby to the left through a set of French doors. He's keeping the overall elements a secret for now though. "I want it to be a home run."
He has two favourite rooms – 212 and 301, which has a balcony overlooking Hurontario Street. Tammy is partial to 211.
The entire process has taken a lot of focus – a year and a half of constant construction and decision after decision. It didn't hit him until he came down the elevator one day. "I heard the music playing and it was quiet in the lobby, and I'm like, 'we've got ourselves a hotel!'"
For more info visit Thedorchestercollingwood.com