By Laurie Wallace-Lynch
In a posh pocket of Oakville, on a corner lot just south of Lakeshore Road and steps to Lake Ontario sits a home worthy of the title "Show Stopping Home". It's the 2021 Princess Margaret lottery home to raise critical funds for cancer research and care at Princess Margaret Cancer Centre.
Every show stopping home deserves a dream team, and this is certainly the case here. The home was designed by architect Richard Wengle of Richard Wengle Inc, with interiors designed by Brian Gluckstein of Gluckstein Design Planning Inc., and built by PCMnow.com Inc. Project and Construction Management with landscape architecture by Strybos Barron King.
Architect Richard Wengle describes the architectural style as "Georgian influenced." When asked which three features make this Show Stopping Home deserving of the title, Wengle answers: "The courtyard, the dining room with its two storey windows and that column arcade across the exterior. I wanted a home with a grand entrance, soaring ceilings and a study in balance in proportion."
Designer Brian Gluckstein adds: "This is the perfect family home and it's an optimistic home that is designed for large scale entertaining when we can all get back to gathering. There's plenty of seating and spaces to entertain."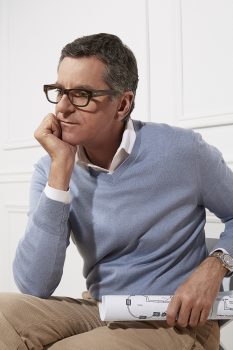 Gluckstein took us on a virtual room-by-room tour of the interior as he pointed out the extraordinary design features of this 7,220 square foot home that boasts five bedrooms, four and a half baths, a two-storey dining room, theatre room, spa, fitness centre, pool and more.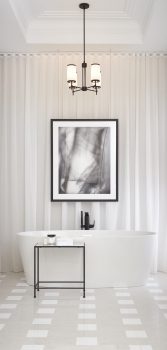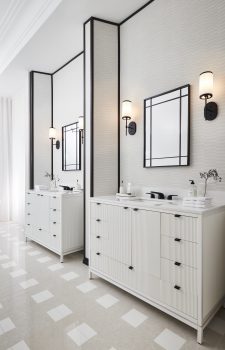 First impressions count, and certainly the foyer makes an unforgettable impression. "The wow feature is that this house has round bays, so I designed a circular foyer with reveals in the wall and beautiful crown moulding," explains Gluckstein. "The graphic circular floor pattern features three colours of Caesarstone in an art deco style. It has a modern quality and warm spirit—the best modern, yet classical approach. It's so dramatic."
Step into the adjacent living room and library and again Gluckstein gives us a nod to tradition with a modern twist. "I wanted to do warm oak panelling, which is a first for me, but we used a cerused finish that looks like it's been painted white and then wiped off. It's a contemporary finish to a traditional detail. Then I mixed contemporary furniture and layering to add a warm richness to the space. The black iron open bookshelves have a modern quality while adding a visual connection to the library."
A necessity today is a home office and this one is designed to be an office, library and lounging area.
"I love books and love to add libraries in homes," states Gluckstein. "There's a desk, but I also added a custom half-moon daybed where the homeowners can read beside the large bay window with its beautiful view of the garden," he adds. "The house is built on a corner lot so there's so much light and beautiful views from every room."
Gluckstein describes the dining room as "unique and dramatic" and indeed, this room takes your breath away with its beauty. The soaring two-storey windows are perfectly centred to capture the view of the oval Gib-San pool and fountain feature in the backyard. "I love to have a two-storey space on the main level to break up the geometry. What is unique is that the porcelain tile floor continues outside to unite the indoor and outdoor spaces and creates that European courtyard feel like what you might see in Greece, Spain or the South of France. The theme continues with the round table topped in Caesarstone which looks like a garden table mixed with modern chairs with cane detail. The textured wall treatment looks like stone blocks. This room has a coziness which draws people in. There's a fine line between a room that is comfortable and one that is too big to be comfortable. This is the perfect space."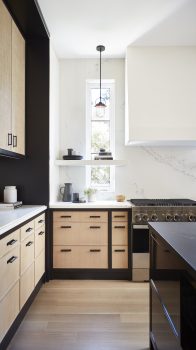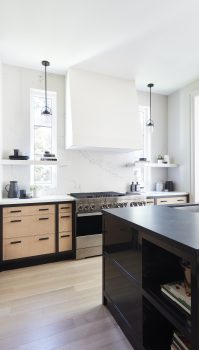 The living room, library/office and dining room complete one 'wing' in this home, while the other wing houses the open-concept kitchen, breakfast area and family room. If the kitchen is the heart of the home, the enormous kitchen island is the centrepiece where guests congregate in this chef-style kitchen with its state-of-the-art JennAir appliances.
"I used black lacquer on the island and topped it in a matte finish Caesarstone," says Gluckstein. "The cabinets are warm wood, trimmed in black for drama. Since the cabinets are floor-to-ceiling, I added a rolling ladder as a fun yet useful detail."
The breakfast/family room is broken into zones with modular sectionals. By the way, much of the furnishings throughout the home are from Gluckstein's own product collections, with a lot of the furniture, bedding and accessories from GlucksteinHome at Hudson's Bay; and bathroom vanities and lighting from GlucksteinElements at Home Depot Canada.
Says Gluckstein: "I used a banquette in the kitchen which sits back-to-back with a sofa in the family room. There are two seating areas in the family room with one centred around the fireplace, and all the furniture floats on a soft grey area rug. I used creams, greys, black and natural oak in the cabinetry and throughout the main level to unify the spaces. A unique feature is the two-sided fireplace in the family room that becomes an outdoor fireplace in the backyard."
A dramatic iron staircase leads to the second level where a 'bridge' with wrought iron railings connects the two wings. "I'm not a lover of hallways, so I like the bridge to open up the space and guests can look down and enjoy a view of the garden and the rooms below."
One entire wing is designed to be a private sanctuary that encompasses the principal bedroom, dressing room and spa-like ensuite.   "In the principal bedroom I like to vault the ceiling as you have all that space so why not use it?" says Gluckstein. "I love the look of this room, it's restful yet polished and the fireplace makes it cozy. I also love to mix metals in lighting and accessories, so things aren't too matchy. The oversized channeled upholstered bed from GlucksteinHome at Hudson's Bay softens the space while adding a touch of glamour."
In the dressing room, Gluckstein added a mirrored island and covered the cabinetry in creamy silk. "Then you enter what I call the spa bathroom where we added niches for the vanities, and I used floor to ceiling sheers to define the tub area. "
Conveniently located adjacent to the bedroom is a laundry room (in addition to the one on the lower level). Three bedrooms are found in the other wing of the house, plus a nursery with a custom mural with hot air balloons.
The lower-level doubles as an entertainment space as well as a wellness retreat. Amenities include an expansive family room, games table, movie room, guest suite, home gym and a hammam-inspired spa with a meditation area, whirlpool tub and steam room. "This home is a perfect blend of classic and contemporary," adds Gluckstein.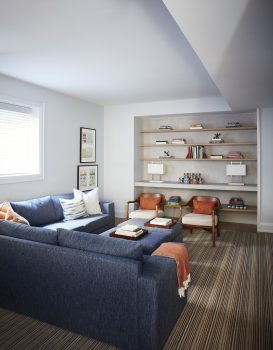 Gluckstein, Wengle, PCMnow.com Inc. and Strybos Barron King have worked together on numerous Princess Margaret Lottery Homes but, due to Covid restrictions, this was perhaps the most challenging project to complete. Luca Filice, Partner/GM of PCMnow.com served as Project Manager and states: "With trades having to follow social distancing rules and Covid guidelines, we acted as the control tower and created a very detailed timeline with six months of pre-planning to ensure the project was completed on deadline. This house has so many exceptional finishes and features, but as builders, it's what you don't see that's important, such as the infrastructure work, the oversized footings and more. This house has great bones. It's so well built you could have 100 people in that dining room and the floor would be a solid as a rock.
"We are proud to continue to work with Princess Margaret to build luxury custom homes. It's the cause that matters and this home lottery generates a lot of proceeds for cancer research. PCMnow, together with the Jardino family, have over the years donated over $1.2 million to the Princess Margaret Cancer Centre. Despite the challenges faced over the past year, everyone came together to design and build a home that is truly special."