Photography by Graham Paine
Staying true to fitness goals just got easier for residents in southeast Oakville. The new Oakville Trafalgar Community Centre opened in October with a number of safety protocols in place. Located on the former site of the Oakville Trafalgar Hospital, the new LEED-certified energy efficient building is a modern marvel surrounded by beautifully designed gardens, seating areas, an accessible playground and a splash pad with nighttime lighting.
The two storey facility houses two pools. The lap pool is 25 metres in length, six lanes wide and 12 feet deep and it's the first pool in the country to be manufactured and designed by Natare – knowns for its high quality stainless steel pools with pristine water quality.
A leisure pool that maintains a warm temperature of 92 degrees Fahrenheit is also available for use, that's perfect for therapeutic programs or relaxation.
For a cardio workout, guests can use Oakville's largest walking track at 117 metres, or visit the 2000 sq. ft. fitness centre that offers an array of strength and cardio equipment. A group fitness room next door will offer opportunities for various fitness classes.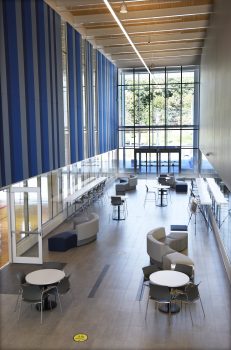 For sports, there's the 10,000 sq. ft. gymnasium which features two volleyball courts, four badminton courts, one NBA-sized basketball court and two youth basketball courts.
After a great workout, enjoy a smoothie or cappuccino at the Reynolds St. Café located in the bright and spacious lobby. Currently the centre is operating with strict COVID-19 safety measures in place.
Visit active.oakville.ca for more details.