By Danielle Leonard
How is it possible that a Miss World pageant that look place in 1970 in London, England inspired a star-studded movie and a memoir penned by the pageant winner 50 years later? Here are a couple hints: The live event was disrupted by the very first protest of the newly formed Women's Liberation Movement and it marked the first crowning of a Black woman as Miss World.
At the centre of this pivotal evening was Jennifer Hosten who, as Miss Granada, won the beauty pageant. Now an Oakville resident, Hosten, as well as the women leading the 1970 riot, became inspiration for the movie, Misbehaviour, starring Gugu Mbatha Raw as her younger self, Keira Knightly and Greg Kinnear. The Canadian premier screening took place at Oakville's Film.ca theatre in September, courtesy of the Oakville Film Festival (OFFA). Hosten was in attendance to sign her new autobiography, Miss World 1970: How I Entered a Pageant and Wound Up Making History.
"I'm very proud of this movie," says Hosten. "The movie captured the essence of the story. And it's so historic. What's interesting is that the issues that were important and raised in 1970 are still relevant today, with the #MeToo movement and Black Lives Matter."
The movie's producer, Suzanne Mackie, who is also executive producer of the Netflix series, The Crown, credits a BBC radio interview she heard in 2010 for sparking her desire to produce the film Misbehaviour. During a Q&A following the Film.ca screening, Mackie described the BBC interview between Jennifer Hosten and two women from the Women's Liberation Movement: "It felt so alive, and there was something really moving about these wonderful women coming back together and reminiscing about an event so many years ago. There was so much fun and intelligence in that interview."
In the Q&A, the film director Phillipa Lowthorpe emphasized how important it was to have a strong cast for an ensemble movie like Misbehaviour to present conflicting perspectives without judgement. "We were really blessed because the women who are in it – Keira Knightly, Jesse Buckley, Gugu, all wanted to be in it… they all wanted to tell about early feminism and how the idea of western beauty got turned on its head in one moment in the Miss World context."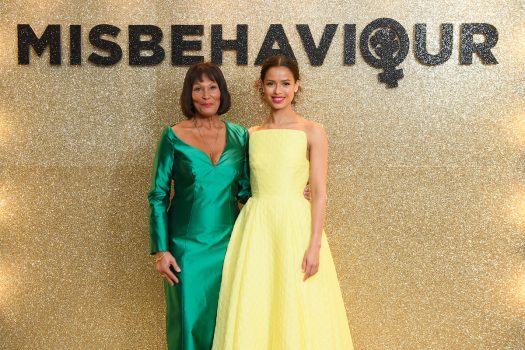 Hosten praised Mbatha Raw's portrayal of her younger self. "She's a brilliant actress," said Hosten who spent time with the actress in Granada as she researched and prepared for the role. "In fact, my son told me, Mom, there were times (in the movie) when I wasn't sure whether it was you or Gugu."
Reading Hosten's memoir in addition to viewing the movie adds a layer of insight to the story and offers a unique lens into what it was like to participate in Miss World during this unusual period. She describes how she fell into the role of Miss Granada, won, and then moved to Canada after completing her Miss World duties that included tours around the globe, and visiting US troops with comedian legend, Bob Hope. Shortly after moving to Canada, Hosten married and moved to a farm outside of Ottawa where she started a family with her husband. It wasn't long before an opportunity to serve as Grenada's high commissioner to Canada set her on an exciting path in life that would span diplomacy, trade negotiation, international development, business ownership, hospitality, academia and now, writer, thanks to a long lost journal she found two years ago while downsizing.
"I had kept the diary up during the Miss World and almost a year and a half later," she says. "I had misplaced it and, as I was looking among papers, there was my diary, pages all fading." After typing all her pages into a document over the course of a summer, she suddenly had a manuscript. With the movie preparing to release in a couple years, the book seemed like a perfect complement to it.
"I wanted to share and let young women know that my life didn't end with Miss World. I did many things after," says Hosten, noting that we still have a long way to go in terms of gender equality and racial equality. Even still, she emphasizes to young women, "You have many more opportunities today than I had in 1970, so take advantage of them."