By Amanda Lee photography by Graham Paine
Part of what makes the holiday season special is revisiting family traditions. For some, it's trimming the tree, for others it's watching The Santa Clause (which was partly filmed in Oakville). For author Karma Brown, whose first novel, Come Away With Me, was an international bestseller, it's baking her family's vintage Christmas cake recipe with her mom and sister in her Oakville kitchen.
Brown's collection of vintage cookbooks inspired her fourth novel, Recipe for a Perfect Wife. It tells the story of how a modern-day woman finds inspiration in hidden notes left by the home's previous owner, a quintessential 1950s housewife, and in the margins of her '50s era cookbook she left behind. Brown named her novel's heroine in honour of her great grandmother, Helen Christie, who went by 'Nellie'.
"I've always loved the legacy of women through cookbooks," says Brown, who owns a number of recipe books passed down to her. "You see all the spills on the pages and notations on the margins when recipes were enjoyed and what the event was for."
Her Christmas fruitcake—a family secret—was another heirloom handed down to Brown. "I love this tradition of making my great grandmother's recipe," she says. "Every year my mom would have an eggnog party and make this cake, then she'd have all the neighbours over."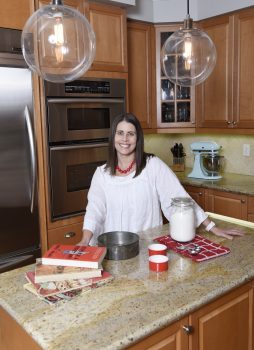 Since having her own daughter, Brown hasn't missed this holiday tradition. The family still uses the same metal pans that generations of women used before her, which Brown stores in her cold room for the other 364 days of the year.
"They were used to make wedding cakes, including my grandparents'," she says. When the author was a girl, her mom would even save brown paper grocery bags to line the tins to mimic the brown kraft paper used by women before her. There is no deviating from the recipe handwritten by her grandmother. After carefully weighing out the ingredients, the three women spend hours in the kitchen adding nuts, fruit and molasses, mixing the enormous batter, and double checking the recipe for accuracy. Once the pans are filled and in the oven, they'll make soup and catch up over lunch.
"This year we might have to do it virtually, but we'll make it," says Brown. One of the things that Brown loves about baking is its precision.
"I think at my core I'm a rule follower," she explains. "Follow a recipe and it comes out beautifully. But a book takes months and you're pulling it apart and putting it back together."
There's usually enough Christmas cake to last well into the spring and Brown says she freezes what doesn't get eaten during the holidays. "When I'm up early writing to write, I'll have a slice with my coffee," she says. Brown's commitment to wake up at 5 a.m., sustained with fruitcake, is how she completed her debut novel, Come Away With Me, as well as her four other novels. In her fifth book, The 4% Fix, which comes out December 15, 2020, she shares her strategies for success and hopes to inspire others to find one hour a day to change their lives – with or without fruitcake.