Reviewed by Jenna Mohammed
After reading Naomi Klein's latest novel, On Fire: The Burning Case for a Green New Deal, shopping for reusable beeswax wraps seemed like the glamourous and superficial side of the global warming issue. I thought if we could all reduce, reuse and recycle on a global scale, everything would be fine.
Klein argues that we are so far past the need to choose reusable household items and recycling to save the planet. It's now in the hands of big corporations to act fast, and if they don't – we may not get a second chance to reverse the effects of global warming.
On Fire: The Burning Case for a Green New Deal goes in-depth about the connections global warming plays on a larger scale. Climate change hurts marginalized people the most. This includes women, Indigenous groups, and the working poor. Initially, I was confused. How could changes in the atmosphere affect these people the most? Klein's research shows us that the demand for radical change we need in government is on a scale that humanity has never accomplished.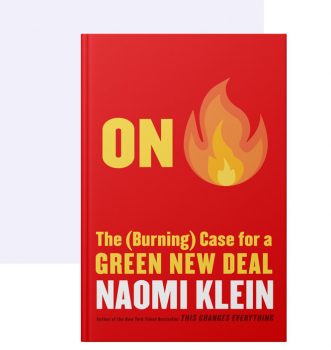 In her book she makes a strong case for explaining how the movement for a transition to a decarbonized economy cannot succeed until structural changes tackle systemic racism, class inequality and land rights for Indigenous people. This entails putting an end to the exploitation of natural resources; an economic system that thrives on minimizing labour costs; and valuing the production of material goods over workers' health and well-being. This connection of climate change and social justice, she charges, is perpetuated by racism and class inequality.
Throughout the book, Klein introduces us to activists she's met throughout her career, including 17-year-old Swedish activist Greta Thunburg. Klein praises a young generation of global warming warriors fighting every day for reform, which I found to be the most inspiring part of the book.
On Fire: The Burning Case for a Green New Deal is delivered in a very sombre in tone, especially compared to Klein's earlier works. Those like me, who didn't know the extent of climate change's effects on a socioeconomic level, may feel distressed upon concluding this book. But Klein assures us that even our little steps to a greener planet are not in vain, it's the small accomplishments that can inspire a movement.
For the new year, perhaps we can all increase our commitment to accomplish small things to inspire the movement the world needs to overcome the challenges of global warming.