By Danielle Leonard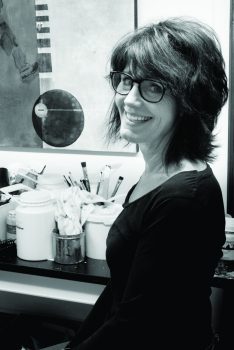 Creating has always played a significant role in artist Beverley Hawksley's life. From cobbling her own shoes as a child for fun to costume making and knitting as a young mother, the Muskoka resident says her desire for resourceful creativity has always been as necessary as breathing. In her early forties, after a career as a hairstylist, Hawksley traded her blow dryer for a paintbrush to pursue her passion full-time.
Her latest works of art are now on display at Crescent Hill Gallery in Mississauga where art aficionados can get a closeup look at the mesmerizing, yet stylized, large-scale canvases. With female figures as the central focus of the majority of her art, the meticulous attention to fashion details using a combination of paint and collage, is striking. By focusing on the figures rather than the background setting in her works, Hawksley intentionally portrays her females in a "state", rather than a location.
"Stories are super important in my creative endeavours," explains Hawksley. "I can't say that I always know what they are, but they are always waiting in the studio for me to invite them onto the canvas." Each piece of art begins with a detailed drawing before she applies paint. Beautifully unique collage pieces are then added to bring the figures to life.
"Painting is my starting point because it sets the mood of the work. Then it can be time consuming to find just the right collage pieces," she says, describing it as a "meditative process." The collage materials are sourced from multiples trips to thrift shops and second hand stores, as well as pulled from pages of dictionaries, encyclopedias and vintage newspapers.
The creative process for Hawksley starts long before many people are out of bed. She wakes around 4 a.m. every day and is working in the studio by 5 a.m. The workday wraps by mid-afternoon when her creativity is waning. It's a predictable rhythm that she says works well.
"It feels like there is more time early in the morning," says Hawksley. "External energy seems slower and it's just me and birds and the stories."