How one Burlington couple boldly moved their empty nest to Costa Rica to run a surf school
By Kathy Yanchus
It wasn't until the For Sale sign was hammered into the front lawn that the Thomson family kids realized their parents weren't bluffing.
After 33 years in Burlington, working and raising four kids, Tim and MJ Thomson made a bold decision to leave behind the expense, the stress, the congestion and the bitter Canadian winters and head south. For good.
"We just wanted a change. You get sick of the rat race; it takes so long to go everywhere in the GTA. We just wanted a slower pace of life," said Tim, 57.
That was four years ago.
Today, the Thomsons operate TripAdvisor's five-star Mojo Surf Adventures surf school on one of the most beautiful beaches in Costa Rica, Playa Grande.
The ruggedly exotic Central American country wasn't unfamiliar to the couple as they had friends who had already made the move enticed by the hot climate, miles of pristine beaches, lush tropical landscape and more casual lifestyle.
Sandwiched between the Pacific Ocean and the Caribbean Sea, Costa Rica boasts warm waters and endless waves, making it one of the world's best surfing destinations.
"I had never surfed a day in my life, I was afraid of the ocean and I couldn't stand sand. How's that for a change of life?" joked Tim.
Within an hour's travel from their location on the northwest Pacific side there are about 100 surf schools, said Thomson.
To set themselves apart, the Thomsons designed Mojo as an "experience".
"We wanted to make it an experience and not just a place to surf. We have the best instructors, the most certified in all of Costa Rica. We pick them (tourists) up, help them plan their vacation, where to go, what to see, arrange car rentals for them if they want."
"Ninety-six per cent of our customers are first, second or third timers. The waves are not too big so that you're overwhelmed."
Mojo also offers a paddleboard tour to an island and staff always bring pineapple so visitors can hand feed the iguanas.
"They love it."
The Gold Coast as the northwest coastline is called is the driest, hottest, most arid part of Costa Rica, said Thomson.
"Once the rain season ends we won't have a drop of rain for about the next six months. We'll be swamped from early December to the end of August."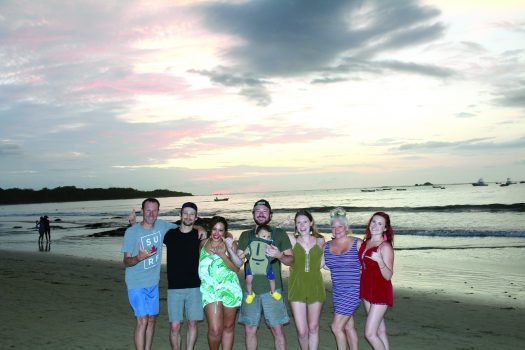 Year-round water temperatures hover between 80 and 84 degrees Fahrenheit and there are more sunny days on the Gold Coast than anywhere else in the country. Adventure activities abound as do natural attractions like volcanos and magnificent waterfalls.
"You name it we have it all within  an hour-and-a-half of here. Costa Rica is a country to explore."
"If we had no family back in Canada, I'd probably never go back. Truthfully, I couldn't stand the cold. I was always cold for six months of the year."
The Thomsons rented for two years before purchasing a home on Playa Conchal, a one km walk down a dirt road to the beach.
Two bedrooms of their home are Airbnb rentals under Casa de Mojo and the couple has future plans to open five high end oceanfront container rentals, each sleeping up to six people.
Thomson believes the popularity of surfing lies in the fact it's on so many people's bucket list.
"You can't do it in Canada anywhere except on the west coast of Vancouver Island and that's cold-water surfing. Here, there's no wet suit, you just go out and have fun. What's the worst that could happen? You fall off your surfboard but it's warm water and only two to three feet deep so you're not going to hurt yourself."
The Thomsons have no regrets and the adult kids who thought their parents were crazy visit once or twice a year.
Benefits include a minimal clothing budget because they're always in bathing suits. A traffic jam is waiting for cows to cross the street. Sunsets are spectacular.
As the locals say, and as the locals live, it's pura vida, pure life, said Thomson.
"My wife will disagree, but I think I'm much more tranquilo, much more relaxed than I used to be. You're not chasing life like we were back in Canada."