By Sherina Harris
You'll always find a slice of sunshine tucked away just north of Lakeshore Road at Oakville's Kerr Street Café.
Owner Alex Flye says her inspiration for this popular space originated from one of her favourite outdoor cafés in California, which features a courtyard with plants and umbrellas, inviting guests to sit year-round. While our Canadian winters may not allow for al fresco dining all year, these thoughts of warmth are reflected both in Kerr Street Café's atmosphere, with its white walls, tall windows and leafy ferns, and in the fresh, flavourful dishes it serves.
The café offers an all-day brunch menu, along with a dinner menu from Wednesday to Saturday. Flye describes the daily selection as fresh, unique and exciting, while the evening options are more rich, flavourful and refined.
"Every element incorporated in a Kerr Street Café dish is made from scratch," she explains. "So I see the depth in each plate, the layers, because I see the work that goes into it behind the scenes."
It's fitting that in an age where photographing your brunch is the new norm, Kerr Street Café's dishes are almost too stunning to eat. The avocado toast, one of Flye's favourites, is an unexpected combination of signature green avocado spread over toasted bread, orange sweet potatoes, bright red pomegranate seeds and a white poached egg, garnished with pops of green sprouts and pink radish.
A burger, called Burger Queen, is the only item that's on both the brunch and dinner menus. The sesame buns and tomato chilli jam are made from scratch, and the dish also features crispy shoestring fries, a hint of blue cheese and coleslaw on the side.
"It has this great contrast," Flye says. "The sweetness of the jam versus the more savoury meat makes it unforgettable."
The menu changes seasonally, and the variations depend on what local produce is available. The pasta, for example, might be made from wild leeks in the spring, fresh peas in the summer and mushrooms in the fall. Flye credits chef Taryn Casey with the café's creative vision.
Scroll through the café's tag on Instagram and you'll notice not just decadent dishes, but also mugs with swirled designs in the coffee.
Flye says that right from the beginning, having a good cup of coffee was important to both her and partner Shaun Waitzer. When starting their business, the partners sampled a wide variety of coffees before creating a customized blend for the cafe. Eventually, Waitzer opened Brothers Roastery, and the café began serving his coffee.
The café also enjoys a relatively new partnership with Gargoyle Wine Club. All the wines are paired with dishes on the menu. The pairings are "subtle," says Flye, but are a unique feature that sets the café apart from other restaurants that provide only off-the-shelf wines.
The café's dishes have evolved over time, and so has the café itself. When it was founded eight years ago, it was half its current size and had an atmosphere that Flye describes as rustic. Her catering business, which preceded the café by 13 years and continues today, supported the restaurant initially.
"For so many businesses, it's a struggle at the beginning, and we were really lucky to have different streams of revenue to keep us afloat," she says.
Although they didn't advertise widely, news about the café spread by word of mouth. As the storefront and kitchen grew busier, Flye considered finding a new kitchen for the catering business. As luck would have it, she didn't have to look very far. The business in the store beside the café closed, leaving Flye and her team with double the space.
It's been three years since the renovation. The revised design plan defines the new space with a series of sliding doors. This feature allows more flexibility for intimate evening dining, or private function options.
Unique details abound, with hanging lights crafted from recycled fire extinguishers by local artisans, an abundance of greenery, and the same white background throughout. Dreams of California sunshine are the inspiration behind the white, notes Flye.
"We want to have a place that gives people a sense of that sunshine."
Mushroom Toast with Crème Fraîche and Homemade Basil Oil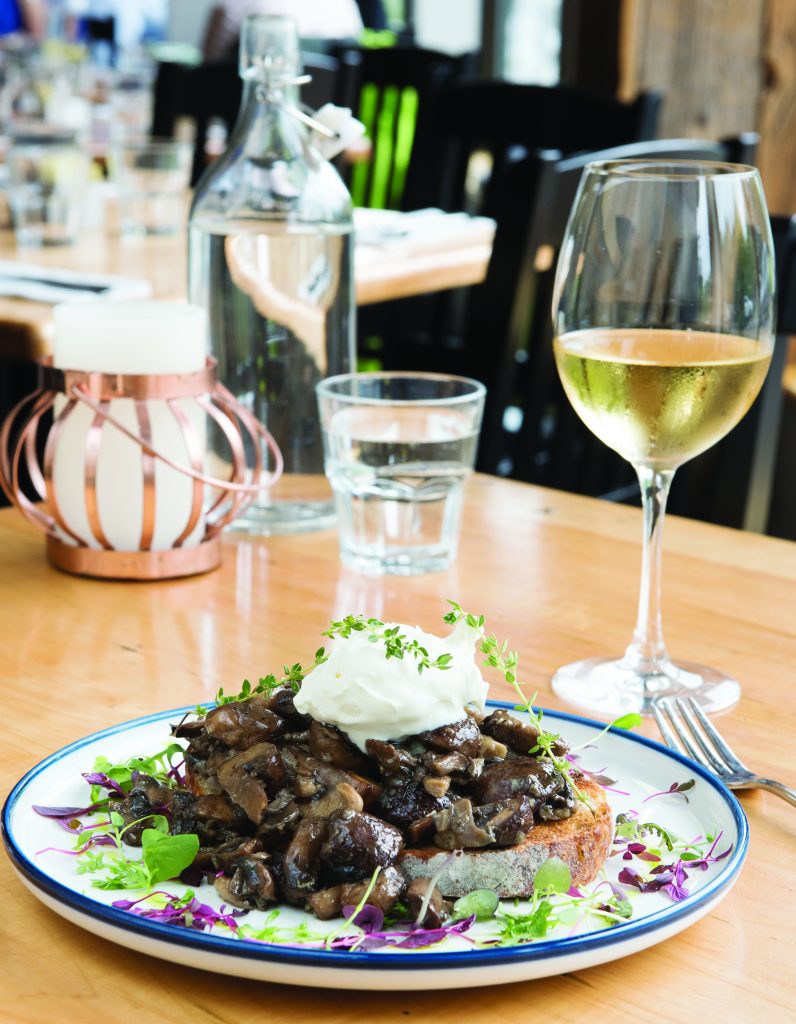 Ingredients 
1 lb shiitake mushrooms
1 lb oyster mushrooms
1 lb button mushrooms
2 tbsp crème fraîche
2 sprigs of lemon thyme
3 tbsp olive oil
salt and pepper to taste
1 bunch basil
1 cup vegetable oil of your choice
1 thick cut slice of country sourdough
Directions
Make the Basil Oil
In a blender or food processor, combine 1 cup of vegetable oil with 1 bunch of basil (stems removed). Once blended, place in a small pot. Over medium-high heat, bring to a boil for 2 minutes. Remove from heat and strain mixture through coffee filter. What you're left with is
basil oil.
Roast Mushrooms
Preheat oven to 375 F. Carefully rinse shiitake, oyster and button mushrooms. Remove the stem of the shiitake mushrooms. Slice all mushrooms about 1/4 inch thick. In a bowl, toss mushrooms with olive oil and a generous amount of salt and pepper. Place on baking sheet and roast, turning once, for 20 minutes. Check after 10 minutes. Using your hands, remove thyme leaves from stem and add them to your mushroom mixture. Add 1 tablespoon of crème fraîche and mix.
Make Your Toast
Using a non-stick pan, heat 1 tablespoon of olive oil. You want this quite hot as you'll be toasting your bread in this oil. Carefully place bread in non-stick pan. Let sit for 2-3 minutes, or until golden brown. Flip and repeat with the other side. Once your bread is nice and golden brown, remove from heat. Spoon your roasted mushroom, lemon thyme and crème fraîche mixture on top of toast. Garnish with remaining 1 tablespoon of crème fraîche and drizzle of your homemade basil oil.
Banana-Stuffed French Toast with Almond Crème Fraîche and Raspberry Dust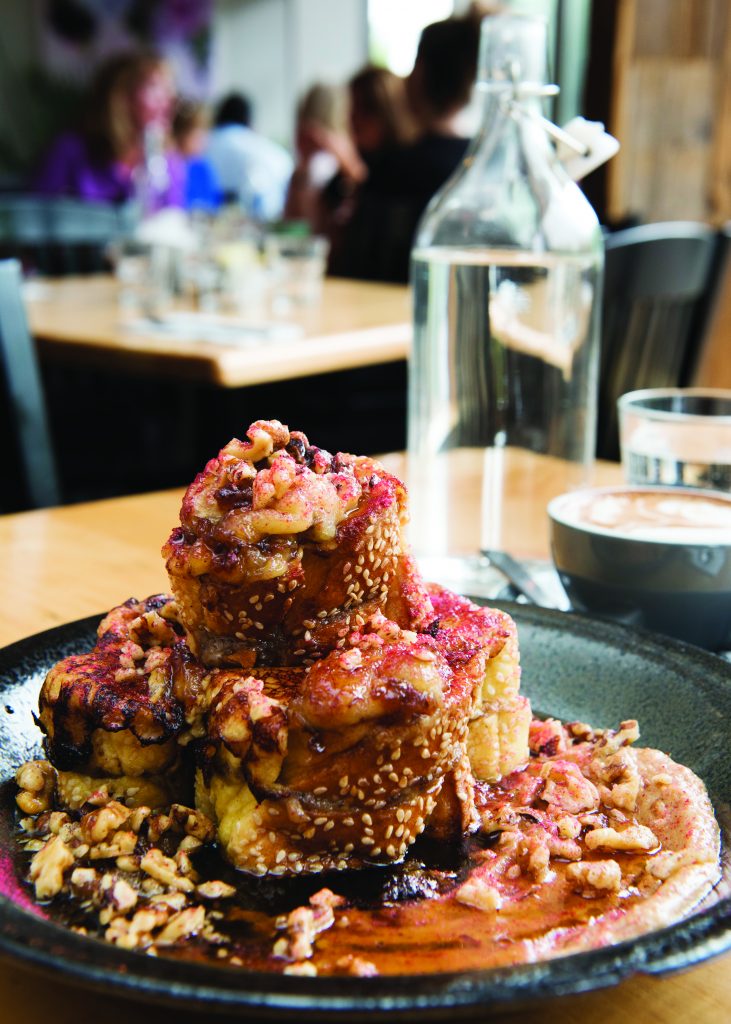 Ingredients
French Toast Royale
1 brioche baguette (sliced 1/2 inch thick)
8 large eggs
1 1/2 cups whipping cream
3 tbsp brown sugar
2 tsp ground cinnamon
2 tsp pure vanilla extract
1/4 tsp salt
4 tbsp butter
Banana Filling
6 ripe bananas
1/2 cup brown sugar
Almond Creme Fraiche
1 cup almond butter
3/4 cup crème fraîche
1/2 cup whipping cream
1/4 cup icing sugar
Directions
Banana Filling: Preheat oven to 375 F. Peel bananas, slice lengthwise and sprinkle evenly with brown sugar. Roast in oven until golden brown, about 10-12 minutes. Once cool, mash together banana and brown sugar mixture. Set aside.
Make the Royale: In a large bowl, whisk together eggs, whipping cream, brown sugar, cinnamon, vanilla and salt. Set aside.
Assemble French Toast Sandwiches: Slice brioche baguette into 1/2 inch slices. Using a tablespoon, place 1 scoop of filling in between 2 slices of brioche. Repeat until baguette is finished.
Almond Butter Crème Fraîche: In a mixing bowl, whisk whipping cream and icing sugar until soft peaks form. Set aside. In a new bowl, whisk crème fraîche and almond butter until mixture is light brown. Fold in whipped cream.
Execute the Dish: Using a large non-stick pan or cast iron skillet on medium-high heat, heat remaining 4 tbsp of butter until melted. Dip 4 French toast sandwiches in your royale using a pair of tongs, and carefully place them on hot pan. Turn over after 2-3 minutes or until golden brown on one side. Once flipped let sit for 1 minute, then place whole pan in the oven for 5-8 minutes. While it's cooking, take a scoop of almond butter crème fraiche and place it on the plate. Plate your finished French toast sandwiches as you wish. Finish with maple syrup and sprinkle with dehydrated raspberry dust (store bought) or garnish with fresh raspberries, blackberries, or even some fresh sliced bananas.