By Peter Bailey / Photography by Jack Curran 
New Oakville restaurant offers classic dishes with new Mediterranean flavours…
Now that the New Year is here, it's time to add some new taste adventures to your list of resolutions.
In the heart of downtown Oakville, just a few blocks east of the 16 Mile Creek, sits one of the town's newest restaurants, River 16. The location will celebrate its first anniversary this March and offers what owner Sam Forgali says is "a new experience. Quality food, Mediterranean-style."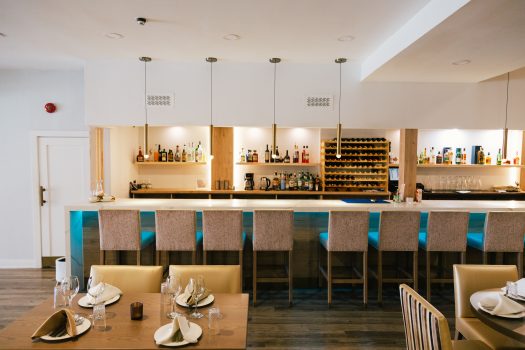 Forgali, who has a Middle Eastern background, works with his partner, Chef Nash Bakri, who brings a Syrian accent to the many flavours showcased in his kitchen. Bakri trained and worked most of his professional life in the hospitality business in Qatar. He has brought his skills to Oakville to tempt new palates and those familiar with his homeland region's food. 
"My partner has been a chef in the hospitality industry all his life," says Forgali. "I'm just the business partner," he says modestly. "I must say, I'm enjoying it. We've been open for seven months. We had COVID to deal with in the beginning, but things got better from there."
Forgali explains that his restaurant's food is international, rather than ethnic. "Although the chef's background is Middle Eastern, the flavour is Mediterranean."
Chef Bakri says he strives to make sure the ingredients are always fresh. "It's all sourced locally, and we don't use frozen meat," he says. Proteins are supplied by Woodward Meats in Oakville. "And I go every day to the Ontario Food Terminal to get my vegetables and fruit. It's always fresh and organic." Because of this emphasis on freshness, the menu will change seasonally, depending upon what's available, Bakri adds.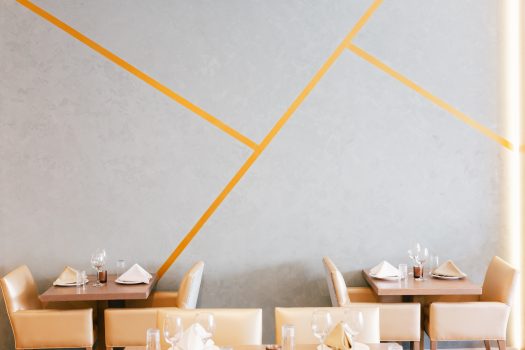 Forgali describes his restaurant's decor as "simple, understated and contemporary, with lots of space. The comfortable seating is upholstered in beige, and the walls feature modern paintings that soothe the eye. "We want to mix a modern design with quality food," Forgali says. "Our goal is to create a pleasant atmosphere for our customers." 
While in the daytime the dining area is brightly lit, in the evenings the lights are turned down low and quiet music soothes diners, to promote a relaxed and comfortable ambience. 
River 16 has introduced jazz entertainers on Saturday nights, something Forgali plans to continue. The dining area is ideal for couples to get away and relax for a reasonable price, while still being able to have a quiet conversation.
How does it vary from other restaurants in the area? "We're a little different," Forgali explains. "We offer great flavour for good value." Lunches at River 16 range in price from $25 to $35. Dinner prices run from $45 to $55.
Lentil soup will warm anyone's heart on these cold winter days, along with shareable plates such as the Dynamite Shrimp, Baked Cauliflower or Avocado Hummus Bowl.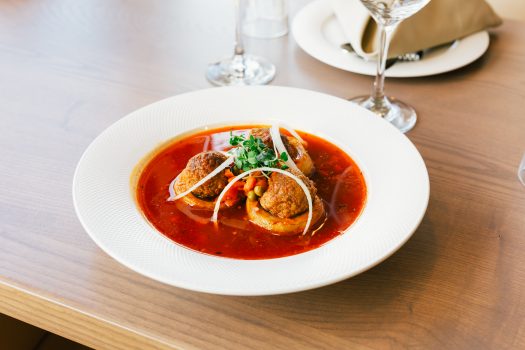 A dazzling choice of salads can brighten the dreariest winter day. The River 16 salad, for example, features apples, broccoli, carrots, strawberries, cucumbers, avocado, raisins, raspberries, walnuts and basil with homemade dressing. 
Dinner entrees include the 10-oz. New York Strip Loin, the 8-oz. Filet Mignon, Duck Breast or Maple Glazed Salmon. The Atlantic Smorgasbord features an oven-baked lobster tail, with East Coast scallops and tiger prawns served with clarified butter and quinoa, for $69. 
"People like our New York steak," Forgali says. "We cook it on the grill, medium rare, and the chef adds his creative mix of spices," he says proudly. 
Desserts include tiramisu, cheesecake or ice cream.
The restaurant features a wine list highlighting Canadian and international labels that aren't offered at the LCBO, offering an opportunity to try new vintages unavailable anywhere else. "Our Italian wines are very popular," Forgali explains.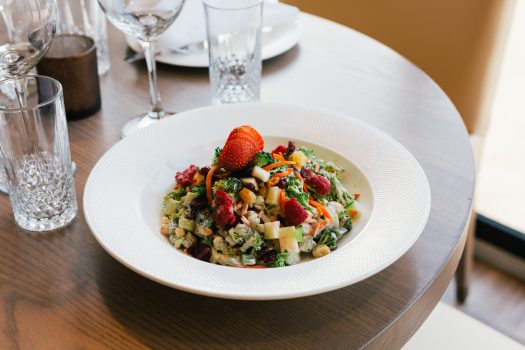 He also places a strong emphasis on good service. "We have an experienced staff with years in the business," he says. "We're lucky. It was difficult to find them at first, but now we're happy."
It's not only the quality of the food that brings customers back, he explains, but also the people. "Often they come back to be served by the same server," he says. 
Forgali adds that gluten-free or dairy-free meal substitutions can be accommodated. Simply tell the server of any needs when you order.
River 16 can comfortably seat 120 diners, with room for another 20 at the well-stocked bar, which features a long, white marble surface. Although Forgali admits the restaurant is better suited for couples, he welcomes families and large groups for special events. 
Reservations are recommended, especially for Friday nights and weekends. 
For more information, visit River16.ca