by Rebecca Dumais / Photography courtesy of Sunday Farms 
Sustainable, ethically-raised meat delivered to your door…
As soon as the Sunday Farms delivery arrived I was excited to peek in the cooler bag. Inside there was one cut each of steak, chicken breast, salmon, halibut and pork chop, a package of pork sausage, organic prawns, and a bag of frozen bone broth.
Also included was a handwritten note from owners Charlie Iscoe and Laya Bail. "We founded Sunday Farms on the belief that a healthy life begins with good food," it read. "Our journey started with the need to feed our own family nutritious meat we could trust and continues with every delivery to your door."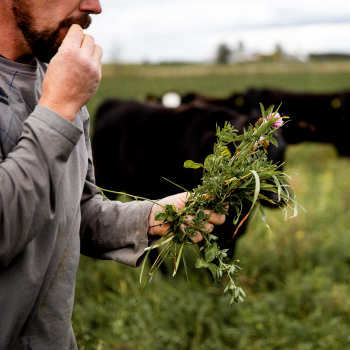 The couple believes that livestock that's raised better tastes better. "We love cooking, and we love cooking simply with our meat," says Bail. "The meat really speaks for itself," she continues. "Our favourite way to cook a steak is in a cast iron skillet with some butter and a sprig of rosemary, because the meat is so tasty it doesn't need much."
Both Iscoe and Bail are from Toronto but met while living in New York. "Neither of us had worked in food or farming before but we've both been passionate and conscious foodies our entire lives," says Bail.
They decided to leave their corporate lives behind (his in finance, hers in marketing) to travel and think about their next chapter. Armed with passion and determination to bring good food to the community and educate at the same time, they packed their belongings and moved to Bail's parent's farm in Creemore. "That's when we started researching and uncovering some of the ugly truths of factory farming," says Iscoe.
The more people they spoke to, Bail says, the more they realized how strongly they felt about their mission to make consuming quality, better-tasting meat products easier for customers to access, which Iscoe says is customarily "burdensome."
Ethically-raised, nourishing meat isn't quite readily available and often requires inflexible commitments of quantity – not everyone has the means to store an entire cow in the freezer or there's nobody willing to share the order with you. "We looked at this problem and wondered how to get more people to eat this way, and how do we break down the barriers for people to consume meat this way?" he says.
The couple says that buying from Sunday Farms contributes to a better food system; it supports local farmers who operate with integrity, treat their animals ethically and raise them in a sustainable environment.
Their farm partners know their land intimately and work to improve the land where the animals graze through regenerative farming practices.
This also ensures fresh, nutrient-rich pastures for their animals and also improves the health of the farm's soils. No pesticides or herbicides are used and animals are never treated with hormones or antibiotics. Supplemental animal feed is always non-GMO. All of their partner farms are based in southern Ontario and the fish is wild-caught in Canadian water.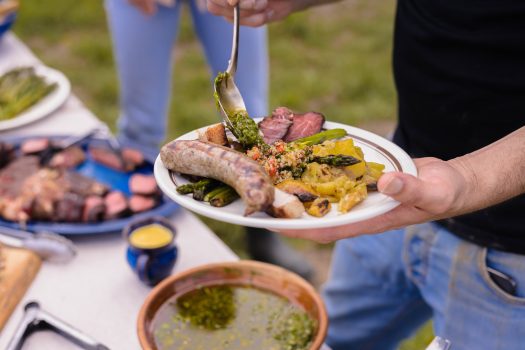 About half a dozen partner farms provide their products under the Sunday Farms umbrella. "We've cultivated a great network of farmers that share our values and adhere to the standards that you see on our website," Iscoe says. We know what we care about. It takes a while to find the people that are doing it this way. We are fortunate in the sense that my brother had already spent years cultivating some of these relationships with some farmers because as we discovered, less than two per cent of meat in Canada adheres to our standards."
Each partner of Sunday Farms works with the natural environment, rather than against it. "Their practices are very circular in nature. There's a lot of attention these days about carbon sequestration (which is) pulling vital nutrients out of the ground, but the way (these farms operate) actually does the opposite. They grow amazing pastures of green grass, the cows eat it, the chickens come and they peck and scratch. Every day the cows are in a new paddock so they don't (trample one area) and then the grass comes back fuller."
As the cycle repeats, it's healthy for the soil and the animals are living out their natural tendencies, Iscoe notes. "You're not seeing any of the degradation of the environment that you see in factory-farmed environments."
"We would hope to see more farming this way, which is beneficial to the land," adds Bail.
While raising animals this way is more expensive, the benefits – and taste – make it all worthwhile. "It takes longer to get a cow to market weight when you're not unnaturally pumping them full of corn, hormones and antibiotics," Iscoe explains. "It's a more labour-intensive way of farming that only applies to small-scale farms. You won't see this with industrial feedlot cattle."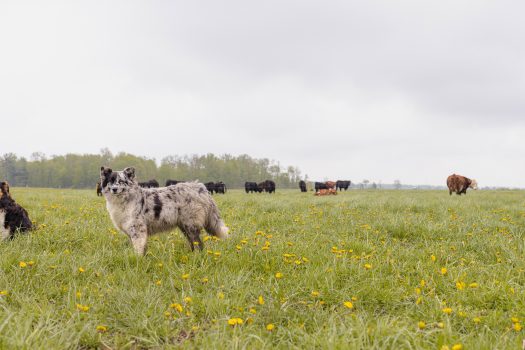 Continuous learning also anchors their beliefs in the business and its products. Bail and Iscoe spend a lot of time on location at their partner farms. "We do spend a lot of time with them and they're a huge source of knowledge as well," she says. "We see part of what we do as education. I think until people understand why eating this way is important, then why do it? The farmers are our source of knowledge. They've been doing this for generations. Every time we talk to them we learn something new."
The ordering process is easy. Not all families shop the same, and they vary in size and diet. Sunday Farms allows you to curate your box with as little or as much of each cut as you'd like. "People wanted more ability to customize orders," says Iscoe. "Some people didn't want a subscription and if we think back to what our mission is, it's making eating this way more accessible and easier for people so that's why we spent the time to relaunch our site with this new functionality."
Delivery includes the Halton area and spans most of southwestern Ontario. There are plans to further expand their delivery to all of southern Ontario. Tracking the order was easy thanks to the email and text updates. Deliveries are made every Wednesday.
Iscoe and Bail want everyone to be better educated and feel empowered when they're shopping for meat, whether they're at the butcher or the grocery store. "Ask them if their beef is 100 per cent grass-fed," notes Iscoe. "Because there is a distinction between grass-fed and 100 per cent grass-fed. Most cattle are grass fed but bulked up on corn but because it's an unregulated term, 'grass fed' gets misused a lot. We just want to empower people. We're very passionate about this."
Since the beginning, they've focused on the connection between food and those who consume it. "We believe that food brings people together more than anything else," Bail says. "When you think of Sunday – the Sunday meal is coming together and connecting over food."
The couple could talk passionately on the subject for hours. Ask yourself what eating sustainably means for the environment, your health and animal welfare, she prompts. "Once you start to understand those connections, you start to say, 'Maybe I should change my habits. Maybe this is important.'"
For more information,
visit Sundayfarms.com